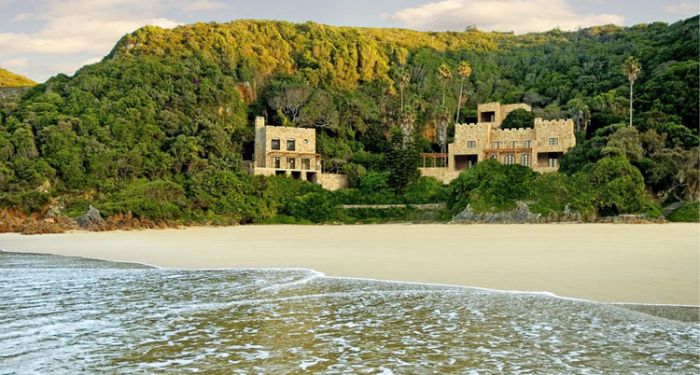 Photo Courtesy of Pezula Private Castle
The Pezula Private Castle in Noetzie Beach, Knysna is the height of
luxury villas
, allowing guests a completely private vacation that is unparalleled. Pezula is located in South Africa on the edges of Knysna, which is known for its unending beauty and flourishing animal sanctuaries, Knysna Elephant Park, Monkeyland, and Birds of Eden, giving visitors rare opportunities to get up close to Africa's wildlife. With such a unique location, the Pezula Private Castle is specifically designed to transport guests to another world.
The Castle Complex is comprised of three separate luxury suites, each housed within its very own castle, offering guests the privacy they've always dreamed of. The beautiful Main Castle features two living rooms, wood-burning fireplaces, a dining table that seats ten, and three large suites with adjoining bathrooms that feature heated marble floors. With gorgeous terraces that give panoramic views of the beach and ocean, the Main Castle offers everything you could ever want, including a fully equipped gymnasium, a heated rim flow pool, and a private wine cellar in the basement. The castle even has its very own lush garden that gives the guests their very own private entrance to the Noetzie Beach.
For newlyweds who are searching for the ideal honeymoon, Honeymoon Castle is the ideal romantic destination. Completely secluded, this castle has a lavish bedroom upstairs with large double windows that look out over the picturesque Noetzie Beach. The downstairs offers a spacious nautical theme that is decorated in soft cream and blues. With an open floor plan, the fully equipped kitchen and dining room opens to a comfortable living room and wood-burning fireplace. Of course, with the gorgeous views available, the living room also opens onto a large furnished terrace that rests beside a warmed plunge pool.
Perhaps the most exciting is the Cliff Castle. Anyone who loves the rocky moors of gothic romances will adore this castle that is nestled amongst the cliff face. Set up high above the Main Castle, the Cliff Castle's views are breathtaking. With a luxury bedroom, an open living room, and a balcony that offers opportunities to spot whales and dolphins, the Cliff Castle is the height of privacy and luxury.

Each castle comes fully equipped with meals, drinks, snacks, and refreshments, as well as various activities, such as horseback riding through a lush forest, canoe and hiking adventures amidst over 130 species of birds, archery, tennis, and golfing at the 985 square foot Field of Dreams. If you somehow tire of the beautiful beach, you can be privately chauffeured to enjoy some pampering at the Pezula Spa & Gym or shop for some one-of-a-kind gifts from the Private Collection boutique. Daily rates range from around $4,000 to $13,000 depending on the season and castle option. Children are also completely welcome, with foldaway beds and cots available to accommodate up to three.
With an executive butler on hand to attend to your every need, as well as specifically selected books, magazines, and movies to fit your personal taste, Pezula Private Castle is the perfect private getaway or event destination, ensuring your optimal comfort and luxury.
Visit
Pezula.com
to learn more about these amazing castle villas!