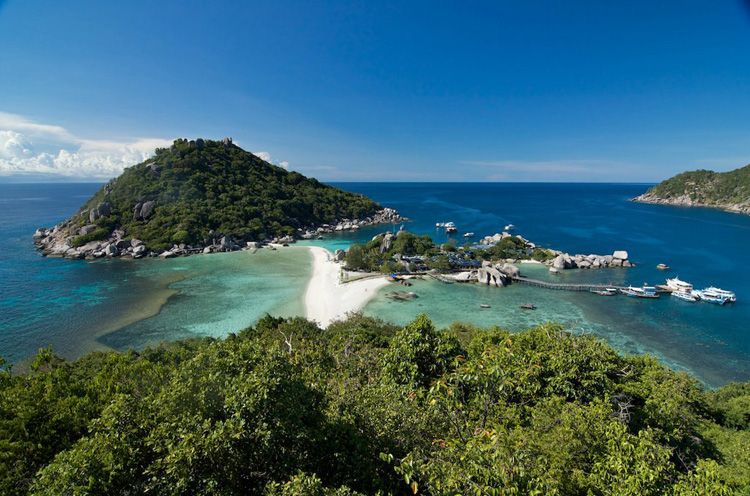 Photo Courtesy of Casas del Sol
Luxury boutique Casas del Sol, consisting of five villas, is fortunate enough be located on the beautiful island of Koh Tao, Thailand. Easy to reach by plane or ferry, Koh Tao has a lovely tropical climate that features high temperatures and high rainfall. While there are three very different seasons to choose from for your vacation, the dry season from December to February is often the best bet. With maybe a few sporadic rainfalls, Koh Tao brings tons of sunshine and low humidity, making it perfect weather for a beach vacation. Surrounded by sandy beaches, clear ocean waters, and lush tropical greenery, guests will probably find it pretty easy to unwind in these
luxury villa
accommodations.
The private villas, each with a fitting island tropic name like Villa of the Rising Sun or Villa of the Full Moon, promise indulgent living while on your
luxury vacation
. Each one was individually designed to be Beach Chic and feature multiple bedrooms, sleeping a maximum of four guests each. With open kitchens, private swimming pools, and panoramic views of Koh Tao, Casas del Sol combines a contemporary design aesthetic with the tropical setting around it. Not necessarily recommended for small children, the villas have a minimum three night stay and a live-in Western staff onsite should any emergencies arise.
Koh Tao is the perfect spot for a luxury
adventure travel
vacation. With so many exciting opportunities it may be hard for guests to stay in the villa. Sitting on the hillside above the main town and beach of Sairee, Casas del Sol is private yet close enough to the town that it's a mere five minutes by motorbike and only 20 minutes by foot. With the clear ocean waters and plethora of tropical fish to be discovered, scuba diving is a great way to spend a day. For the little more adventurous, free diving is also an option with the nearby Apnea Total Freediving School. Guests can also go kayaking, swimming, bushwalking, rock climbing, sailing, wakeboarding, fishing, and take island boat trips.
When you're ready to go exploring off the island, there's two ferry companies that stop by Koh Tao twice a day, giving you the option to visit the mainland town of Chumphon and nearby islands Koh Samui and Koh Phangnan.
With rates from $133 to $270 a night, depending on the villa and season, Casas del Sol may be the perfect choice for your luxury beach vacation.
For more information visit
KohTaoCasas.com