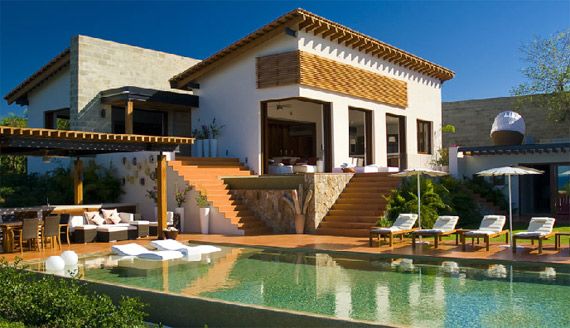 Photo Courtesy of Casa Mataiza
Built by a father-son team,
luxury villa
Casa Mataiza offers 40,000 square feet of gorgeous indoor and outdoor living space in Mexico's scenic Punta Mita. The name "mataiza" lends itself from a regional tree found in the Kupuri and Careyeros area; one such tree was planted in the central plaza of the home from which three main walls branch out. Guests can enjoy pristine views of the Litibu Bay as well as lush, tropical greenery that lines the water.
Casa Mataiza is also an environmentally "fit" retreat, utilizing insulation that reduces the need for air condition as well as sustainable wood made from a renewable species of tree, the "pino radiate." The villa was designed to use an intelligent lighting system that eliminates over-usage of electricity. The landscaping of the villa incorporates a large pond as well as a reflection pool and a 20,000 square foot garden filled with native plant life. A secluded pathway also leads guests to a private section of beach where a palapa-topped beach cabana waits.
Alejandro Quintanilla Macia and his son, Alejandro Quintanilla Orvananos collaborated to build this lovely escape, combining modern coastal design and refined, finished stylings. Casa Mataiza, like much of their work, blends the line between indoor and outdoor spaces and functions as "livable art." Of his work, Alejandro Quintanilla Sr. said, "A builder is like a sculptor, where an architect is like a founder. A builder, is the one who interprets the vision of the architect."
The central tree, the pools of water, and the earth-toned landscape that surrounds the villa combine to make Casa Mataiza a peaceful refuge that blends with the terrain. Floor-to-ceiling sliding glass doors encourage continuity between the interior and exterior of the home, while it was also built so that the pool is never shaded by any of the villa's structures. The villa has five bedroom suites, each with private garden access, 1,000 square foot combined Great Room, kitchen and entertainment area, featuring quartz kitchen countertops, wine room, wet bar and home theatre system.
Guests can enjoy lounging around the pool pavilion, soaking in some sun beside the 904 square-foot infinity edge pool. The pavilion also includes a fire pit, powder room, and a wood deck which borders the pool, as well as a wet bar and 36 inch Viking grill.
To learn more visit
CasaMataiza.com
.