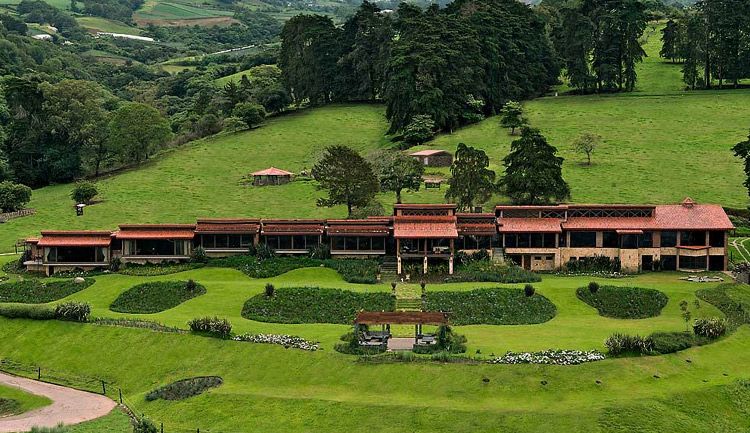 Photo Courtesy of Birks Jewelers
If you're looking for a
luxury villa rental
in Costa Rica that is so secluded most don't even know about it, then you want to check out Hacienda Santa Inés. Located 5,000 feet above sea level and just 20 minutes outside of the capital city of San Jose, Santa Inés is great for family and friends or for the solo traveler looking to recharge and get back to nature.
The property spans more than 22,000 square feet and features a main house with 10 bedrooms and 14 bathrooms, and a chalet with two guest rooms. Seven of the spacious rooms have king size beds, two have separate beds and one contains two bunk beds, so any kind of travel group can be accommodated. The main house bedrooms are hooked up with satellite TV while all the rooms have Blu-ray/DVD players, flat screen TVs, iPod connectivity and WiFi.
The 1,000-square-foot chalet pampers its visitors with a cozy living area, fully equipped kitchen and bedrooms with one king bed and two twin beds, each with their own bathrooms. And though there are the usual modern amenities, lots of natural elements went into the décor including wood floors and furniture, animal prints, fresh flowers and earth tone color schemes; the interiors nicely complement the breathtaking scenery that lies just outside the floor-to-ceiling windows.
Walking into the spacious gourmet kitchen will feel like entering that of a top restaurant. Two tables seating up to 16 people are situated by the large picture windows so any meal can come with a beautiful view. The executive chef and his culinary team are on hand to individually prepare breakfast, lunch, dinner and snacks as well as provide cooking lessons if desired by the current occupants. They can also make themselves scarce if one wishes to explore the facilities and cook themselves.
Not only is there a private chef available to create delicious meals, but Hacienda Santa Inés also employs a staff of 25 to ensure every little other detail is taken care of during each stay. From massage therapists to ATV guides to chauffeurs, these skilled professionals are on site to enhance any experience and allow the guests to sit back and relax worry free. Additional services like hairdressing, manicures, babysitting and helicopter transportation is also up for grabs and arrangements can be made through Santa Inés' manager coordinator who is there to create memorable events for guests.
Without even having to venture outside the hacienda's grounds, visitors can find lots of ways to have fun or destress. The game room and bar room lets you order a cocktail and take in a game of pool, ping-pong, air hockey, darts or foosball; meanwhile, the wine and game room has a more adult feel with a selection of fine wines and chess, cards and backgammon games to enjoy. There is also a two-level movie theater with a 100-inch screen and hundreds of films to choose from; a gym with state-of-the-art equipment; a heated indoor swimming pool and Jacuzzi; and a private spa with massage and facial treatment rooms and a dry sauna.
There's no end to the activities one can partake in on Santa Inés' expansive property. Learn about organic and hydroponic horticulture and pick fresh produce in the greenhouse; go horseback riding or take a private lesson at one of the two large riding areas; walk from the main house to the petting zoo to see (and feed!) rabbits, baby chicks, calves, piglets and lambs.
Or head out on the 14 miles of trails to jog, bird watch or take an exhilarating ATV ride through the creeks and hills surrounding the estate; play a fast paced game of paintball in the 100,000-square-foot specially designed paintball field; or stroll through the main garden where thousands of flowers are in bloom and have lunch or afternoon tea at the nearby sitting area at La Pérgola.

While it can be difficult to squeeze in every adventure on a Costa Rica vacation, Hacienda Santa Inés is making it a little easier to check things off the list. With luxury accommodations, fine dining, a full staff, an abundance of indoor and outdoor recreation, a private spa and more, this luxury villa aims to deliver an unforgettable Central American experience.
Visit
HaciendaSantaInes.com
to find out more.