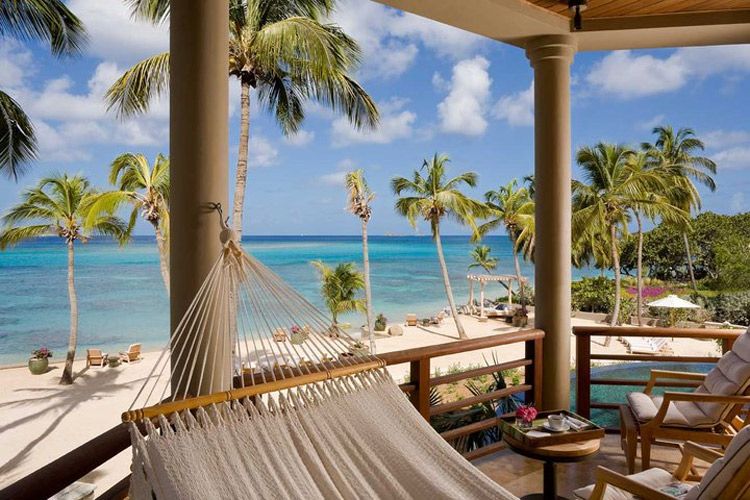 Photo Courtesy of Villa Aquamare
Looking for a romantic place for a destination wedding, or to simply get getaway from the everyday hustle and bustle? The Caribbean's ultra-private
Villa Aquamare
Compound offers answers to both, with personalized service, opulent amenities and space for travel groups of all kinds.
Located on the exclusive western coast of Virgin Gorda at Mahoe Bay overlooking the scenic Sir Francis Drake Channel, the Aquamare Villas boast truly incredible views. The rich sophistication and white sand beaches of this cozy island have given it the title of "jewel of the Caribbean" by leading travel and luxury publications including Robb Report's
Vacation Homes
,
Town & Country
and
Vogue
.
Each 8,000-square-foot, five-bedroom home accommodates up to 12 people. Being perched up on different elevations and nuzzled in lush landscaping ensures maximum privacy and the ability to capitalize on some of the most picturesque scenery the area has to offer. Each one of Aquamare's villa enclaves features local stonework, rich hardwoods, travertine marble, 30-foot vaulted ceilings and a waterfront infinity pool that has unobstructed views of the Drake Channel.
The Aquamare Villas are great for the traveler that prefers vacation rentals over hotel stays, yet still expects a certain level of service and amenities. Each elite villa contains three master suites, a double suite and a junior suite, along with spacious common areas and fully-equipped gourmet kitchens. Guests also have the opportunity to rent out more than one property, or all three, an option suited for a small destination wedding or a gathering with the whole family.
With a separate Concierge House also located on the premises, guests are pampered with a level of attentiveness that is bar none. The on-site concierge is there to coordinate any and all services necessary to ensure that a visit to Aquarmare is as comfortable and as carefree as possible—from setting up water sport activities to coordinating a babysitter for the kids.
These luxury villas also offer a wide array of spa services, including detox body wraps, as well as deep tissue and hot stone massages, which can conveniently take place within the privacy of the vacation homes. Depending on guests' preferences, treatments can occur in the master suite, on the secluded balcony, the outdoor shower room (for water-based services), or even on the private beach enjoying the clear, turquoise waters.
Aquamare's other first class amenities include private chefs,—some of the top culinary talent in the Caribbean—babysitters for special evenings out, and food shopping for guests to pre-order groceries and supplies to be available upon arrival.

As if this wasn't enough to be bit by travel bug, this beautiful island of pristine beaches and rolling mountains was also recognized as the Best Island in the Caribbean, Bermuda, and the Bahamas by
Condé Nast Traveler
in their 2007 World's Best Awards. This comes as no surprise considering its unparalleled exclusivity (cruise ships aren't allowed to dock here and the airport can only take small aircrafts), and five-star service.
For more information, visit
VillaAquamare.com
.