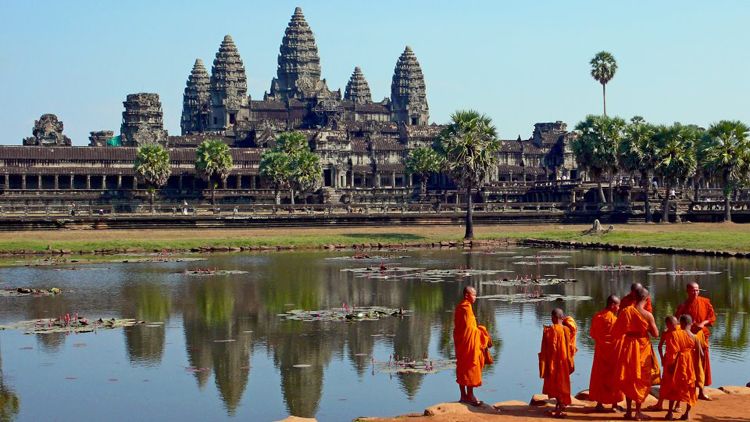 Photo Courtesy of The Grand Hotel d'Angkor
If you are in search of the lost city of Angkor Wat, free Wi-Fi, and complimentary espresso, then look no further. Who says that exploring ancient Cambodian ruins means you have to live like Lara Croft?
The Raffles Grand Hotel díAngkor
of Siem Reap is located within eight miles of Angkor Wat (the largest Hindu Temple complex in the world) and the Siem Reap International Airport. It is truly where modern convenience meets ancient history.
The hotel recently refurbished its two private villas to take your luxurious temple viewing experience even further than just free Internet. Each villa has two bedrooms located in the resort's lush tropical gardens. The villas also have private access the largest pool in Cambodia.
But if thatís not enough incentive, and the gentle hum of ghost monks is getting to be a little unnerving, the rooms also include Bose surround sound with a diverse iPod musical selection and a flat screen with over 50 satellite channels. So now, when you get back from your life-changing venture into the spiritually jarring past, you can watch an episode of
Jersey Shore
to recover your sense of time and place.
Based on a four person rate, a five-night stay runs about $2,845 per person, and includes express check in and out at the airport, as well as transportation to and from in a luxury vehicle. Not only that, but there will also be a jeep and driver available at your beck and call 24/7 throughout your entire stay, in case you want to go on a midnight journey to explore those mystical Hindu temples.

The hotel also offers villa guests daily hour-long massages per couple and a Khmer cooking class. In addition to that special treatment, there is a turndown surprise provided every morning. But with 24 hour butler services and complimentary champagne breakfasts, itís hardly necessary. For the guests sake though, I hope itís something more thrilling than mints.