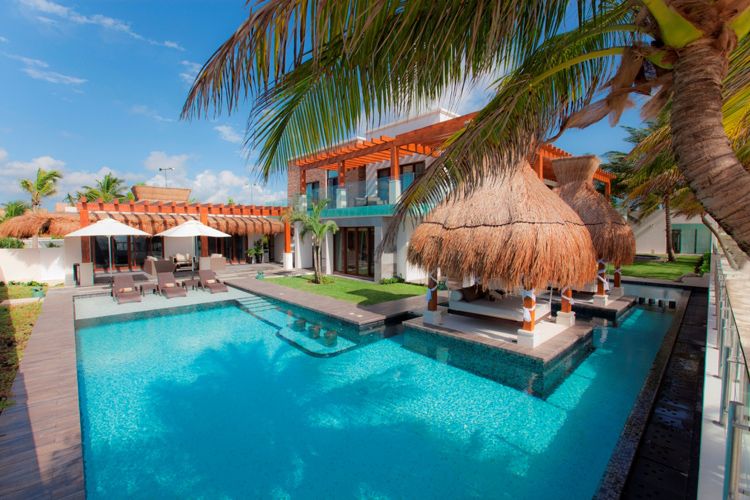 Photo Courtesy of Karisma Hotels
If you've always acted like a little princess, or you just want to for about a week, then Karisma's Azul Hotel on the Riviera Maya is the place for you. Located on the Yucatan Peninsula, it is a prime Mexican tourism district, catering to the aquatically adventurous and luxury loving vacationers. The hotel has announced that their new Villa Esmeralda is available for reservations. The
luxury Mexico villa
coddles the lavish despot in everyone, making sure that guests are waited on hand and foot by a full time staff.
The villa is located on a 54,000-square-foot beachfront property. The building itself was designed by Isaac Dabbah Portilla, a Mexican National who combined rustic local materials with more contemporary and sophisticated elements like porcelain, chrome and glass in the 11,000-square-foot home away from home. There are six luxurious bedrooms and six mahogany and stone lined bathrooms complete with Bvlgari and Ferragamo amenities. So it easily sleeps 12 people as long as they all agree not to snore.
There are two master bedrooms, one of which holds supremacy, due to its outdoor shower and extra 500 square feet of space to frolic in. Those bedrooms share a terrace overlooking the Caribbean and both feature a bathroom with Jacuzzi tub for two where couples can retreat from the rest of the gang.
The other rooms are no joke either; there is even a walk-in rainforest shower in one of them where you can close your eyes and hear sounds of thunder, leopards growling and poisonous frogs croaking. They both walk out onto terraces where views of the white sand beach or tennis courts await.
The rooms are all equipped with state-of-the-art electronics, so that if you get bored of showering in the rainforest, you can toggle between LCD flat-screen televisions, iPod docking stations, Blu-ray players, and Bose sound systems. If you would rather soak up the sun however, there are day beds beside the beach, so that you never have to get that invasive grainy stuff all over your expensive bathing suit. The villa has a staff of eight, including a 24-hour personal butler who will offer champagne upon your arrival. Villa guests are also allowed access to the five-star Azul Beach Hotel Resort and its two private pools.

Great for entertaining groups and families, the villa's grounds contain a large infinity pool, separate pool for the little ones, Jacuzzi for 10 (so two of your guests will just have to watch the fun from a distance), a bar,
playground, and lots of places to lounge around and simply relax.
If all of that doesn't make you feel like a monarch, then there is a Gourmet Inclusive Royal Package available. It gives you a private beach butler (which is way better than a regular butler, obviously), monogrammed bathrobes and, for a little extra, candlelight lobster dinner and limo services. The Azul Villa Esmeralda can be reserved now for $10,000 a night for up to 12 guests of nobility.