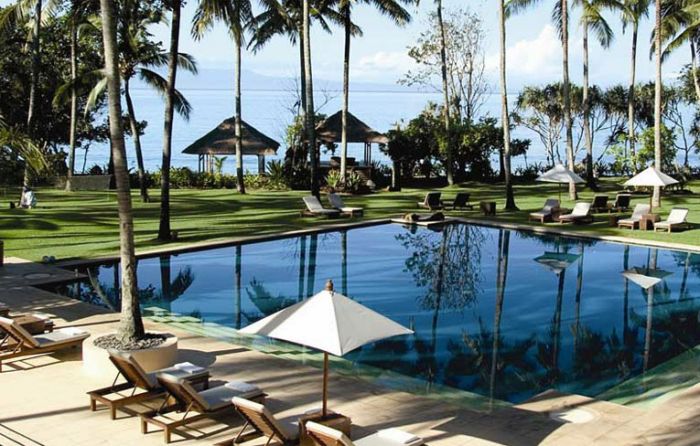 Photo Courtesy of Alila Manggis
Skip the lines and avoid the crowds at typical vacation destinations and book an
Alila Manggis
villa for all the luxuries of a large resort, with the privacy and peacefulness you crave. Nestled in a coconut grove between clear blue ocean water and Mount Agung, Bali?s most sacred mountain, Alila Manggis is a secluded retreat of tranquility on the unspoiled Eastern coast.
Far away from the bustling sounds of the city, its location offers exploration among its natural wonders of both land and sea or gives a chance to merely lounge by the palm tree lined pool and sip your favorite cocktail.
Each of the 53 rooms and suites offer maximum views of the coconut grove, the swimming pool and the sea with an "indoor-meets-outdoor" aesthetic designed by Kerry Hill Architects. Balinese architecture highlights the natural beauty of the surrounding environment, with both contemporary and traditional Balinese features. Alila Manggis suites include large balconies, spacious enough for outdoor dining. All interiors reflect the local environment and are paired with only the finest amenities.
At Spa Alila, the trained staff blends Asian healing techniques with age-old beauty recipes as well as fresh, natural ingredients. Every treatment is meant to stimulate, rejuvenate, balance and relax the mind and body. The outdoor spa faces the water, allowing the soothing sights and sounds of the water to enhance your spa experience.
Dining options at Alila Manggis give guests the opportunity to savor Balinese cuisine in local fashion. The Seasalt Restaurant is inspired by the neighboring organic salt farm and serves a contemporary menu and a range of Indonesian and Balinese favorites in a traditional Balinese pavilion on a lotus pond. The restaurant is also part of the Alila Manggis Cooking School.
Other dining options at Alila Manggis includes a visit to the property's organic garden and a chance to eat the produce at Ocean Bale. At The Living Room, guests are invited to have cocktails while lounging or playing board games.
Have the concierge set you up with a tour of the local area to experience the culture, which includes cultivating rice, farming, fishing, weaving baskets and the famous double Ikat textiles, or salt making. There is also temples, mountains and villages to explore to learn more about Balinese life.
Click Here to Book Alila Manggis
Alila Manggis has an adventure of a lifetime waiting just for you. Breathe in the fresh breezes of Bali while relaxing in your private villa, far away from everyday life. Focus on the bounty of the island, whether you choose to hang around the pool or indulge in extraordinary cuisine. Shhh…you've just discovered Bali's best kept secret.
Alila Manggis
Desa Buitan, Manggis
Karangasem, Bali 80871
Indonesia
+62 363 410 11
AlilaHotels.com