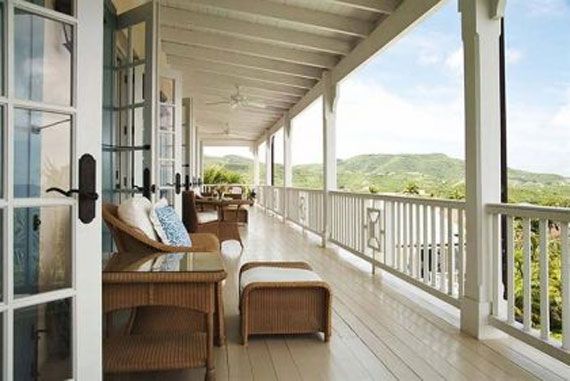 Photo Courtesy of Mango Hill Greathouse
Designed like a nineteenth-century colonial plantation home, Mango Hill Greathouse is located behind private gates and set atop a hill overlooking the Caribbean Sea. Furnished in antique West Indian Furniture, sisal area rugs and impressive pieces of island art, this
luxury Caribbean villa
, is sure to make guests feel like they've died and been reincarnated as colonial gentlefolk.
The four bedrooms all include sweeping views of the sea and air conditioning, though that's probably just to remind you what century it is, as cross-ventilation and trade-winds keep the rooms relatively cool. French doors are featured throughout the estate, leading out to covered verandas. The seaward side veranda even includes an alfresco dining area. The bathrooms in the villa are decked out in luxurious stone, with granite counters, tumbled marble details, and limestone sinks. They also feature water views, which are great if you plan on spending a significant amount of time in there.
In the main villa, three bedrooms open up to a large library featuring a 30-foot bookcase and a zebra-skin rug to get you into the mood for your literary adventures. The grand master suite is complete with a private seating area, blue-granite bath, and carved, four-poster, king bed. Another room provides a queen bed and a private bath decorated in travertine tiles. The poolside guest house is outfitted in Jamaican fashion and lets out onto a balcony which provides a charming view of the ocean.
The beautifully bright gourmet kitchen is also certain to snap you back to reality, with a number of high-tech appliances, like Wolfgang Puck cookware and a large Sub-Zero refrigerator. If you opt to stay out of the kitchen during your relaxing getaway, you can request a private chef, butler, or catering services. Once a week maid service will visit your room and tidy up, but if you want the space spic and span every day, daily maid service is available.

Although the property was built in antique colonial fashion, it has no shortage of modern amenities. Scattered throughout the villa, there are three satellite TVs, WiFi, two DVD players, even a VCR player (for those who refuse to participate in all of this digital nonsense), and a music, video and book library. The villa is located right next to a full-service resort, so that a spa or golf outing is readily available. Kids under six are somewhat discriminated against, as they are not allowed without a nanny and a notarized waiver. Prices for the minimum five day stay range from $5,500 to $8,500 depending on the number of people in your party, and the season of your stay.