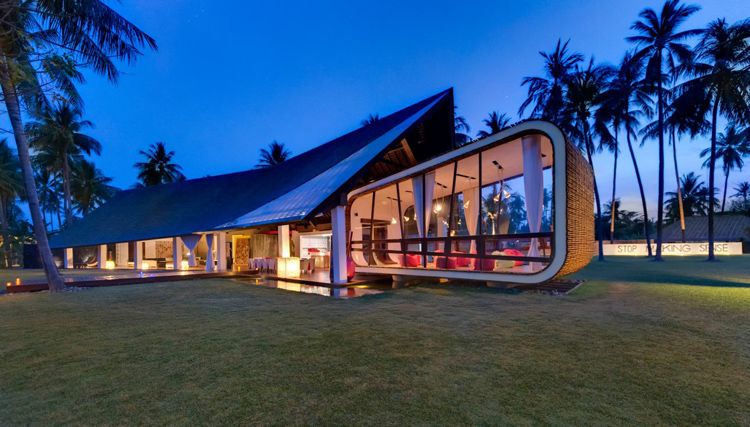 Photo Courtesy of Villa Sapi
For many people, vacationing with the in-laws is about as pleasant as pulling teeth. Villa Sapi in Lombok, Indonesia may be able to help ease some of the pain with intriguing amenities and distractingly serene surroundings. Created by Architect/Builder David Lombardi using many local materials, Villa Sapi's two buildings are designed with functionality elevated above form. Lombardi designed the luxury villa to function in an eco-friendly manner, with solar water heating and lighting, as well as use of recycled rainwater.

For the extent of your stay, the villa's accommodating staff promises to trek from the nearby village to fulfill even your most arduous requests, as you are entitled to the comforts of a five-star hotel, complete with a resident chef. That should at least impress the in-laws a little bit.
Though there are five air-conditioned bedrooms, the villa promises to comfortably sleep twelve, as the office can be converted into a sixth bedroom. The rooms feature unique beds that appear to float above plots of stones in the airy spaces. For the occasional family get-together, the property includes barbequing facilities, board games, satellite TV, and a DVD and CD library. All of the bathrooms also feature indoor and outdoor showers, so make sure you're aware when one is in use as to not cause any awkward moments during the trip.
The guesthouse, which is suggested for the nanny or chef, has two pools that make its two bedrooms very desirable to everyone else. Nourishment at the villa is overseen by the villa chef, who deals with locals for his ingredients or picks from the villa garden. He has been trained by Asian and French hotel chefs to meet your most basic craving in an artful fashion. If, even on vacation, your mother-in-law is still counting calories, then the chef also provides low calorie meals upon request.
Activities in the area that you should encourage your spouse's family to participate in include diving and snorkeling five minutes across the bay in the Gilis Islands, where they may or may not come across a shark or two. Who can say? The ocean is so unpredictable. There is also a PADI dive instruction program available right in the villa's free-form salt water swimming pool, if you're too embarrassed to receive instruction publicly.
Villa Sapi provides two sea kayaks, four mountain bikes, and a floodlit tennis court, all perfect for one on one, or two on two bonding. Some of the most famous surf spots on the island are also nearby, and can be taken on with the assistance of a surfing instructor, or braved on your own. If you'd rather just swim however, the villas three full-size pools, one children's pool, and beachfront provide plenty of water for that.
Lombok's only PGA course is also conveniently located right next-door to the villa on the beach so should you so desire, you can pretend to bond with your father-in-law over a quick game. Who knows, maybe you'll realize he's really a stand-up guy and start calling him dad. If you really want to experience the island however, excursions to Mount Rinjani (Lombok's resident active volcano), local markets, or island waterfalls can be arranged by villa staff. There is also the opportunity to get a massage or facial by the villa pool, which you will probably need, what with all the stress of trying to keep up your dislike for your in-laws, despite their present relaxed and amiable disposition.
Villa Sapi is a great patron of many Indonesian artists, regularly viewing galleries and organizing exhibitions, and many stunning pieces decorate the villas walls. In addition to this support of young artists, guests are encouraged to visit the nearby village school during class in order to learn more about the community.

Even though you started your vacation dreading spending time in a relatively confined space with some of your least favorite people, you may just find that in such a peaceful situation, everyone (yourself included) is a lot easier to get along with. Rates begin at $1,050 during the low season, with a minimum two night stay, and rise during the peak season to $1,380 a night, for at least seven nights.