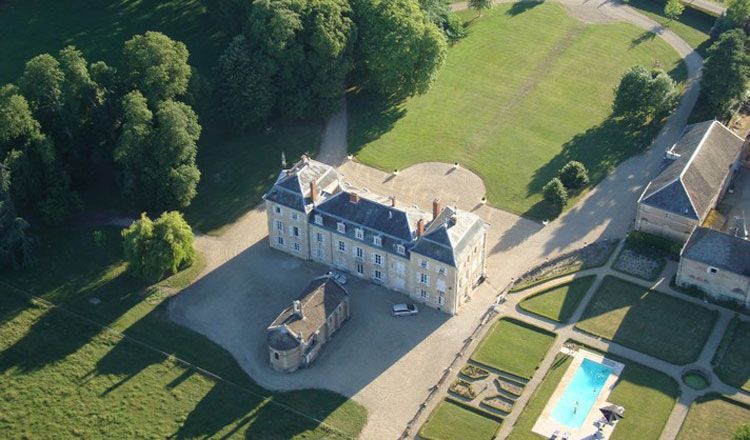 Photo Courtesy of Burgundy Chateau de Varennes
Located amongst some of the most prestigious vineyards in the French countryside, Château de Varennes is a palatial, 17-bedroom
luxury villa
, oozing with 18th century elegance. That doesn't mean that it is antiquated, however. After 300 years of being tucked away as a family heirloom for the aristocratic Truchis family, it has been renovated to include a modern kitchen, twelve bathrooms, designer interiors, and a stunning pool. The While the Chateau is available to rent for professional or personal occasions of all sorts, the grandiose spaces and attentive service will make it feel more like a stay in a five-star hotel.
Although a main focus during the chateau renovations was to preserve the authenticity of the original estate, there are a number of modern amenities hidden throughout. WiFi is accessible throughout, and a high quality sound system and satellite televisions are all cleverly stored to maintain a chic richness.
The kitchens of the Château de Varennes have been sleekly refurbished and fully equipped with all the necessary amenities and state-of-the-art appliances to personally cook for your guests, or to accommodate a professional chef. If you're traveling with young children, there is play room ready to entertain with a flat-screen TV that works with any game consoles your kid will undoubtedly have in tow, like Nintendo, Xbox, Playstation and Wii.
The bedrooms of the chateau range from king suites to twin bedrooms, but all kings are able to transform into twins, so all guests can find comfort sharing a room or in their own space. Every bedroom is regularly refurbished in order to meet five-star hotel standards. The princess suite, also known as the honeymoon suite for instance, was recently refreshed with white and gold tones to give the massive room a more cozy, warm feel.
Service at the chateau is in keeping with a five-star hotel. The strapping young houseboy will carry your luggage, act as valet, and clean the pool, while providing any sunny day necessities; the dedicated maids will bring fresh squeezed juice by said pool and clean the chateau daily, between breakfast and dinner; and the villa chef will whip up meals and even cater for large groups if you are organizing an event.

There is even concierge service to be had, and that will come in handy if you're planning a wedding on the sprawling grounds, which is quite the popular idea, apparently, as
CNN
has named it one of the top 10 world's best wedding venues. A large reception hall can hold up to 250 of your closest friends and family and views around the well manicured villa will certainly make for some memorable wedding photo moments.