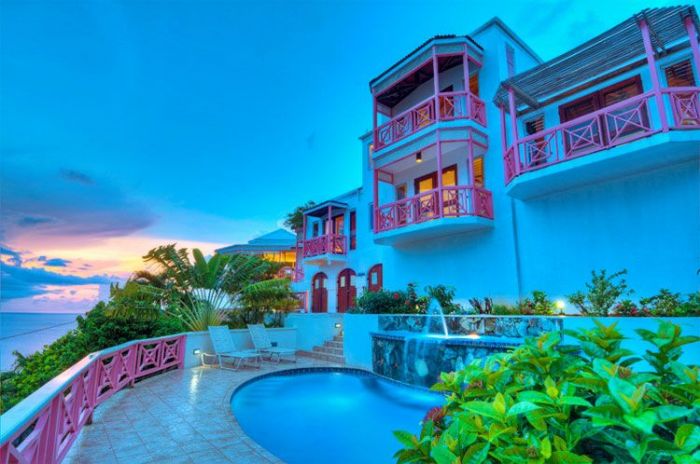 Photos Courtesy of Sunset House Villa
Want to sleep in the same bed as Derek Jeter or wade around in a pool that Prince William swam in? If you book a stay at
Sunset House
in Tortola, those fantasies can come true. Confession: I don't know that those specific people have stayed here; but, the villa does claim to have hosted British Royalty and high-profile sports players, so feel free to use your imagination like I did.
The pink trimmings on this three-story
luxury villa
might even have you imagining that your weeklong beach vacation is taking place in Barbie's dream house (it's your fantasy, no one's judging). Instead of a view of Malibu, this home looks out onto stunning vistas of the white sand and turquoise waters of Long Bay Beach—not a bad alternative.
Before you run off to book this beachfront beauty, the first thing you should be aware of are the house rules: no [food] shopping, no cooking, no cleaning, and no stress. If you can abide by those then your stay should go relatively smooth. Great for a family getaway, a group of couples or friends, the property is ready to host up to 10 people with five bedrooms, each with their own in-suite bathroom. Outfitted in a whimsical island palette of blues, yellows and greens, the bedroom decor blends right in with its vibrant, natural surroundings—easily visible from the private oceanview balconies attached to each.
The rest of the villa is equipped with everything you'd need to make it feel like home during your stay: iPod docking stations, flat-screen TVs, DVD player, Wi-Fi, washer and dryer, and of course plenty of towels and chairs to take to the nearby beaches. Below the main pavilion is a romantic queen suite, which opens onto a private wraparound veranda, connected to the pool terrace. Outside is where you'll want to entertain, with plenty of space to lounge, a grill to cook out, as well as the pool and adjacent hot tub to relax in all day long.
The villa's heart is the Great Room, which opens up to a full state-of-the-art kitchen. The spacious area features travertine tile floors, mahogany cabinetry, granite countertops, and stainless steel appliances, which if you recall, you're not allowed to use. Luckily, Carmen, who has been leading the Sunset House staff for over 20 years, will be on hand to make dinners, as well as provide a continental breakfast every morning. The staff will contact you prior to arrival to ensure the kitchen is stocked with your favorite goodies and all menus are to your liking. You'll have plenty of snacks during the day and items to cook your own meals, should you choose to go against the clearly stated rules.

Located on the British Virgin Islands, Tortola offers a quiet tropical oasis for those travelers who truly want to do nothing but relax. The temperature typically ranges from 77-85 degrees, making it ideal for basking in the sun and cooling off in the constant ocean breezes. Once you're ready to walk in the famous footsteps of the occupants before you, the Sunset House will be waiting. The villa, which is available for 3-5 bedroom rentals, and up to ten adults and three children, ranges from $4,500 to $9,500 a week.