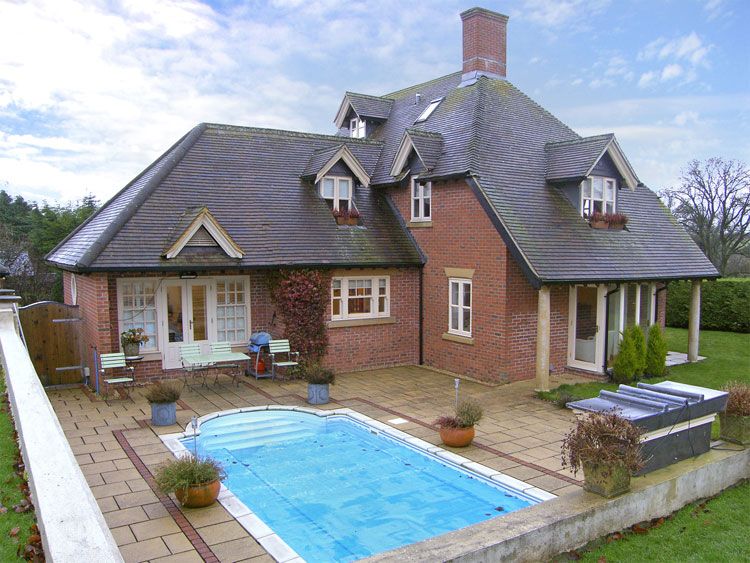 Photos Courtesy of Sykes Cottages
Nestled in the beautiful English countryside, Ashley House – a vacation rental – is a great retreat for friends and family looking to escape in the quiet village of Piddletrenthide, above the West Dorset Downs. Rented out courtesy of Sykes Cottages, Ashley House is a five-star residence with many of the same amenities as a small hotel.
As our visit was planned for an evening arrival, we were a little nervous about finding the property and letting ourselves in. The drive down the winding dirt track towards the isolated house, had us wondering what to expect. However, the owners had left the entrance light on and heated the property so that upon entering, the residence felt more like a home. Despite its large size, the property is incredibly cozy and you can tell huge effort is put into its upkeep. While it has a traditional country feel to it, Ashley House is actually very modern.
Once inside, it was easy to see why the property has received a five-star rating. The house comes fully-equipped and features five bedrooms and three bathrooms over three floors. Each bedroom is furnished beautifully, and the master bedroom boasts an en-suite bathroom and vanity dressing table.
Downstairs visitors can dine and socialize in the large open plan kitchen and dining room, find entertainment and music in the games room, play on the piano or curl up on the large sofas and lounge by the open fire in the living room. The house was truly inviting, an ideal place to relax and unwind. The patio area was equally inviting despite the cold weather. It boasts a heated swimming pool, BBQ and picnic area, well kept lawn and rolling views of the stunning countryside — perfect for alfresco dining.

Despite its remote location, Ashley House still offers plenty of activities. For visitors not wanting to venture out too far, you can easily stay within the property and play basketball, entertain in the large kitchen area, swim in the heated pool or play games in the adjoining paddocks. But for those looking for a bit of adventure, there's plenty to do in the local area. Piddletrenthide is less than a mile away and visitors can pop into The Piddle Inn pub to enjoy local food and drinks. During the summer there are a variety of walks to explore. A popular route is the walk to Cerne Abbas, the site of the famous giant chalk figure of a naked man on a hillside can be seen. The seaside town of Weymouth and the dramatic Jurassic coastline is also a short drive away.
As well as countryside, beaches and river walks to explore, the busy market town of Dorchester is eight miles away and offers a variety of shops, museums, restaurants and pubs. Ashley House can accommodate up to ten people and two well-behaved dogs are welcome on the property.