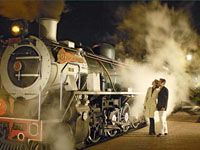 Luxury Tours:
Rovos Rail, The Most Luxurious Train in the World offers an enchanting combination of the romanticism of prewar travel with the most luxurious of modern amenities.
First established in the late 1980's, Rovos has gained an international reputation of excellence. Lovingly restored passenger trains can carry 72 passengers in 36 well-appointed suites so that they can experience the mystery of South Africa in the same manner as yesteryear, even while enjoying the finest cuisine and South African wine.
The suites are decorated with wood paneling and Edwardian period features, the air-conditioned suites are spacious enough to accommodate two people offering the option of twin or spacious double beds. All rooms come with a safe for guests' convenience and the bathrooms are en suite and include modern conveniences including hot showers, blow dryers and shaver plugs. For more space and luxury, Royal Suites and Deluxe Suites which take up half a carriage are available. Both contain a private lounge area and full bathroom with Victorian bath and separate shower. As a tribute to travel of yore, small Pullman cars are also available, with bathrooms and amenities in a smaller space than their upscale counterparts.
Each train also has an observation car, non-smoking car and gift shop, all lovingly restored to the grandeur and elegance of the Victorian era.
The trains also include a dining car, where travelers can enjoy the luxury of eating some of the finest cuisine in the world, while the beautiful scenery of South Africa rushes by the windows. Chefs emphasize local ingredients and a variety of fresh foods are served daily.
Travelers can choose from a variety of tours that will take them all over South Africa, staying in the unique towns and cities that make up the country. Each year, Rovos puts together a special event and adds new and exciting features for travelers to experience.
Rovos Tours by train take travelers all over South Africa via the romanticism of rail. But if that is too old-fashioned for you, Rovos also offers all the classicism of the trains in their lovingly restored aircraft.
Rovos has restored Convair 440's sporting spacious, pressurized cabins seating up to 24 passengers in postwar style and modern comfort.
Each plane has been outfitted with the latest in aviation technology and restored to their original luster.
Two attendants service the aircraft's passengers on the fights between train stops as well as Rovos' 12 night, Southern African Air Safari.
The Safari includes overnight stays at luxurious hotels, dining at South Africa's finest vineyards and restaurants.
Interested parties can also take part in Rovos charters by plane or train and enjoy fine cuisine sourced from local ingredients and wineries for an elegant excursion day or night.
Rovos tours lend a touch of elegance and a new way to see South Africa from the most luxurious of accommodations
For LxM Carly Zinderman