By Touring & Tasting Jul. 31st, 2012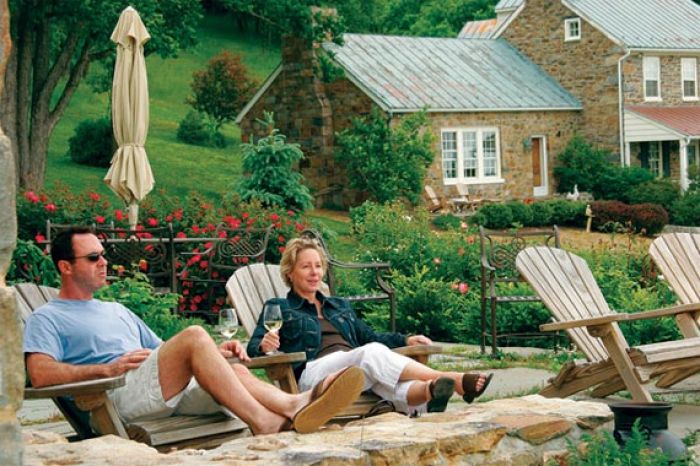 Photo Credit Tom Lussier/Boxwood Winery
Known as DC's wine country for its proximity to the heart of Washington, DC (just 25 miles), Virginia's Loudoun County provides a breath of fresh air and so much to discover. The rolling hills of Loudoun County are a treasure trove for visitors looking for something to do. Its countryside has remained untouched for decades, with winding roads that lead past elegant estates and picturesque horse farms. Loudoun County is proud of its equestrian legacy, as evidenced by its many race tracks, riding trails, shows, and equestrian-related museums.
The gently rolling pastoral landscape is a haven for golfers, hikers, rock climbers, cyclists, and birdwatchers. There are family farms and dozens of tasting rooms to visit, as well as art exhibits, concerts, and theatre to take in. Besides offering so much in recreation and entertainment, DC's wine country offers a feeling that is deep and true. Loudoun County's history is America's history. This fervent connection to the nation's legacy can be experienced around every turn—in the heritage areas, Civil War battlefields, and the last cable-operated ferry on the East Coast.
A scenic breath of fresh air, Loudoun County is wonderful for a driving or walking tour. You'll discover a gracious landscape of horses, vineyards, historic towns and villages—a place you'll want to return to again and again. 7 Small Historic Towns The towns of DC's wine country are fun to explore. There's a great little mercantile store in Hamilton. Hillsboro's newest structure was built in the late 1800s. Leesburg is full of historic attractions and shopping and dining opportunities. The town of Lovettsville still celebrates the German heritage of the immigrants who settled there in the 1730s.
The nation's horse and hunt capital, Middleburg, offers individually owned stores and original buildings. Despite a series of historic fires, downtown Purcellville maintains a friendly hometown feel. And the sleepy town of Round Hill hosts a monthly bluegrass festival.
LOCAL WINES
Expect delightful Chardonnays, Cabernet Francs, Cabernet Sauvignons, Chambourcins, Merlots, Viogniers, and Nortons—from a native Virginia grape. Loudoun has 30 wineries and tasting rooms. To make touring easy, Loudoun has grouped them into driving clusters: Loudoun Heights, Waterford, Potomac, Mosby, and Harmony. Look into them all, but you really can't go wrong. Each drive is a unique experience on scenic country roads, with frequent stops for wonderful wines, food, and more.
LOCAL FOODS
DC's wine country is known for good food and excellent restaurants. The Loudoun Destination Restaurant Program identifies nine county dining establishments as "restaurants that are so interesting, different, or special, that people travel just to eat there." Restaurants are nominated and judged by a Loudoun tourism industry panel on their ability to: offer a unique experience, create a culinary/cultural adventure that educates as well as entertains, utilize locally grown products, be a local favorite and good neighbor, provide consistently excellent quality, and serve Loudoun wines.
LOCAL FINDS
For a one-of-a-kind experience, stay at the Goodstone Inn & Restaurant, just north of Middleburg. Accommodations are provided in authentic buildings across the estate, including the Carriage House, the French Farm Cottage, the Bull Barn, and the stately Manor House. The estate's award-laden restaurant, headed by Executive Chef William Walden, is a Loudoun Destination Restaurant Program restaurant whose menu features many estate-grown ingredients. There's plenty to do on the property, and there's always Middleburg and great wineries nearby.
VisitLoudoun.org
Touring & Tasting
Established in 1995, Touring & Tasting offers an array of compelling marketing opportunities through its biannual, nationally distributed magazine wine club services weekly e-newsletter print newsletter and Website, TouringAndTasting.com. Touring & Tasting's Wine Club delivers an incomparable assortment of premium, hand-selected wines to a broad spectrum of motivated wine consumers. We offe...(Read More)