| Home > Wealth > Money Money > Jeffrey Bewkes Profile: Time Warner CEO | |
| --- | --- |
Jeffrey Bewkes Profile: Time Warner CEO
Posted: Jan. 5th, 2011 | By Carly Zinderman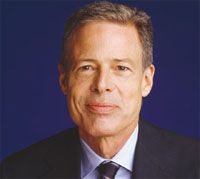 News & Trends:
Chairman and
chief executive officer
of Time Warner, Jeffrey L. Bewkes has held his current position since January 1, 2009.
Prior to joining Time Warner in 2007, Bewkes served as chairman of the Entertainment and Networks group from 2002 to 2005. Before that, he was chairman and CEO of HBO since 1995, and as president and COO of HBO from September 1991 to May 1995.

Bewkes is also on several boards, including the Boards of Yale University, the Partnership for New York City and on the advisory boards for Stanford Graduate School of Business, Yale School of Management, the American Museum of Natural History, The Creative Coalition and The Paley Center for Media.

The 58-year old graduated with a BA from Yale University and an MBA from the Stanford Graduate School of Business. He is currently married to second wife Peggy Brim Bewkes, a former aide to ABC News President Roone Arledge. The couple has three children between them.

Source: Time Warner

Contributor: Carly Zinderman
Best of Luxury
Finding the best in luxury can be a daunting task, which is why we've taken it on for you.