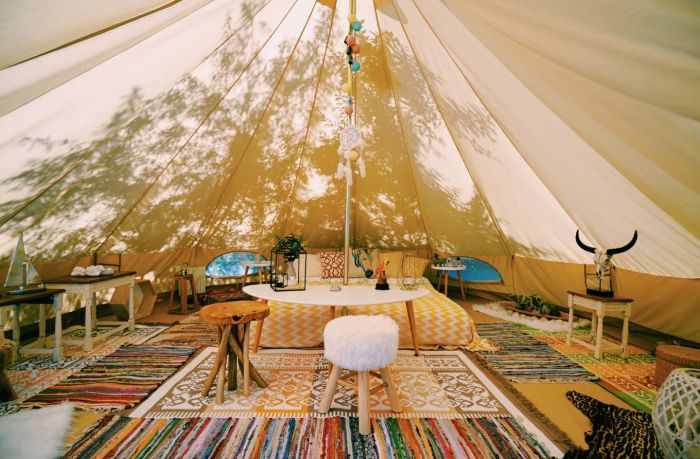 Glamping is the perfect way to get out of the city for some outdoor relaxation while still being comfortable and cozy. If you feel the need to recharge, heading towards a nature destination and setting up a glamorous camping spot with friends or family is an amazing option.
To really enjoy glamping, it's important to feel good inside and out, so wear sunscreen and comfortable clothes, bring healthy snacks and make sure you're hydrated.
Tips for the Perfect Glamping Experience
To create as magical of an atmosphere as possible, you can bring along some ambience enhancing items, such as:
Hanging some fairy lights in the tent or placing some garden lamps along the edges of your camping area will create an atmosphere that's cozy and inviting. Warm lights can really supplement the light from the fire and allow you to enjoy the space more.
This one is optional, since the point of a retreat is to enjoy nature and its full beauty, including the sounds. However, if you want to enjoy your favorite music, you can have a Bluetooth speaker play some songs or go for some ambiental sounds in the background.
Bring a cooler for drinks and fruits
With the summer heat, having access to cool beverages and fruits is key for a pleasant experience. A cooler is a perfect item in which to keep water and other drinks, as well as chopped up fruits. Keep baggies or cups with cubes of watermelon, apples, pears, some berries, and whatever other fruits you like. These will not only be a very healthy and cooling snack, but they will also keep you hydrated.
Bring comfy blankets and throws to improvise teepees and flowy tents
Glamping is all about combining the beauty of nature with the elegance of glamour, so flowy textures amid rough trees and stones make for a beautiful contrast. Bring along some flowy sheets that you can hang up in between trees and nail to the ground to create an easy tent. Throw a cozy blanket on the ground, perhaps even some pillows and you have a perfect nook to relax and enjoy the fresh air around you.
Where Should You Go?
Now, for the destinations. People have been craving natural destinations ever since being cooped up inside over the past year and a half. A study by apartment website RENTCafé found that overall, mountain areas and nature destinations have seen an increase of 288% in the months of April and May this year, compared to last year. If you're looking for inspiration for your next glamping trip, this is where people have been looking to go to:
Lake George, NY
Lake George, NY saw an increase of 393% in Google searches compared to last year, and it's easy to understand why when you look at the beautiful views it offers. Surrounded by the Adirondack Mountains, this long and narrow lake offers the perfect place for a retreat, with fresh air, cool breeze, and plenty of glamping opportunities.
Pigeon Forge, TN
Full of Southern charm, Pigeon Forge, TN is another perfect getaway spot, located near the Great Smoky Mountains National Park. As a mountain resort, it offers so many opportunities to pick up your stuff and go disconnect from the busy cities in the heart of nature.
Blue Ridge, GA
Georgia's Blue Ridge is a hot spot for glamping this summer. With the Chattahoochee National Forest, close-by waterfalls, and many hiking trails, this small town is the destination for all looking for a chance to disconnect. If you want to go beyond glamping for a few days, there are luxury mountain cabins with stunning views here as well, and wineries for you to visit to create a full holiday experience.
Helen, GA
As their official website says, Helen is the charm of Bavaria in the heart of the Blue Ridge mountains. Whether you're looking to disconnect by the river or on the mountainside, there are many options for glamping. The local culture is also something to be enjoyed, so if you're thinking of extending your stay, you can rent a mountain cabin or check out other lodging options within the town.
Zion National Park, UT
For those seeking a more unique retreat, Zion National Park in Utah gives you the option to glamp near a canyon. Admire the wilderness and feel reconnected with the world on the site of this incredible park, where everywhere you look, it feels grand and surreal.
Bozeman, MT
The fourth-largest city in the state, Bozeman is continuously growing in popularity, not only with tourists but also with people wanting to relocate there. Surrounded by areas such as the Bridger Mountains or the Big Belt Mountains, this city welcomes people looking to disconnect from their busy lives and enjoy a mountain retreat, which makes it a perfect destination for glamping.
Gatlinburg, TN
The mountain resort city of Gatlinburg rests on the border of the Great Smoky Mountains National Park, offering visitors many hiking trails with beautiful views, waterfalls, as well as a chance to marvel at the local flora and fauna. The city also provides dining and lodging options for those looking to extend their stay.
Finger Lakes, NY
According to their official website, this area is home to laidback luxury. The area that's home to these glacial lakes is also home to many wineries, so you can take your trip to the next level and explore the local aromas. In addition, there are many picnic and glamping options in Finger Lakes, NY, so you only need to pack to be ready to enjoy this adventure.
Asheville, NC
Asheville is a popular city with tourists looking to experience the Southern charm, but besides the city itself, many adventurers head into the Blue Ridge Mountains for a much-needed retreat. After a day o glamping, having taken in the fresh air and gorgeous views, you can complete your stay by visiting a local spa and trying out the local cuisine in Asheville, NC.
Breckenridge, CO
Breckenridge is a familiar destination for the many who have built vacation homes here. This town in Colorado is a major attraction for skiers, but summertime is just as exciting, as there are many hiking trails to take, as well as lakeside picnics to have. In addition, the town itself is big on celebrations and festivals, so maybe check to see what's coming up next and plan your trip to include this experience.
These small towns and natural destinations are gaining more and more popularity, as people are looking to escape big cities and relax. Nowadays, it's easy to bring luxury with you, so no matter where you go, you'll feel comfortable and taken care of. Choose to experience new things and places, and take this adventure to the next level. Where are you looking to go glamping next?