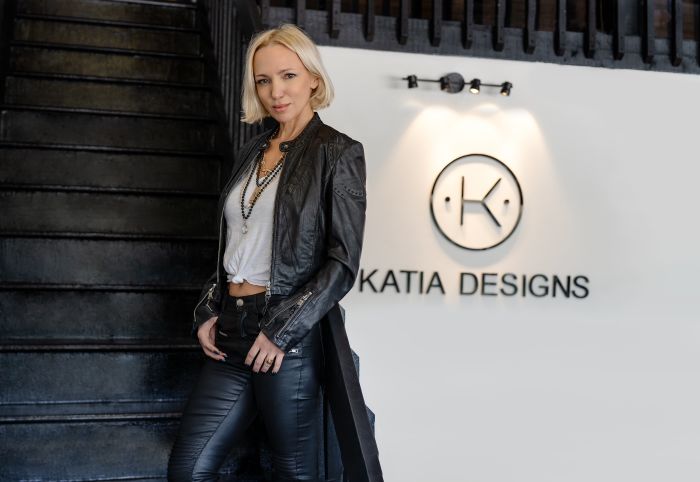 Katia Rudnick, owner and jewelry designer at Katia Designs
November 21, 2023 is National Entrepreneur's Day, making it an ideal time to shed light on what it takes to be a successful entrepreneur. Few people are better to ask to weigh in than someone who came to America from another country, started a business, and grew into a successful venture, essentially living the American dream. From Russia to the U.S., that's what Katia Rudnick did, and today, she runs a successful jewelry business.
"If you have the desire to be an entrepreneur you absolutely can," says Katia Rudnick, owner and jewelry designer at Katia Designs. "When you do, you will be happy knowing that you have accomplished that goal and are living your best life."
According to the Bureau of Labor Statistics, entrepreneurs play a vital role in the U.S. economy, with small businesses typically being the entry point. Once they develop ideas and a customer base, entrepreneurs are ready to decide whether or not they would like to expand.
Rudnick, who started her business in the garage and doing popups, is a small business owner who has grown exponentially over the years. She was born in Russia and always loved being creative, including engaging in art, drawing, designing, etc. After immigrating to the U.S., she became a mother of three and worked in the beauty industry. She longed for something more and decided to explore her passion, which was being creative and artistic.
When Rudnick attended her first jewelry-making class, she instantly knew that she had found her match. She started Katia Designs, and the rest is history, as she has grown her business and expanded in South Florida. She has learned a lot along the way and enjoys sharing with others on their entrepreneurial journey.
Here are 8 crucial and inspiring lessons every entrepreneur should know:
Follow your passion. It may sound cliché, but if you follow your passion, you will never wake up not wanting to go to work. It won't even feel like you are working. Find what you love to do, and you will enjoy each day more.
Learn to listen to your gut. Set a routine. Strive to be disciplined and have a routine you follow. Consistency will keep you on the path toward success. Be flexible if you need to make changes, but keep yourself from slacking.
Enjoy the journey. Instead of being preoccupied by focusing on the destination, enjoy the journey along the way. There are little wins and things to celebrate, and you don't want to miss them.
Practice gratitude. Be grateful for the little wins along the way. Gratitude will bring more good things your way. Have a healthy mindset.
Mindset is everything. If your mindset is right, it will help you succeed, enjoy, and push on. Do things to start your day that will give you a healthy start, such as eating healthy, exercising, meditation, etc.
Trust others. No business can grow without the help of others. Find people you can trust with your ideas and business. Trust your team to create a vibe. It's important to connect with people.
Practice mindfulness. Happiness is only found in the here and now. Focus on what is in front of you, taking each day one at a time. Don't get hung up overthinking about the past or the future.
Commit to customer service. Focusing on providing excellent customer service is going to keep people coming back. Treat your customers how you would want to be treated or better. Every person in your company is important, so treat them that way.
"You can be a badass entrepreneur if you want to be," added Rudnick. "It's a matter of having the discipline, mindset, and patience to reach your goals. Remember the famous quote that says: Like the air you breathe, abundance in all things is available to you. Your life will simply be as good as you allow it to be."
Katia Designs has numerous hot deals coming up that holiday shoppers will not want to miss. Starting Black Friday, November 24, 2023 through Cyber Monday, November 27, 2023, Katia Designs will be offering 30% off sitewide. Additionally, beginning December 1, 2023 the 12 days of Katia Christmas will feature a new promotion released each morning that will be good for 24 hours.
Katia Designs offers a line of unique jewelry that focuses on women's empowerment. Many pieces help express one's vibe, while others help share their mantra with the world. Still, others remind the person wearing it, allowing them to feel stronger, fierce, and able. Katia Designs has a U.S. Patent for a design where a necklace can be worn in different ways using a magnetic clasp. The idea allows people to change the look of their necklace easily. Since it uses a magnetic clasp, it takes only seconds to change the look and length of the necklace.
Some popular themes in the jewelry line include the evil eye, peace and love, remembering who you are, following your heart, anything is possible, keep going, have faith, survivor, powerful, unstoppable, etc. The many inspirational and motivational messages that are a part of the jewelry resonate with the person wearing it, making it unique. The jewelry has meaning to those who give it and those who get it.
Katia Designs' versatile jewelry line includes layering necklaces, bracelets, and chains. The company has also expanded to include apparel and rings. Collections include saltwater heals, spirit animals, spiritual AF, flower power, zodiac, celestial, etc. A woman-owned company, Katia Designs has 25 employees in South Florida. The elements in each piece offer an uplifting and spiritual message, reminding people of aspirations, powerful messages, goals, and missions and giving people a way to express themselves.
Katia Designs offers a complete line of handmade spiritual jewelry, including mala bracelets, chokers, fusion, danties, rings, layering necklaces, long chains, anklets, rosaries, fusion necklaces, and bracelets. The jewelry is sold online and in 50 boutiques in the U.S. and Canada. Half of all sales come from repeat customers. To view the collection and learn more, visit the site at: https://katiadesigns.com.