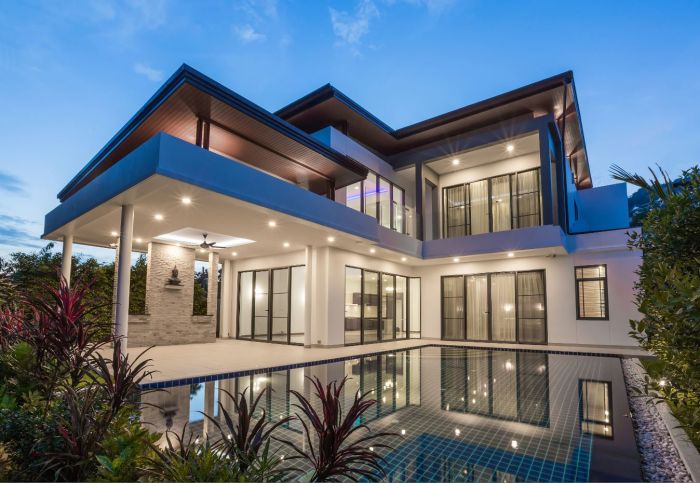 Shutterstock
A well-appointed house is not the defining characteristic of a wealthy dwelling. In contrast, a luxury residence provides its inhabitants with the means to have a sense of being pampered or doted upon. Imagine unparalleled splendor, befitting royalty, and the most lavish of lifestyles.
So, when planning to move to a new house, not only should you hire cross country moving companies but also know what to look for in an ideal home. These top-rated suggestions have the potential to pique the interest of even the wealthiest homebuyers, or they might serve as inspiration for those working with more modest means.
Technology
We can't ignore the swarm of new technologies that is forming around us. Homeowners in the modern day want every possible technological convenience, and the construction companies that provide it will remain successful. You can now lock your doors, adjust the temperature and lighting in your house, and activate or disarm your security system from across the nation with the tap of a button on your iPhone.
Builders that include these wireless home automation systems in their projects are cutting the edge of what today's affluent homeowners demand. Homebuyers concerned about their impact on the planet are increasingly interested in properties that have recycled wood in structural elements like ceiling beams, floorboards, and doors.
Spas And Swimming Pools in The Backyard
A luxury traveler needs more than a fully equipped indoor kitchen. The creature amenities of a homey outdoor kitchen and cooking area are much sought after by today's affluent homebuyers.
Large pools with waterfalls, other water elements, and much seclusion are essential. As more people want to spend their free time outside, the prestige of individuals who own properties with an outdoor oasis is rising.
A Theater and Game Room
An oldie but a goodie in the realm of opulent interior design is a dedicated gaming and movie room. A property worth millions should naturally have a home theatre and gaming area. The trend is expected to continue, with affluent homeowners planning to add features like indoor basketball courts, swimming pools, and elaborate sports bars with TVs and booze cabinets.
The ultimate aim is to design a home with such a wide variety of entertainment options that its inhabitants never feel the need to leave their cozy confines. This means providing them with as many gaming and theatre facilities as possible.
Clubhouse Gym Workout
Millionaires hate working out in public because of the embarrassment it brings them. Because, really, who can blame them when they have the disposable income to install full-scale workout centers in their own houses? The pinnacle of home gyms would have not just a large area for weights and equipment but also built-in wireless speakers, TVs, and a sauna and indoor pool for post-workout relaxation.
In-Home Spa
A luxurious lifestyle calls for an equally elegant toilet. A wealthy person's vacation will include stays at some of the world's most luxurious spas and hotels. Many homeowners install luxurious spa-style bathrooms to bring some of that richness into their daily lives. Large walk-in showers with body jets from head to toe, heated tile flooring, heated towels, and a deep soaking tub are just a few of the amenities that help one unwind after a hard day on Wall Street.
Space Appropriate for a King and Queen
The bedroom is a person's most private space. Thus, the level of luxury afforded to them should stay the same once they enter. Every single one of us spends a significant amount of time in bed. Therefore, the bedroom must be spacious enough to accommodate a king- or queen-sized bed and other sitting options. Also wanted in this personal space are cutting-edge electronics. Automated lighting, security, window coverings, and temperature regulation systems are on the top bedroom must-haves list.
Conclusion
The pinnacle of luxury in your eyes may be very different from the pinnacle of luxury in another person's eyes; after all, we all have different tastes in furnishings and lifestyle priorities. However, one thing is sure: you can achieve luxury in your home by equipping it with the latest and greatest in electronics, appliances, and conveniences.
Is your house equipped with such luxurious features? Do you want to renovate your current home or look for a new one? If that is the case, why not print off this guide and bring it with you while you search for your next fantasy vacation? It is a surefire way to locate the proper mansion.