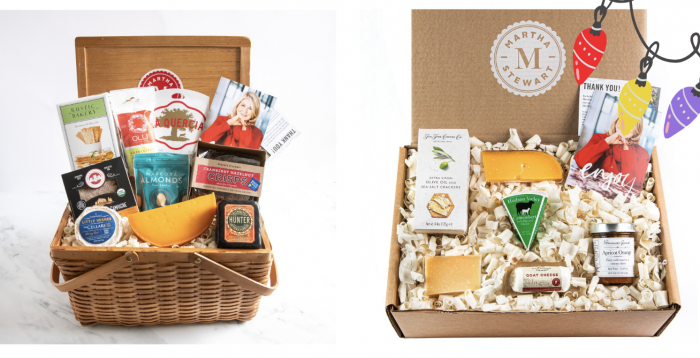 igourmet
Choosing holiday and hostess gifts can be time consuming in deciding what the recipient would like and what shows your appreciation, admiration and devotion.
For over 30 years, Martha and her team of food editors have curated some of the finest gourmet foods to enhance the pages of Martha Stewart Living magazine. With the help of igourmet, fans can now purchase from an exclusive collection of gift boxes to excite the foodie on your wish or gift list, and wow your host and hostess. Each order is beautifully packaged and ready to enjoy with family and friends.
Here are a few of Martha's favorite things you can order on igourmet. Use the code MERRY21 and receive 15% off.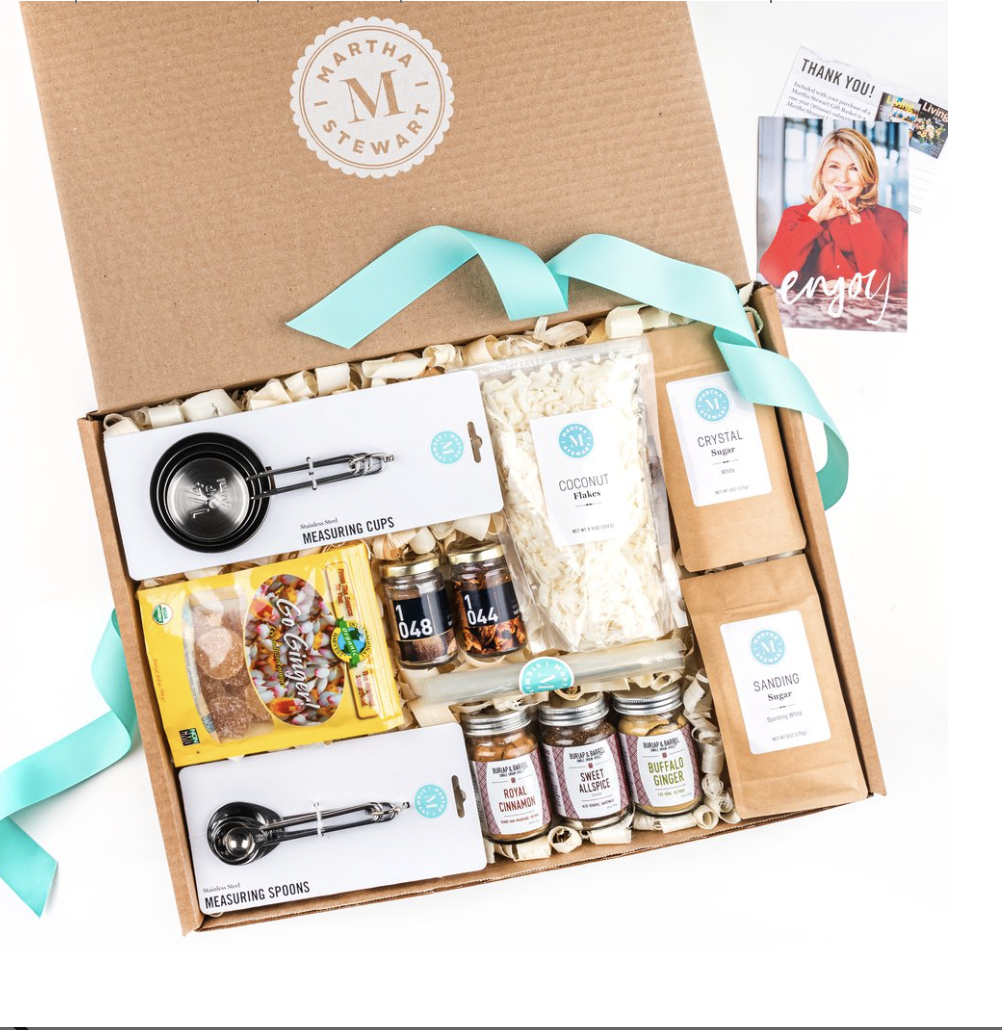 igourmet
Martha is a master in the kitchen and in the Martha Stewart Premium Baking Kit she features her specially sourced spices, handy and useful measuring items and sugars that will elevate every dessert you create.
Inside the box is a collection of Unsweetened Shredded Coconut to help make many of Martha's favorite dessert recipes. This flaked coconut is delicious as a garnish for chocolate truffles.
Martha only uses Martha Steward Madagascar Vanilla Beans sourced from the African Island of Madagascar, because these provide the maximum vanillin content, giving vanilla its signature intoxicating flavor. The pods can be split with a sharp knife and the beans inside can be scraped into any cake or cookie batter. When you're done, fill a jar of sugar with these pods for the most aromatic vanilla sugar to enjoy in coffee or baking chocolate chip cookies.
Other sugars Martha uses are the Martha Stewart Crystal White Sugar fthat is finely milled sugar that melts evenly, dissolves quickly, and has a clean, sweet taste in baking.
Martha's Sanding Sugar finishes a cookie or cake design better than any other. Its gritty mouthfeel sparkles when catching the light to makes your dessert look chic and appealing.
The freshly grated Nutmeg adds depth to a creamy bechamel sauce or moist spice cake. Grated nutmeg added to a batter or sauce offers a warm and pleasing earthy flavor.
Mace Blade is actually the outside of nutmeg. Use it anywhere nutmeg is used, to provide an even more mellow taste, especially with delicately flavored sauces and desserts.
Organic Crystallized Ginger: It's sweet, it's spicy, and it's irresistible. Slightly chewy and pleasantly sweet ginger hunks are delicious in soft gingerbread cake or carrot cake. They're also tasty as a snack, if you're truly a ginger lover.
Royal Cinnamon is an heirloom variety of cinnamon that is harvested in the mountains of Vietnam. Its warm taste and fragrant aroma is intoxicating. Use this in any cinnamon-based dessert or rich savory meat-based dishes.
Martha enjoys baking with a special breed of ginger called Buffalo Ginger. It offers light and sweet notes to cookies, cakes and quickbreads that adds a surprising touch of spicy heat.
Last is Ground Allspice Berries, which are from an evergreen tree. The nutty, sweet and deeply warm flavor enhances any harvest-theme dessert or warm cocktail. Sprinkle some in a savory dish or chili for a pleasing kick of flavor.
Other items in the box include a Four-Piece Measuring Cups for portioning ingredients perfectly so any baking recipe turns out well. These easy to read and use measuring cups provide reliable results every time.
The 4-Piece Measuring Spoons are durable, dishwasher safe, and dessert recipe approved.
This box is ideal for your favorite doyenne in the kitchen and is $129.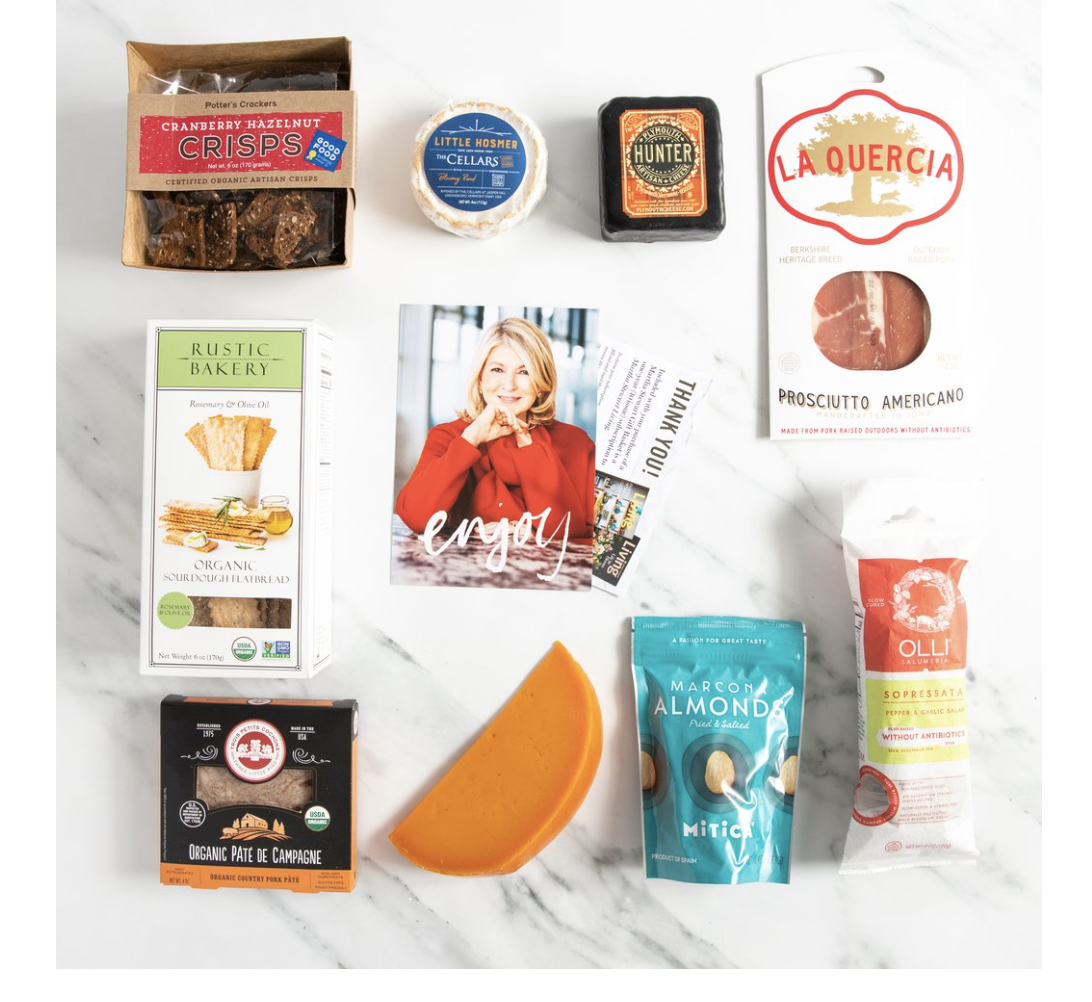 igourmet
Martha's Entertaining Box is perfect for a cocktail party with ready-to-serve gourmet nibbles to pair with festive libations. Some of Martha's favorite artisan purveyors in Europe and America are packaged in a reusable wooden picnic basket.
Inspired by the traditional country recipe of France, the Trois Petits Cochons Organic Pâté de Campagne is slow cooked using coarsely ground pork meat and pork liver seasoned with onions, garlic, parsley, bay leaves and thyme. (4 oz.)
The silky, melt-in-your-mouth, dry-cured ham La Quercia Prosciutto Americano is made in the Italian tradition with the finest meat from American heritage-breed pigs raised on Certified Humane farms in the Midwest. It's nitrate-free. (2 oz.)
Olli Salumeria Artisan Salame-Molisana: Olli's fourth-generation salumiere crafts this salami from pasture-raised heritage Berkshire pork, slow cured with cracked black peppercorns, garlic and Sangiovese wine. Nitrate-free. (6 oz.)
Produced in France since the reign of Louis XIV, Mimolette Jeune 3 Month by Isigny is a semi-hard orange cheese made from the pasteurized milk of Normandy cows. then aged for 3 months to create deliciously sweet and mild flavor. (7.5 oz.)
Brie-style cow's-milk cheese Little Hosmer by Jasper Hill Farm offers a thin bloomy rind, a soft flavorful center and a hint of white mushroom aroma. (4 oz.)
Classic Vermont cow's-milk Plymouth Hunter Cheddar is aged a full 2 years to produce robust, extra-sharp flavor and a richly crystallized bite. (8 oz.)
Rustic Bakery Rosemary & Olive Oil Organic Sourdough Flatbread has sweet, dried rosemary leaves that are kneaded into the dough to create a crisp organic Mediterranean flavor flatbread. (6 oz.)
Potter's Cranberry Hazelnut Crisps in Farm Crate are exceptionally airy and crunchy crackers made with rolled oats, buttermilk, hazelnuts, cranberries and seeds, plus a hint of orange. (6 oz.)
Known as the 'Queen of Almonds' Mitica Fried & Salted Marcona Almonds is a Spanish variety that is sweeter and softer than most almonds. These nuts are peeled, fried in sunflower oil and salted to heighten their natural flavor. (4 oz.)
Martha Stewart Dried Persimmons are all-natural, unsweetened and unsulfured before expertly dried to preserve their tender, smooth sweetness. (6 oz.)
This gift box is $169, but if you use the code MERRY21 all of igourmet International Gourmet Gifts and Goodies are 15% off. This discount expires 1/31/2022.