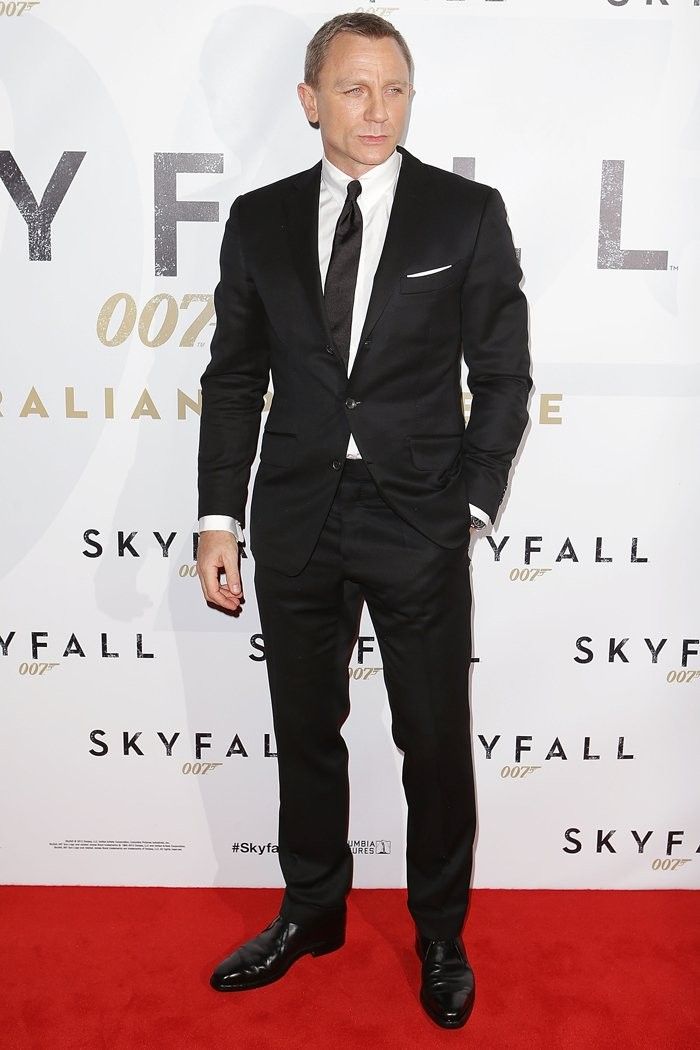 Pinterest.com
James Bond a real star famous for his powerful role and his dominant character but the major factor which makes him unique, special and extraordinary than others is not other than his "clothing". In 50 year career of James Bond from Dr. No to his latest 23rdfilm Skyfall, he is eminent and liked particularly for his perfect fit James Bond suits and accessories. After doing a fantastic job in all of his movies 007 is now became an ideal and inspiration due to his stylish, unusual and formal dress up for all of his fans who desire to look just as him.
After seeing such a great attention of people towards its clothing we discuss some major features of James Bond 007 style. Following is the guidance list of Bond clothing without breaking the bank. You can attain all the consideration of the people towards your clothing by following this instruction.
The Suit / Tuxedo:
Because of his dominant character in movies Bond suits are consistently in block colors. He wore grey and black suits and midnight blue tuxedo. He is mostly viewed in 3-roll-2 button suit and 1 button tuxedo. Bond rarely wear 3 button suits because 1 & 3-2 button jackets are stylish & enough good to move freely.
Jacket Details:
Bond 007 always wears classy and unique jackets. He chooses the quality and great looking jackets to wear in his films with the following requirements.
1. The color of the jacket should not be loud and the lining should be simple and trouble-free. Because of Bond style and freely movement his jackets are regularly double vented.
2. His Jacket is made of the high quality wool fabric which is soft and smooth to wear.
3. Avoid hard structure and construct it with the soft and silky wool so you can wear it comfortably.
4. Bond style jacket are usually double vented.
5. By following the Bond style your jacket sleeves definitely required working cuffs.
6. According to the style of standard British tailoring remains your pockets flat.
Trousers:
1. He wears the trouser which looks perfect with his jacket. Therefore, here are the features of his trousers.
2. Bond's trousers are usually simple and well designed. Trouser's cut should be classic.
3. The waist line should below 1" than your navel
4. Pants are straight fit with no pleats and cuff less bottom.
5. If the color quality and style of your trouser does not match with your jacket than it would be consider a bad suit.
6. A straight line from top to bottom on the back and front of trouser.
Belts:
We all witnessed that James Bond usually wears pants with side adjusters. But, if you want to wear it, in Bond style than these are the suggestions to follow.
1. The color of the belt should match your shoes.
2. Belt should be thin, thick belt will look causal
3. Prefer leather shinny belts
4. Purchase which fits you perfectly don't punch holes by your self
Shirts:
Bond wears white crispy shirt shirts which drape well and mostly fit with cufflinks. Follow there all ideas to dress up shirt like him.
1. Wear the white clean and crisp shirt with the suit. If matching tie is available than also permit to wear purple or pink one but not regularly.
2. Your shirt should be made 100% of cotton and for the great looks you can also wear high collar shirt like modern Bond (Daniel Craig)
3. To prevent your shirt from perspiration stain and for making it more durable you are suppose to buy thinnest cotton shirts
4. There are many collar styles but the major one is standard and cutaway, but standard/classic collar is more preferable.
5. It is good to favor custom made shirts which avoid extra expenses of altering, after receiving it.
Tie:
James Bond used to wear simple tie with perfect matching. If you want to know how to tie a tie like James Bond, then consider below things,
1. Wear the basic colors including blue and red and occasionally gold purple or green color if it is matched with your shirt and jacket
2. If you want to like formal than usage of Tie clips is a good idea which allows it to hang well everywhere
3. Don't put solid or strong color or pattern tie. Because JB 007 is never witnessed in large stripped or polka dot ties.
4. Avoid wide ties which make the knot look thick and expensive too.
Shoes:
1. Shoes are the important part James Bond dresses up. From all of these points you came to know that which type of shoes required in Bond's suit.
2. Choose the shoes and socks which is slightly darker than your pants
3. Purchase high quality and comfortable socks from the big store.
4. Prefer black leather shoes because it is one of the important parts of formal dressing
5. Evade purchasing black socks; instead buy charcoal for grey suit and navy blue for navy suit. It is also a suggestion that if you are wearing a dark colored tie like green red than wear the same color of socks to make an impact.
Final Touch:
We have provide some necessary information to answer how to dress like James Bond and we expect that all the true fans of Bond 007 will surely love them and also share this article to others who also love to be like Bond.
Jamesbondsuits.com