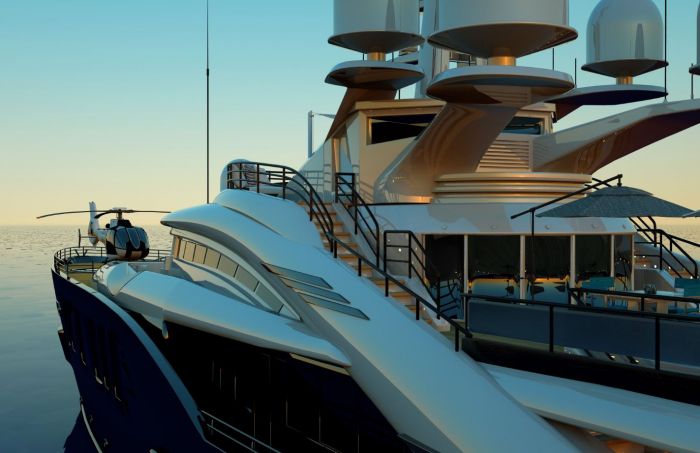 Shutterstock
Thanks to the development of the yacht tourism industry in Dubai, there are plenty of charter opportunities to try out. You can enjoy a memorable sailing experience in the emirate by booking the right yacht out of hundreds of choices. In this article, check out some popular yachts to charter based on your needs.
Things to note before choosing a yacht rental Dubai model
There is a wide range of yachts to choose from, so you can consider a few factors to make things easier. The following aspects can help you pinpoint the most suitable yacht rental Dubai option.
Number of guests

The purpose of your charter

Event/Party requirements

Special features
Number of guests
Superyachts have varying passenger capacities. The top models in Dubai can fit anywhere from up to 5 to 500 people. A good way to figure out which yacht to pick is to consider the number of guests joining you. Choose the 50 ft JStar or the 48 ft No Regrets for charters with less than 30 people. For charter trips with more than 30 people, the 85 ft Black Pearl and the 101 ft Infinity are good options.
Generally, the passenger capacity increases as the size of the yacht does, but this is not always the case. A good example is the gigantic 170 ft Sensation yacht which fits only 12 passengers.
Note that reputed companies offering yacht rental in Dubai have strict passenger policies and impose restrictions on exceeding the mentioned capacity.
The purpose of your charter
People charter a yacht in Dubai for different reasons. Some want to escape from the hustle and bustle of the city and relax with a drink under the sun in absolute privacy. For others, enjoying watersports activities and swimming in the middle of the sea while sailing sounds better. Many also book yachts to utilize great views and photo shoot opportunities with the sea and Dubai's coastline in the background. There are different yacht options that match these varying needs, so figure out the intent of your trip beforehand.
Event/Party requirements
Hosting major events on a yacht is a popular idea. This includes birthday parties, proposal and anniversary charters, New Year's Eve celebrations, corporate events, DJ nights, and more. You can find several all-inclusive charter packages for each event, which is a hassle-free option.
Special features
Some yachts have special features that passengers love, such as jacuzzis, flybridges, home theatres, and swimming pools. If such features are necessary, make sure the yacht you choose has them.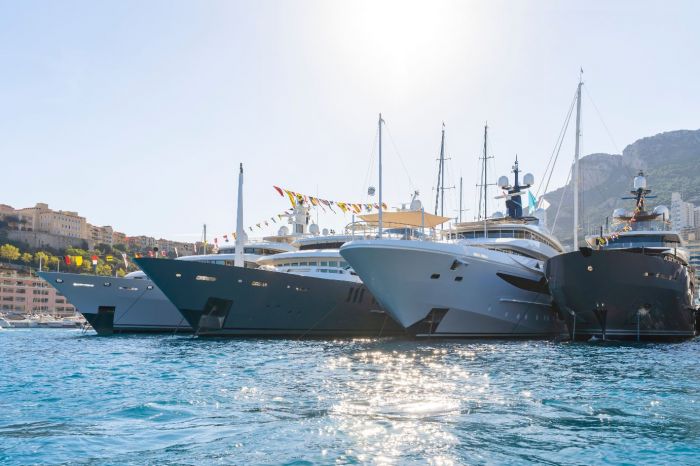 Shutterstock
Yacht options for an adventurous trip
A yacht with a good flybridge and sporty design is a great option for adventurous trips. You can spend a day far out at sea swimming and trying adventure activities like jet skiing, sea bobbing, and paddle boarding. The following are some of the best options.
90 ft Arabian Pearl
This Alshali yacht has an attractive white exterior design and features a large flybridge. With 5 cabins fitting up to 65 passengers and 10 overnight guests, the yacht guarantees great views and vibes as you move farther from the coastline.
90 ft Notorious
With a sleek and aesthetic exterior, this Sunseeker yacht moves at a top speed of 26 knots. The yacht is ideal for a fun and exciting trip with your best friends, featuring a salon bar, flybridge, and spacious lounge areas. You can choose to book a jetski ride for a great time.
85 ft Tayget
This Aicon yacht is popular thanks to the onboard sea-facing jacuzzi, flybridge, and DJ equipment. During the charter trip, guests can enjoy water activities like wakeboarding, sea bobbing, and jet boating. The yacht has 3 cabins that fit 20 passengers and 6 overnight guests.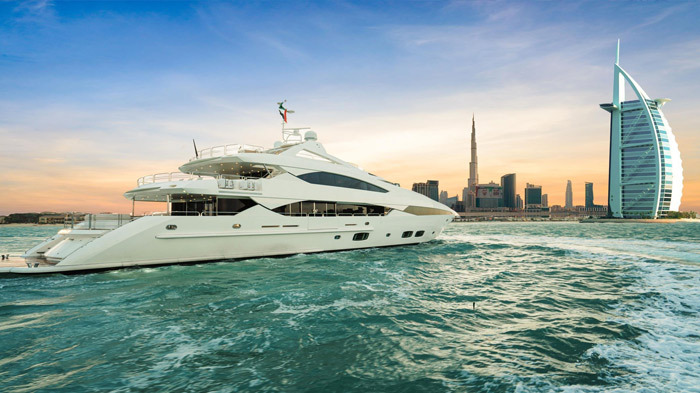 Top yacht rental Dubai picks for a relaxing charter
A Dubai yacht tour is a top choice for anyone looking for a quick getaway from the crowds. Many of the best rental yachts in Dubai feature expansive decks, jacuzzis, and lounge areas, which add to the relaxing experience. Take a look at the top options below.
90 ft Haigan
This PR Marine yacht has 4 cabins that fit 8 overnight guests and 20 passengers. Guests can enjoy a scenic jacuzzi, barbeque grill, satellite TV, and a premium music system onboard. The wide deck spaces are ideal for relaxing and catching up with loved ones.
115 ft Legende
Featuring a large Jacuzzi, this Sunskeer yacht offers plenty of opportunities to unwind. There are 4 spacious cabins onboard ideal for 8 overnight guests and 30 passengers. You can scenic sofa spaces throughout the yacht's deck that offer unrestricted views of the surroundings.
120 ft Dolce Vita
Departing from Dubai Harbour, this Numarine yacht lets you enjoy scenic views while relaxing in a huge jacuzzi. It is ideal for up to 12 overnight guests and 25 passengers and includes 6 luxury cabins. The yacht is ideal for a laidback get-together with family and friends.
Popular yacht options for an all-night party
Spending a night dancing away to upbeat music on a yacht is a popular option in Dubai. You can hire a DJ, invite your friends, and throw an exclusive party on a large yacht. The following are some of the top options.
164 ft Code 8
This gigantic yacht by Benetti features a large jacuzzi. Up to 50 passengers and 10 overnight guests can have a great time onboard. The yacht offers plenty of space to dance and socialize.
220 ft Lotus
This custom yacht was designed for throwing huge parties for up to 500 people. Guests can enjoy a 42,000-litre pool, a professional AV system, 6 jacuzzis, 20+ TVs, 3 projection screens, a dance club, a nightclub, 5 decks, and more.
Now that you know the best yachts to charter based on your needs, go ahead and rent a yacht in Dubai! Remember to choose a repeated rental company and go through the terms and conditions before booking.