Magnum Ice Creams,
In celebration of the luxury Magnum ice cream bars 10th anniversary in the U.S., the chocolatiers of ice cream has collaborated with iconic fashion designer Rebecca Minkoff to create a stylish custom insulated handbag. It's ideal to keep their decadent ice cream treats icy cool for picnics, a day at the beach, or a nighttime concert in the park.
The global fashion brand was founded by brother Uri Minkoff and sister Rebecca in 2005 in New York City. They now have retail stores in Hong Kong, Los Angeles, Korea, New York, San Francisco and Tokyo.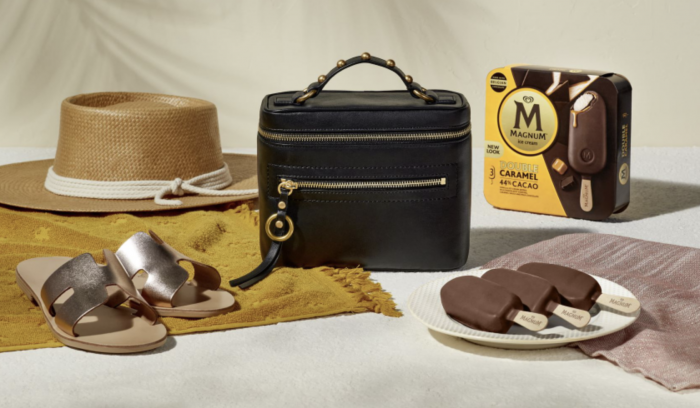 Magnum Ice Cream & Rebecca
Rebecca Minkoff is known for her women's designer handbags, designer clothing, shoes, and accessory trend styles for every season.
Her partnership with Magnum Ice Cream began at her Fall 2016 New York Fashion Show. A new chocolate Magnum bar was created from inspiration by her design collection. Since then, Magnum has collaborated in additional Fashion Week activations, including the March 2021 show.

Magnum Ice Cream
Magnum Ice Cream allows fans to indulge in a delicious range of Belgian chocolate-covered ice cream bars and mini ice creams. The rich, creamy vanilla ice cream is covered with a cracking milk chocolate shell made with 44% cacao. There are 17 different flavored bars to select.
For those seeking non-dairy vegan bars, Magnum makes non-GMO, fully plant-based bars. They offer a classic non-dairy bar, non-dairy almond bar and non-dairy sea salt caramel bar.
To celebrate the union of fashion and ice cream, fans have a chance to sign up for a limited edition Rebecca Minkoff bag now. Just go to this link and complete the short form. Click here to find a store near you to purchase Magnum Ice Cream.