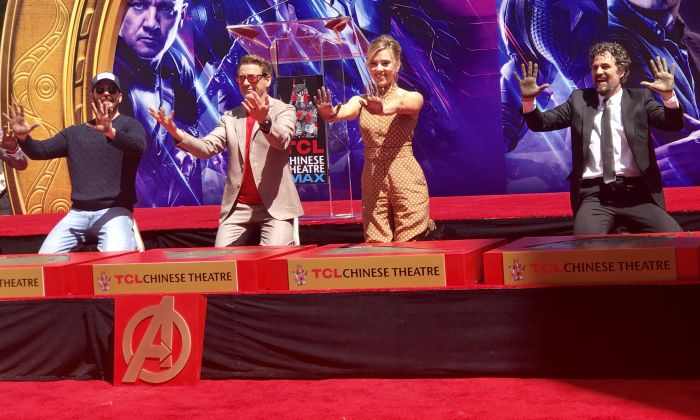 Jill Weinlein
The release date for the much awaited "Avengers: Endgame" is April 26, 2019. It will be shown in 4,600 theaters, with round-the-clock screenings of the final stand in Marvel Studios' grand conclusion to twenty-two films.
I was recently invited to the courtyard of the TCL Chinese Theater in Hollywood, California for the "Avengers: Endgame" handprints in the cement ceremony. Leading film critic and film historian Leonard Maltin introduced some of the stars of the mega-hit movie franchise. Walking out on the red carpet were celebrities Robert Downey Jr., Chris Evans, Mark Ruffalo, Chris Hemsworth, Scarlett Johansson, Jeremy Renner, along with Marvel Studios President Kevin Feige.
Together they made Hollywood history, walking out into the courtyard to find their spot and sign their name before placing both hands in wet cement. Actor Mark Ruffalo did a handstand in his designated box to make a deeper impression.
There are almost 200 handprints, footprints, and autographs in the concrete of the theater's forecourt. The first impressions were made by Douglas Fairbanks and Mary Pickford on April 30, 1927. "In Southern California this is our history," said Maltin who attended the movie premiere in Hollywood the night before. He told a crowd of Marvel fans "movie audiences feel the emotions that go with each Avengers movie."
Audiences have been fascinated with super heroes for almost 90 years. "It all started with Flash Gordon as a comic strip in the 1930s. It showed for 13 weeks every Saturday in motion picture theaters," Maltin informed the crowd. "This Avengers series has been a 10 year journey filled with risks and taking chances. Kevin (Feige) took enormous risks in hiring directors and casting each movie.
What makes these Marvel Studios movies cutting edge, is that it takes major film making steps by including a strong female protagonist and hiring females behind the camera. With each movie, we care about the characters embodied by the talented actors. "We care because this movie embraces cultural and society changes," said Maltin. "Movies lead our thinking of the real world, as well as give us a form of escapism."
Escape and see "AVENGERS: ENDGAME" to be thoroughly entertained by a stellar cast of characters.
Jill Weinlein
Robert Downey Jr and Scarlett Johansson placing their autograph in wet cement in the courtyard of TCL Chinese Theater in Hollywood.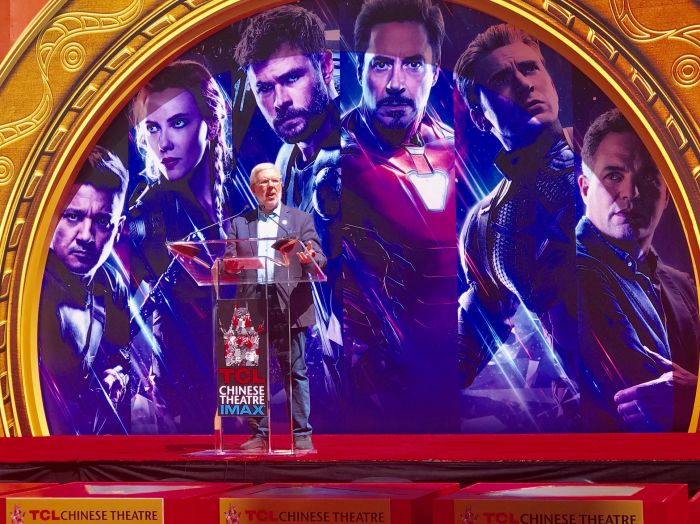 Jill Weinlein
American film critic and film historian Leonard Maltin.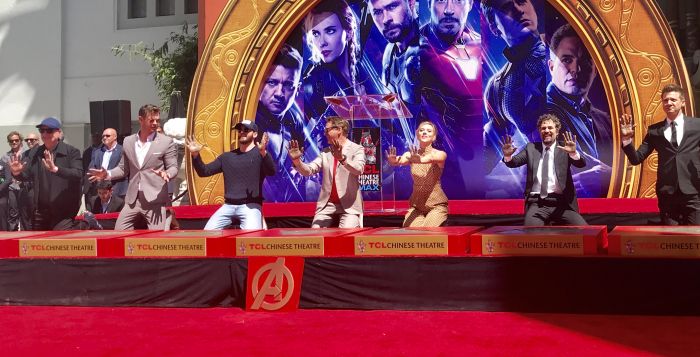 Jill Weinlein
Some of the 'Avengers: Endgame' cast members making history at the TCL Chinese Theater in Hollywood.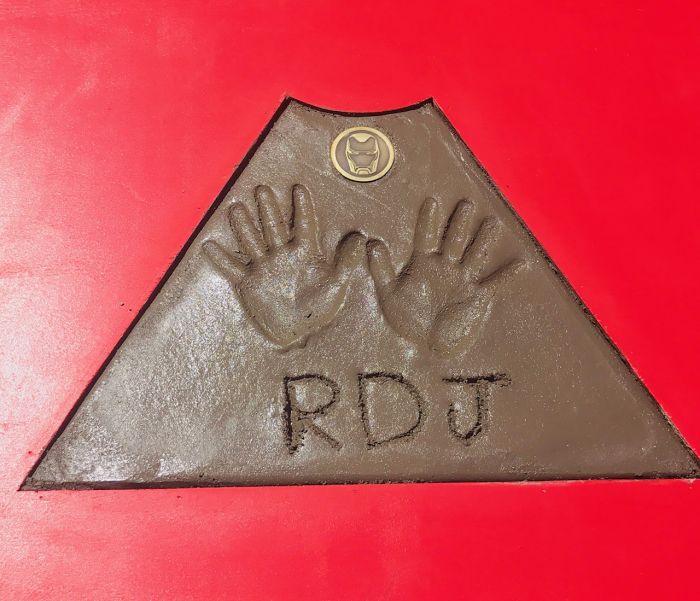 Jill Weinlein
Robert Downey Jr's handprint and signature in wet cement in Hollywood.