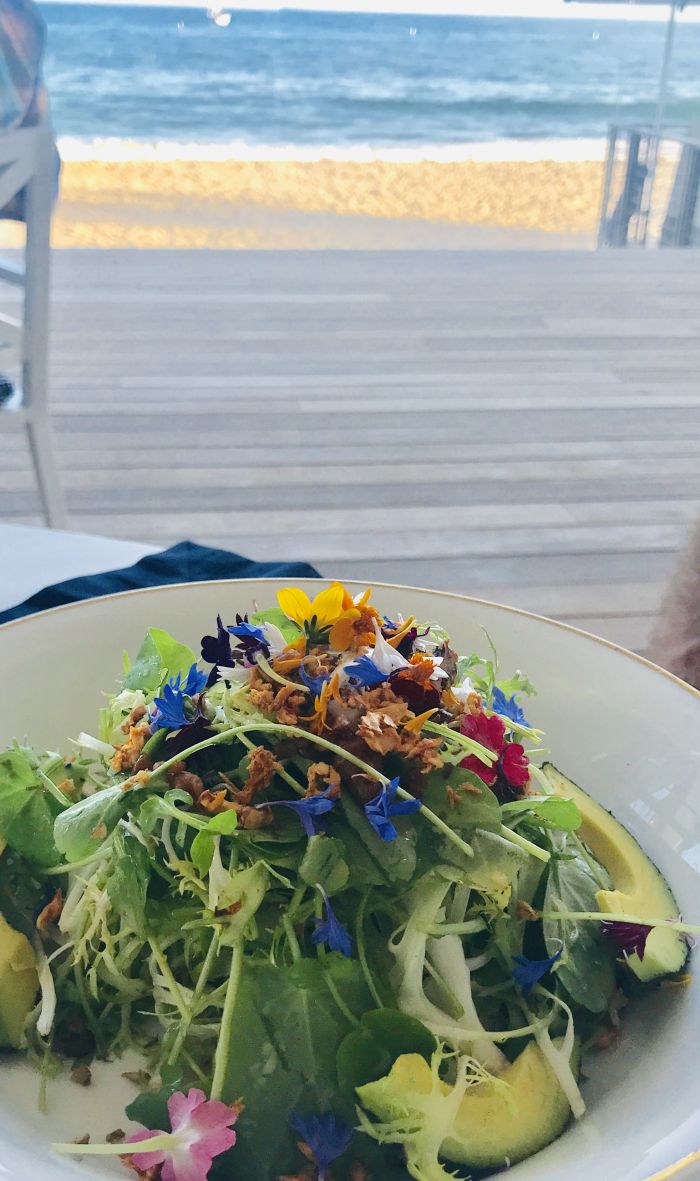 Jill Weinlein
Driving up to Santa Barbara, a popular destination for foodies, wine enthusiasts, boating, beach lovers, artists and luxury travelers, one will notice Rick Caruso's newer luxury Rosewood Miramar Beach Resort. Set along the millionaire row of ocean front homes in Montecito, the resort's fine-dining supper club Caruso's is right on Miramar beach.
Arriving at the circular drive of the Grand Manor House, uniformed valet parked our car next to a Bentley, Rolls Royce, Porsche and Tesla. Walking into the reception area, a talented pianist was playing in the formal living room overlooking the grand lawn. Outside on the shaded veranda, guests were sipping rose' wine while looking out towards the two swimming pools.
Strolling towards the Pacific Ocean, we stopped to allow a Pacific Coaster train to pass, before reaching the Miramar Beach Bar with flickering firepits, lounge seating and stairs leading down to the elegant Caruso Restaurant. It's located between the East Beach House and West Beach House where rooms look directly out to the golden sandy strand and the Channel Islands in the distance.
One feels as if they are dining on a luxury yacht with teak wood floors, and a stylish color palate of navy blues and crisp white. A wall of mirrors reflect the unobstructed views and add a touch of glamour.
Sitting at a table for four on the dining terrace, we enjoyed a glass of Flowers Vineyards & Winery Chardonnay from Sonoma County, while looking over Executive Chef Massimo Falsini and Chef De Cuisine Paul Osborne's menu. There is an extensive selection of local Santa Barbara and Santa Ynez Valley wines, plus a selection of and international wines.
It's an ideal summer wine to sip while enjoying the tastes of Southern Italy with a local influence. We started with a Santa Barbara Farmer's Market Salad layered with organic greens, shaved fennel, dried apricots and a blackberry vinagrette. The Tutti-frutti Toy-Box Tomato Salad is made with a variety of red and yellow heirloom tomatoes, along with double 8 Buffalo Mozarella cheese, that resembled buratta cheese, and roasted pistachios on top.
Hyper-local ingredients from the ocean include Santa Barbara prawns and uni, charred Pacific octopus, crispy Monterey King salmon, seared Channel Island white sea bass and San Francisco black cod. The Santa Barbara Harbor Cioppino has octopus, calamari, seared Ling cod, clams and mussels, spot prawns and Dungeness crab. Chef Massimo arrived at out table to pour his ethereal sauces around the fresh sea bass and black cod that we ordered.
Homemade pastas range from the chef's signature Carbonara, pasta with Santa Barbara prawns and Uni Tagliolini. For red meat lovers there is a certified Angus filet château cut, "Steak and Potatoes…My Way" offering Snake River Gold Wagyu NY Strip with a Syrah jus, Dry Aged Pan Roasted Liberty Duck and Casitas Valley Rabbit in Cacciatora.
Executive Pastry Chef Benjamin Kunert makes an exquisite Baked Alaska and cheery crostata. While the food was exquisite, the professional service is more European relaxed.
After dinner we strolled next to the grand lawn, back to the East Coast Hampton-style manor house. Peeking into the all-day Malibu Farms restaurant, we noticed a wedding reception taking place on the patio next to this farm to table restaurant. Each room throughout the Manor is designed with graceful lines and furnished with formal pieces. The walls display an array of whimsical artwork.
Last Spring when the resort opened, Montecito resident and actor Rob Lowe told his friend Rick Caruso at the ribbon-cutting ceremony "We have been through a lot in the past two years with fires and floods. Now with this beautiful resort open, I feel the positive and uplifting energy all over the community."
As we handed the valet our parking ticket, we agreed that next time we dine at Caruso's, we will walk back to one of the cottage or hotel rooms and enjoy the full use of the resort.
For reservations click on https://www.rosewoodhotels.com/en/miramar-beach-montecito/destination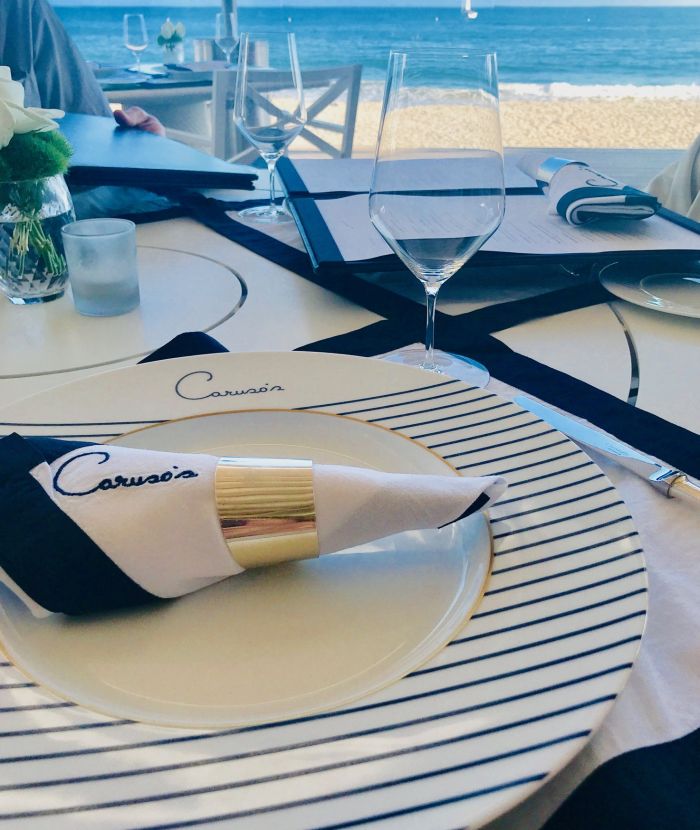 Jill Weinlein
Caruso's decor is reminiscent of a luxury yacht with teak floors, and nautical blue and white colors.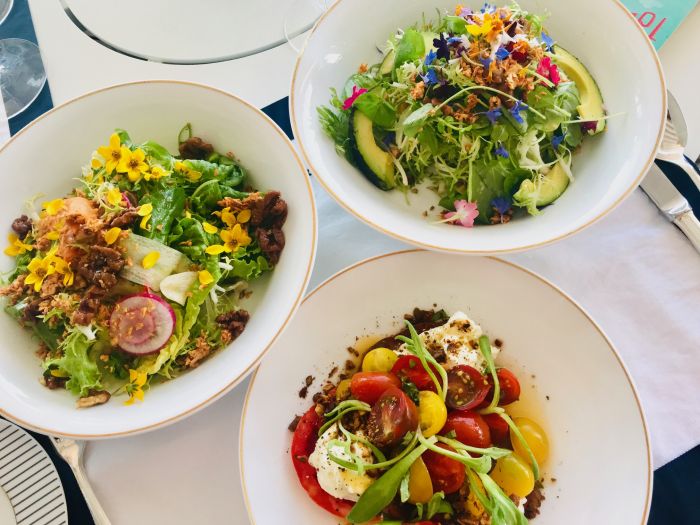 Jill Weinlein
Executive Chef Massimo Falsini and Chef De Cuisine Paul Osborne's menu is elegant and made with fresh and local ingredients.
Jill Weinlein
After dinner walk through the spectacular Rosewood Miramar Beach Resort to retrieve your car or reserve a room to stay overnight.