A recent report from Gallup shows that organizations that have made a strategic investment in employee development report 11% greater profitability and are twice as likely to retain their employees. Based on their research, one of the most important factors in creating a high-performance workplace is instilling a high-development culture that values the growth of individuals. The leaders who want to learn how to create a business environment that empowers its employees are invited to attend a complimentary webcast with New York Times bestselling author of the revolutionary leadership book Radical Candor, Kim Scott, and diversity and inclusion expert, as well as co-founder and CEO of Just Work LLC, Trier Bryant. Scott's most recent book, Just Work: Get Sh*t Done Fast & Fair, provides actionable solutions that managers and employees on all levels can implement. The webcast will be held on April 22, 2021, from 11 a.m. to 12 p.m. EST.
"This webcast is essential to any company wanting to create a culture that is based on collaboration and empowerment," explains Leon Goren, president and chief executive officer of PEO Leadership. "When you tap into the strengths and talents of everyone on your team, you will be able to maximize productivity and engagement. Just Work reveals a practical framework for both respecting everyone's individuality and collaborating effectively. This is a talk you don't want to miss."
We - all of us - consistently exclude, underestimate, and underutilize huge numbers of people in the workforce even as we include, overestimate, and promote others, often beyond their level of competence. Not only is this immoral and unjust, it's bad for business. Bryant and Scott will be discussing their framework of how we can recognize, attack, and eliminate workplace injustice, while transforming our careers and organizations in the process. They will provide practical suggestions for what we can do, today, to clear away the distraction, injustice and inefficiency of inequity so we can just work and focus on doing our best.
Those who tune into the webcast will learn:
How to get the most out of your employeesHow to create an environment of collaboration and inclusionThe framework of creating a culture of empowered and motivated employeesHow to identify workplace injustices and how to avoid themHow workplace injustices are bad for businessHow to transform your organization for the better
"My first book, Radical Candor, did a great job painting a picture of how things ought to be at work: we get more done and we like each other better when we care personally and challenge directly. But I couldn't create BS-free zones at work if I was in denial about the nature of the BS," writes Scott. "Radical Candor works, but it is easier for straight white men to put it into practice than for anyone else. That is a problem. Just Work is equally for everyone. When we clean up misconceptions and the behaviors that go with them, we build happier, more productive workplaces."
In addition to co-founding Just Work LLC, a company that provides guidance on how to create a productive organization that focuses on collaboration and respect, Scott has formerly been a CEO coach for Dropbox, Twitter, and other top brands, as well as been on the faculty at Apple University, AdSense, YouTube, and DoubleClick. Her co-founder, Trier Bryant, is the chief executive officer of Just Work LLC. She is a combat veteran, strategic executive leader, and has over 15 years of experience in the fields of tech, Wall Street, and the military. She has served in leadership roles at Goldman Sachs, Twitter, and Astra. Bryant advises leading companies like Equinox, Airbnb, SoundCloud, Alto, Rockefeller Foundation, and others on their talent and DEI strategies.
"Just Work: Get Sh*t Done Fast & Fair" webcast is limited to 500 participants. Preregistration is required, and then the webcast link and dial-in info will be sent out to registrants 30 minutes before the start of the webcast. To get more information or get registered, visit the site at: https://peo-leadership.com/events/upcoming-events/the-way-forward-webcast-kim-scott/.
PEO Leadership offers an executive leadership community that represents over 100 business leaders, successful entrepreneurs, and top executives. Its services include peer advisory boards, executive advisors/coaches, community connections, strategic business advice, an annual world-class leadership conference, and thought leadership events including PEO Leadership's "The Way Forward" live webcast and podcast. The company is owned by Leon Goren, who has over 25 years of leadership experience.
PEO Leadership offers leadership advisory services in six categories, for presidents/C-suite executives of large national and multinational organizations, entrepreneurs of large national and multinational companies, global executives, small business entrepreneurs, senior executives, and businesses in transition. There is a 60-day free trial Leadership Bootcamp available. To get more information or obtain a free trial, visit the site at: https://peo-leadership.com.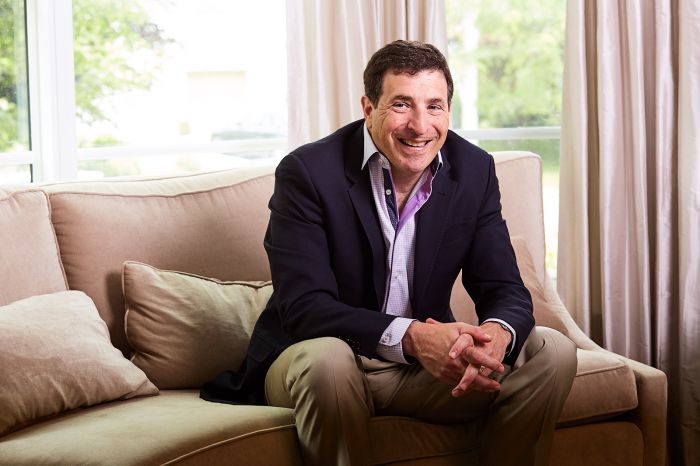 Photo courtesy of PEO Leadership
Leon Goren, president and chief executive officer of PEO Leadership