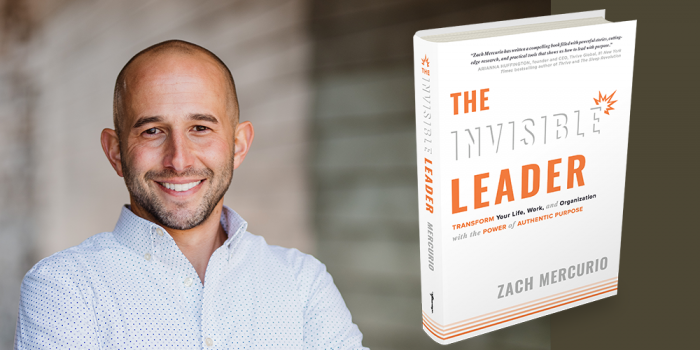 Photo courtesy of PEO Leadership
Research consistently finds that purpose may be the most powerful influencer of our behaviors, attitudes, and motivation in organizations, work, school, and life. Yet despite the increasing evidence pertaining to the power of purpose, many of the organizations, systems, and institutions which dominate our lives aren't built to elicit and leverage the fundamental human search for purpose and meaning in the best of times. So what happens Post-Covid with the introduction of hybrid workplace environments? PEO Leadership is hoping to help solve this issue by interviewing purposeful leadership expert, Zach Mercurio, on June 17, 2021 at 11AM EST.
"This webcast is especially important to business leaders as many of their executives and employees may have lost sight of their purpose during the pandemic. As businesses start opening up and people return to the office, it's important to help teams rekindle their cohesion." explains Leon Goren, president and chief executive officer of PEO Leadership. "Zach is an expert on this topic, and we can all benefit from the information he will be sharing."
Mercurio is the author of the book "The Invisible Leader" (Advantage Media Group, 2017). He is an expert researcher, consultant, and speaker on purposeful leadership, meaningful work, mattering, and positive organizational development. He also holds a PhD in organizational learning, performance, and change. Mercurio has worked for over 150 global organizations, including Hewlett-Packard, the U.S. Food and Drug Administration, Caterpillar, The U.S. National Park Service, The Ghirardelli Chocolate Company, Crocs, and The Alzheimer Association. The information he shares will help attendees discover and deliver their reason for existence and their authentic purpose.
"There is great power in finding one's purpose, doing meaningful work, and living your authentic purpose," says Zach Mercurio.
The webcast interview is free and has limited seats available. To get more information or register, visit: https://peoleadership.zohobackstage.com/TheInvisibleLeaderwithZachMercurio.
PEO Leadership offers an executive leadership community that represents over 100 business leaders, successful entrepreneurs, and top executives. Its services include peer advisory boards, executive advisors/coaches, community connections, strategic business advice, an annual world-class leadership conference, and thought leadership events including PEO Leadership's "The Way Forward" live webcast and podcast. The company is owned by Leon Goren, who has over 25 years of leadership experience in helping business owners and executives realize their personal and organizational goals.
PEO Leadership provides leadership advisory services in six categories, for presidents/C-suite executives of large national and multinational organizations, entrepreneurs of large national and multinational companies, global executives, small business entrepreneurs, senior executives, and businesses in transition. PEO Leadership is offering a free 8 Week Executive Program to those who are eligible. For more information, please visit https://peo-leadership.com.