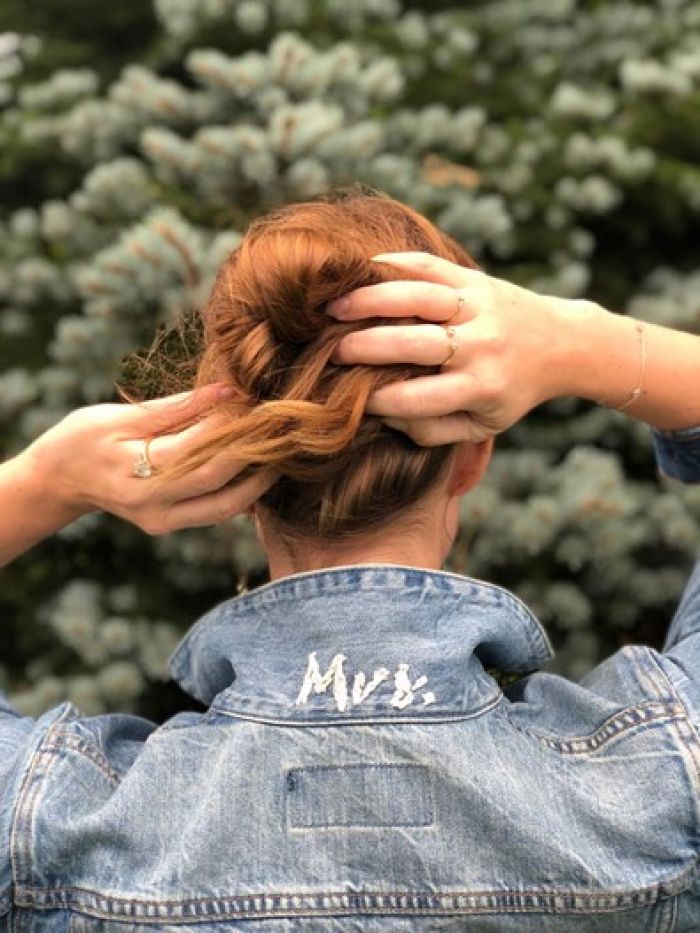 Shutterstock
Dear bride, we know that wedding preparation is in full gear, and you can't wait to tick everything off your checklist. There's so much to do, from your dress to venue, catering, decor, and more, which can be overwhelming. But you and the girls deserve to have some fun and feel good by doing something nice for all of you. What better way to get everyone excited than buying cute bridal merch and meaningful bridesmaid gifts? You have many options that suit your budget, like personalized bridal robes, Mr. and Mrs. Shirts, beachwear, and more. If you need some ideas, check out our list of brides to be clothing and creative bridesmaid gifts.
Wedding robes
The most popular bridal merch for intending brides is the wedding robe. They come in appealing fabric choices like lace, waffle, flora, terry, satin bridal robes, and more. There are also bridesmaid robes and bridal party robes that are perfect for showers, but the wedding robe is Queen. They serve continuous purposes from the bridal shower to wedding morning, honeymoon, and beyond. Ladies can customize the bridal robe with their names, initials, or wedding date in their favorite colors.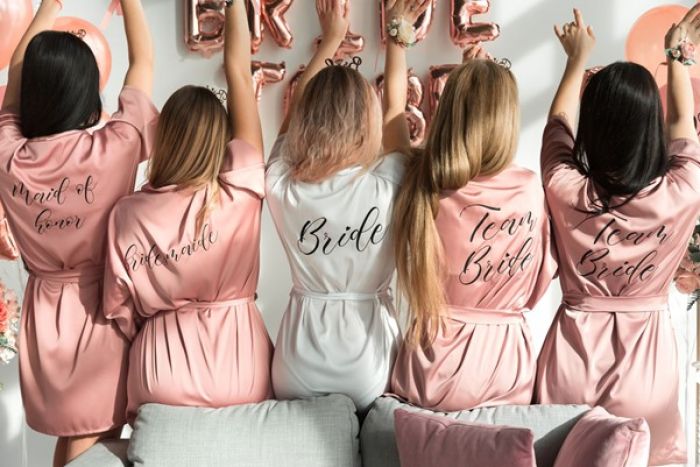 Shutterstock
Goodie box
One way to make a unique statement is by getting bridal boxes for yourself and your bridesmaids. Curate the goodie boxes with fun items like beauty and party essentials, trendy accessories, merch, jewelry, and mini wine bottles. Give yourself and the girls a treat to prepare for your big day. The bridesmaids can also grace your bridal shower, rocking the content in the box.
Shirts for the bridal party
Shirts for bridal parties are perfect clothes for bridal showers and nights out with the gang. You and the girls could opt for jerseys or flannel shirts, tank tops, dress shirts, button-down tops, or a Mr. and Mrs. T-shirt. Get the party going by inscribing funny or quirky quotes on these shirts. You could have the girls' names on the back and your party, favorite quotes, foods, or other information in front.
Bridal party pajamas
Are you having a slumber bridal shower or bachelorette? Then consider the bridal party pajamas. Have them custom-made to suit everyone's taste and personality while infusing a bit of your touch. You can opt for slips, pant sets, shorts sets, or sexy night dresses. Choosing these pajamas styles will create a casual, relaxed, and laid back yet excited and active ambiance.
Bridal squad beachwear
Girls want to have some fun, alright! Take your party to the beach by getting the gang a line of custom beachwear. Depending on how daring, you could consider one piece, two pieces, or something flirty and cover with a bride to be jacket. You can also spice up the look with accessories like beach towels, tank tops, sunglasses, bum shorts, body covers, and more. Load up your bags and trunks with foods, drinks, desserts, sunscreen, hats, and have some fun.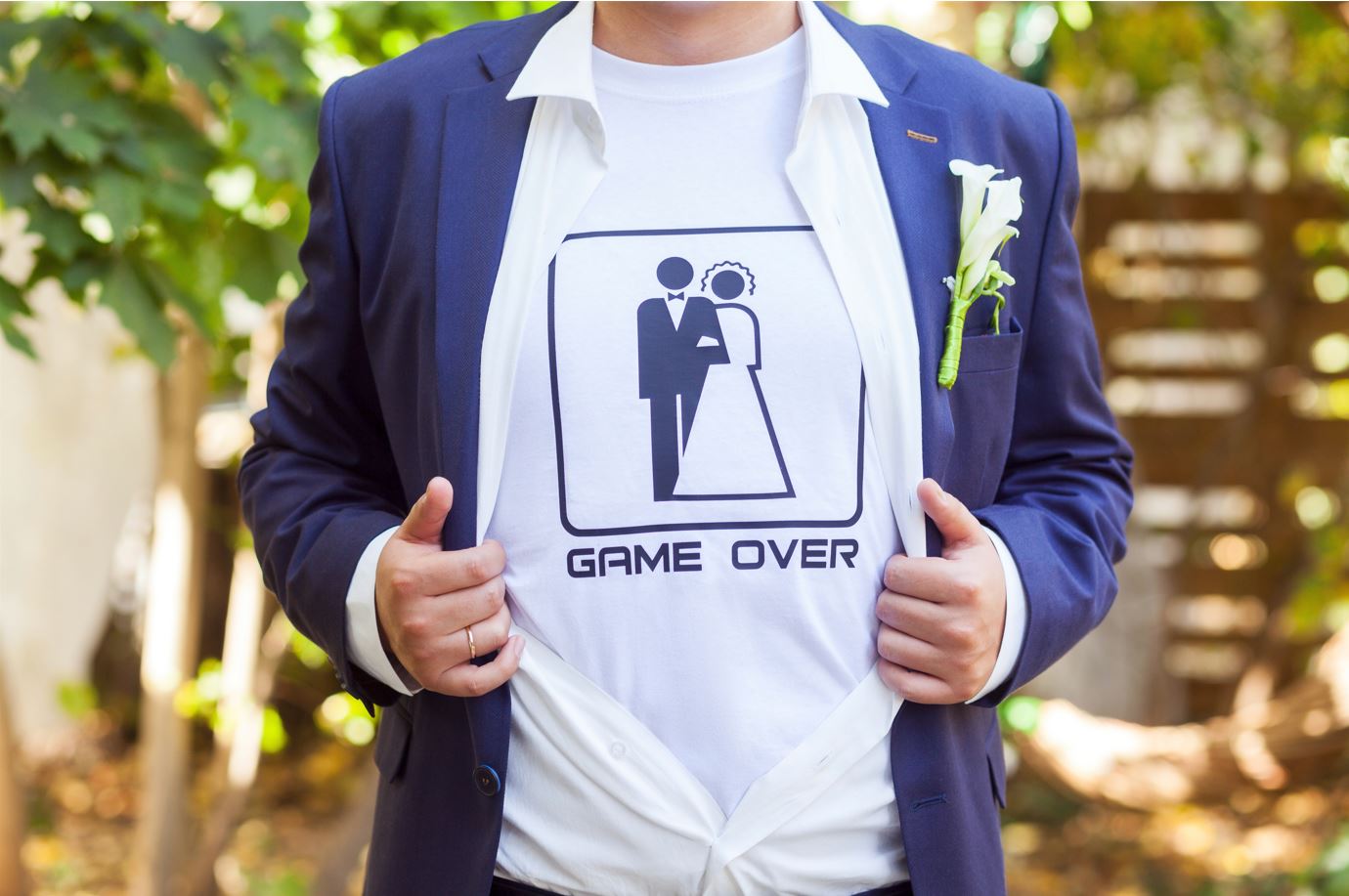 Twinning shirts and hoodies
So much ado about the brides and bridesmaids, but the groom also deserves something nice. So why don't you get custom bridegroom shirts for him or wifey and hubby shirts for the both of you? You could also consider getting matching hoodies so that both of you can twin while going about your business. Customize the shirts and hoodies with a line out of your wedding vows, wedding date, initials, or anything that speaks to you.
Totes, duffels, and beauty bags
Every girl loves a fashionable bag! So let your bridal party favors come in custom yet beautiful bags that they can use after your big day. Consider tote bags, garment, and duffel bags. You can also give them beauty essentials in custom, fashionable, and reusable beauty bags. This gesture will get the girls excited.
Drinkware
It is a celebration, so the drinks must keep flowing. Go all the way by presenting your bridesmaids with custom drinkware. Gift them engraved wine glasses with names so that they are personalized. You can also offer custom mini wine bottles with their names on them. Options for drinkware include mugs, wine tumblers, flutes, flasks, wine glasses, and more. These custom drinkware are sentimental and perfect keepsakes.
Shower accessories
Accessories make the bridal shower complete, as the girls will have many things to keep them occupied. The gifts for the bride are one thing, but you can spice up the day with fun decor essentials. There are other inclusions for games and general entertainment. Think about sashes, glitter, balloons, koozies, disposable cameras, sunglasses, hangars, hats, slippers, and more.
Buying bridal merch and getting meaningful bridesmaid gifts are fun. So we created a list of all the trendiest and budget-friendly options for your benefit. We also dropped something for the groom because he deserves it. Buy the best gifts for everyone and have fun getting married.
Author: Anastasia Beluschenko, with a specialty in wedding dresses, joined Wedding Forward over five years ago. She knows everything about wedding dresses from styles to trends, fit, and designers. Her great sense of style makes it easy for her to expertly predict the newest and hottest wedding dress trends. For leisure, she loves court tennis and stretching.