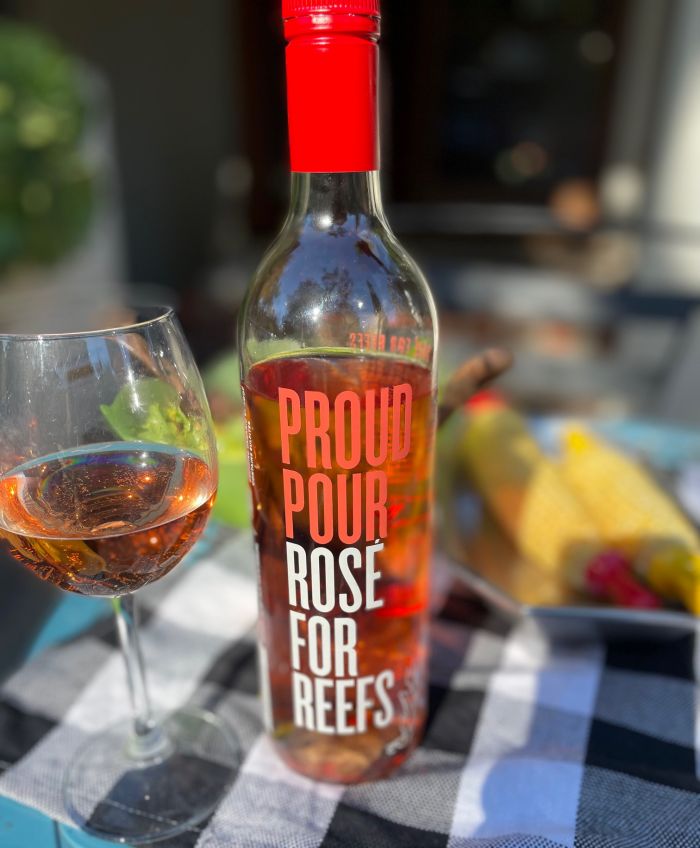 Jill Weinlein
What makes Proud Pour a unique wine brand is that the company supports 22 environmental nonprofit organizations. Not only do they support protecting coral reefs, but also bees, soil, wild oysters and sea turtles. The organic grapes used to make the wines are high quality and sustainably grown to make beautiful Rosé, Pinot Noir, Sauvignon Blanc, and Syrah.
The Rose' is made with organic grapes growing in Southern France. With every three cases sold, new baby coral is planted to restore damaged reefs. So far, over 200 baby corals have grown in coral reefs on the ocean floor supporting 25% of all marine life. Coral scientists collect large amounts of spawn coral from wild reefs and then breed the corals to produce genetically unique baby corals. This genetic diversity can make the reefs more resilient to climate change and other threats.
With its appealing salmon orange and pink color, tasting notes include tangerine and strawberry balanced with an herbal essence. This energetic wine showcases red berries and offers a citrus fruit finish. Pair with a cheese, dried fruit and nut plattter, and serve with summer barbecue proteins and corn on the cob.
Jill Weinlein
Every Sauvignon Blanc is shipped with a recycled oyster shell, giving the bottle a decorative touch. This crisp, organic Sauvignon Blanc supports the restoration of wild oysters to estuary ecosystems. To date, 14 million wild oysters have been restored. Oysters play a critical role as filter-feeders in the ocean. A single oyster can filter 30 gallons of water per day. Proud Pour's environmental partners recycle used shells from raw bars and they plant baby oysters on them, which they then put back in the water to rebuild the wild reefs. Pairings for this wine is ideal with fresh shucked corn, vegetable salad, along with farm-raised local oysters, clams, mussels, sea scallops, and grilled salmon.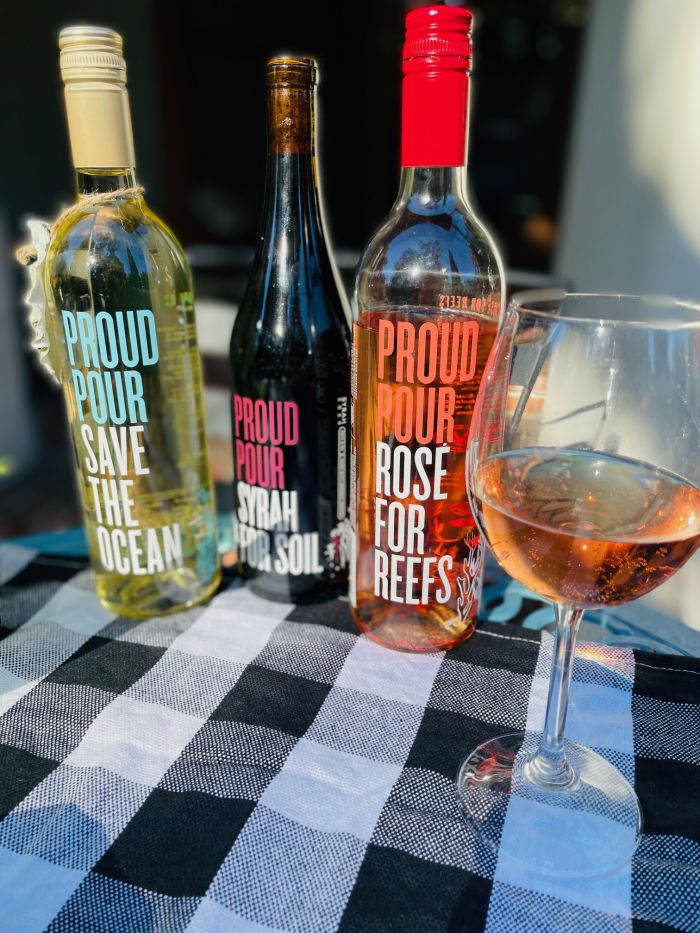 Jill Weinlein
Proud Pour Syrah helps support U.S. farmers and the American Farmland Trust who are transitioning to regenerative farming. When farms use regenerative practices that include no-till and cover cropping, the result is healthy, living soil filled with worms, fungi, and microbes. This type of farming removes carbon pollution from the air, counteracting climate change. It also protects wildlife, water, and farmers' bottom lines. This Syrah is made with organic grapes in the South of France, producing a bright with minerality wine that is light and offers balanced tannins.
Those who love an Oregon Pinot Noir will enjoy the Proud Pour's supple tannins, earthy tones and jammy blackberry and red cherry. Every bottle sold helps plant 35 sq. feet of bee habitat on farms in North America. So far 90 acres of wildflowers have been planted to date. Since bees pollinate one-third of the food we eat, wildflowers attract native bees and honey bees, as well as support local ecosystems and farmers who grow watermelon, tomatoes, pumpkin and berries. To date, sales of the Pinot Noir have helped plant 68 acres of wildflowers, a favorite bee habitat.
Proud Pour offers a starter pack that includes 3 bottles for $48. Inside is a bottle of Rose' for the reefs, Syrah for the soil, and Sauvignon Blanc for oysters. Use the code 'First Pour' to receive a $10 flat rate shipping to your home. For those seeking a case of 12 bottles for $204, use the code 'First Case' and receive $20 off and free shipping.