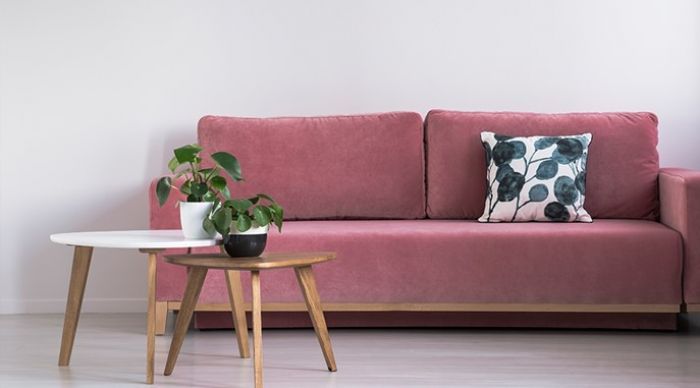 A round coffee table can be a staple centerpiece in your living room or family room. The circular shape creates a soft, welcoming look and feels open and airy. Moreover, a round coffee table pulls the whole room together into a cohesive design.
When it comes to decorating the table, it can be a bit more challenging compared to larger surfaces like shelves or desks. The reason behind this is the limited space a coffee table provides, which requires a more thoughtful and selective approach to decor. Fortunately, we've put together a comprehensive guide featuring valuable tips on how to elegantly adorn your round coffee table, perfectly harmonizing it with your room's aesthetics.
Choose the Right Height
The height of your coffee table is key to styling it well. An ideal coffee table height is around 16-18 inches tall. This allows enough legroom space when sitting on your favourite sofa. It should be low enough to rest feet comfortably on it.
When using a round coffee table, size matters. Opt for a low-profile shape with a wide diameter that takes up adequate floor space between the sofa set and chairs. A small, raised coffee table looks out of place. Choose one that allows enough surface area for decor and snacks without dominating the room.
Use a Coffee Table Tray for Decor
A coffee table tray plays a pivotal role in elevating the decor of your round coffee table. A simple tray can be visually appealing as it offers a canvas for an array of decorative elements to make the table more eye-catching. You can also use vibrant and patterned trays to convert your coffee table into a focal point without needing to add too many additional ornaments.
Furthermore, coffee table trays serve as an excellent tool for infusing style and personalization into your living room. A walnut round coffee table, by its nature, commands attention as a central fixture in the room. Therefore, it becomes imperative to strike a balance between functional and visual interests. Some ideal items to place on a coffee table tray include flowers, potted plants, candles, keepsakes, books, and even a bowl of fresh fruit.
Decor Like a Minimalist
Even if your coffee table provides a generous surface area, it's essential to remember that simplicity reigns supreme in interior design. When styling a round coffee table, the key is to ensure that the table itself remains the focal point of the room. Every item placed on it should appear as it naturally belongs there, without avoiding any clutter. Use the principle of 'less is more' to decorate your coffee table. For instance, if you opt for a coffee table tray, limit your display to items within the tray's boundaries, avoiding items scattered around it. This approach keeps the attention on the tray and allows you to maintain a pristine decor. If you prefer a more liberal approach to decorating, make sure that all your items harmonize in style and color to prevent any clashes.
Try to Create Open Plan Space
Arrange the furniture around your coffee table in a way that exudes warmth and draws attention. Instead of aligning your sofa set in a straight line against the wall, angle both ends of the sofa towards the coffee table. This arrangement not only establishes engaging conversation but also enhances the visual appeal of your space. Similarly, position chairs opposite the couch at a slight angle, directing them towards the coffee table to maintain the layout.
Style with Layers
When it comes to embellishing your coffee table, consider adding layers to create a sense of depth and dimension. A good rule of thumb is to incorporate items of three different heights: low, medium, and tall.
For instance, you could arrange a tall potted fern, a stack of books at a medium height, and a low dish for keys. Another option might involve placing a short marble box, a medium-sized vase filled with flowers, and taller candle holders. This layering technique not only adds visual interest but also enhances the overall aesthetic appeal of your coffee table decor.
Play with Shape and Size
To make your coffee table visually appealing, consider incorporating a blend of different shapes and sizes. Mixing circular elements with square ones or introducing taller pieces can be quite effective. However, it's important to strike a balance and choose items that match the round shape of your table.
For instance, you might place a sizable round platter on the table, adorned with a pair of slender tapered candles. Alternatively, try pairing a substantial square book with a delicate glass bud vase. The key to keeping it fascinating lies in the variation of shapes, proportions, and heights.
Incorporate Greenery
Greenery is a must for styling any coffee table. It instantly livens up the look with natural texture and color. Ferns, snake plants, ivy, succulents, and air plants are great options for coffee tables.
Choose one large statement plant in a tall planter or several smaller ones. Another creative approach is to try a trailing plant in a hanging planter placed underneath the table. Just be sure to use plant saucers to prevent water damage.
With a few key decorating principles in mind, beginners and novices can learn to style a round coffee table like pros. Use these tips to pull together your own beautiful coffee table. Your fabulous round coffee table awaits its transformation into a room focal point.