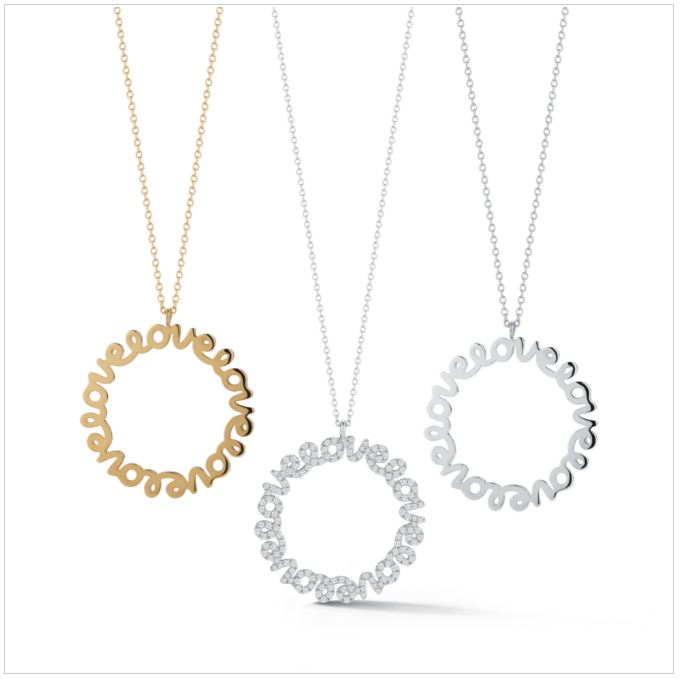 C/o Tali Gillette
As fashion trends come and go, designing timeless style can often be a challenge for even the most stylish. However, for celebrity favorite Tali Gillette of Tali Gillette Fine Jewelry who stays one step ahead of the fashion game, the secret for her success lies in designing jewelry that never distracts but enhances the beauty of the wearer. Founded in 2005, Tali Gillette Fine Jewelry has become a leading brand in the fine jewelry industry known for their signature diamond and gold "Mama" necklaces. Owner and Founder Tali Gillette uses ethically sourced luxurious 18K gold and diamonds to create impeccable, hand-crafted designs. Now evolving the brands same unique signature modern design, the new For Love Necklace transforms the word "love" into a contemporary sculptural design and instant conversation piece unlike any on the market past or present.
With the addition of Tali Gillette Fine Jewelry's For Love pieces, members of the community can add evergreen jewelry to their collections for Valentine's Day, birthdays, anniversaries, and other momentous occasions to cherish for many years to come.
Read on to discover Tali's inspiration for her new collection, hear about her jewelry philosophy and the advice she has for budding designers.
**************
What inspired you to create the For Love Collection? Why now?
Tali Gillette (TG): We wanted to offer our customers a gift for every occasion, a gift For Love, for Valentines Day, for any day. For our discerning customers, we wanted to offer something elegant, modern and sexy. The desire to move away from the generic love pieces on the market while elevating and evolving our brand's same unique signature modern design.
How do you want women to feel when wearing For Love?
TG: Loved! Whether we love ourselves or are loved by another, in life, we are always choosing to turn towards or away from love in all different situations. We wanted to make a statement about turning towards love continuously, so our Love necklace is concentric and never-ending.
What's your jewelry philosophy?
TG: To design pieces that become a part of whoever is wearing them. Our pieces are luxurious yet understated; pieces you can't take your eyes off of. Our goal is to enhance but never distract. Many jewelry items are ones you remove depending on your mood, but our pieces are meant never to be taken off.
What is your favorite part about being a designer?
TG: We love hearing from our customers! We get the most incredible emails from women sharing their stories, and how much our pieces have meant to them, it melts our hearts daily.
What advice would you give to somebody who wanted to start a jewelry line?
TG: For me, I wanted to fill a space in the luxury jewelry market that didn't exist. The piece that I dreamed of wearing wasn't out there, so I created it. Find your passion and what strikes a chord within you, learn the industry and don't give up!
What's your vision for the future of your brand?
TG: Our vision for the future is to continue to design jewelry our customers love and are inspired by. We want to be the go-to brand for the modern, empowered, and sexy "can-have-it-all" woman.
For more on Tali Gillette Fine Jewelry, visit taligillette.com. Follow along on Instagram at @TaliGilletteJewelry.