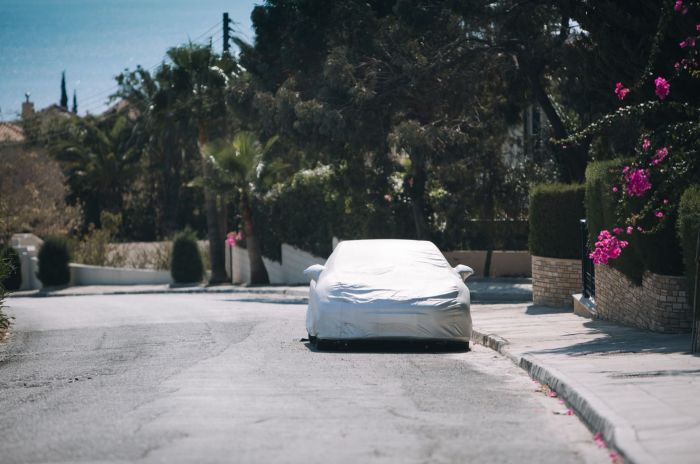 Shutterstock
Luxury cars are more than simple eye candy. There is a lot of care and maintenance needed to keep the car not just in one piece, but also looking like it was freshly purchased. This is why many luxury car owners and collectors opt for a number of accessories meant to protect their cars' interiors and exteriors.
A car cover or auto bache is one of the best accessories for your vehicle that keeps dust, dirt particles, leaves, branches, moisture, and a vast number of other elements off your car's exterior. Think of it as an extra layer of protection for your vehicle, much like how car rubber mats give the floor a bit of extra protection as well.
A luxury car needs a lot of care. Sure, most modern vehicles are built to last. But this doesn't mean that they can withstand everything that life throws their way. If you happen to park your car outside (which even if you have a garage, you will most likely do once in a while) then you expose your vehicle to all kinds of dangers that nature throws its way.
Even a light drizzle may be enough to leave all kinds of spots and stains on your car's otherwise pristine exterior. There are also falling leaves, branches, and other kinds of dirt that rainwater carries with it. And these are only the dangers of rain. There's also snow and hail that you should be on the lookout for as they can cause extensive damage to your vehicle, both on the interior and exterior.
Auto covers are designed to handle these kinds of situations and keep your vehicle in one piece regardless of where it happens to be parked. For a car cover that protects your vehicle from all kinds of weather conditions, you can purchase a weather-proof variant. But there are certain specialized covers designed for specific conditions. Impact-proof car covers are great against protecting your vehicle from falling objects, be they the items you store in your garage to hail pellets.
Dust is also a major problem that many vehicles face. Sure, cleaning it off the surface may not seem like that big of a deal, but dust does have a tendency to settle in the smallest crevices and holes of your vehicle. This dust may not be much of a big deal at first, but at some point, it will impact your car's performance and longevity. For example, dust can quite easily get into the air filters. When this happens it has the potential to contaminate the air you breathe in the car, which poses a real health hazard. This means you'll need to clean out your air filters more regularly than if you used a car cover, which would significantly reduce the amount of dust that gets into your vehicle.
All of these may seem like relatively minor problems that don't pose much of a threat to your vehicle. But over time, you will find that even these smaller problems can lead to something far more serious that will not only impact your vehicle's longevity but even its performance. From metal being corroded, to dust finding its way into your motor, you may be faced with a lot of problems that will require a lot of hours at the mechanic's as well as potentially thousands of dollars in repairs.
Why go through all that when you can avoid this entire problem by simply purchasing a car cover that'll protect your vehicle from any and all dangers. As an owner of a luxury car, you really can't go wrong with an auto cover.