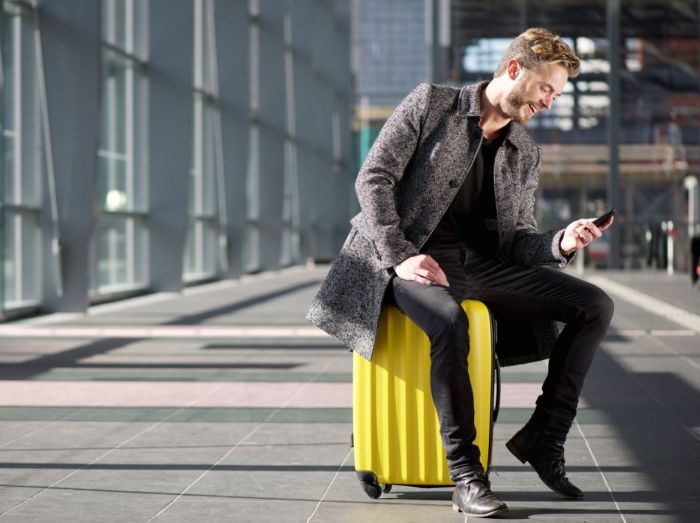 Shutterstock
While the past couple of years saw most of us staying at home a lot more and having to forgo many business trips and vacations, in 2022, many of us are back out on the roads and at airports to travel near and far.
To impress clients, look fabulous in Insta photos, wow a loved one, or even meet new people while away, it pays to continue trying to look just as fashionable when you're away from home as when you're in your everyday life. This may not be as simple as going to your closet like normal, but if you follow a few tips, you can keep looking cool and stylish no matter where you may be.
Consider Color Choice Carefully
The first step is to think carefully about the colors of clothing that you pack. You want to pick items that will mix and match with each other well so you can create numerous outfits from a few pieces. It helps, in this regard, to choose dark colors for your top or bottom and then pair these with brighter hues on the other part. So, for example, you might put mostly dark pants in your suitcase and then several lighter-colored, brighter t-shirts, dress shirts, etc., to wear on top.
When you keep with a color scheme like this, it's easier to create stylish outfits from the select items you can pack. Plus, try to choose primarily solid shades for your travel clothing since it's more versatile than stuff that's printed all over. Plain tees or shirts work in most situations, such as a simple yet fashionable white t-shirt that you pair with board shorts and flip-flops at the beach and with jeans or slacks at night.
Choose the Right Footwear
When it comes to men's summer fashion for 2022, what you wear on your feet makes a big difference in how stylish you look when you're away from home. Footwear can make or break an outfit and needs to be comfortable and practical for various weather situations, so your trip isn't affected by sore feet or spoiled shoes.
Choose pairs that will go with as many outfits as possible and ensure you have at least one dress shoe option for your travel time, plus some trainers or other footwear that you can spend hours walking around in as needed.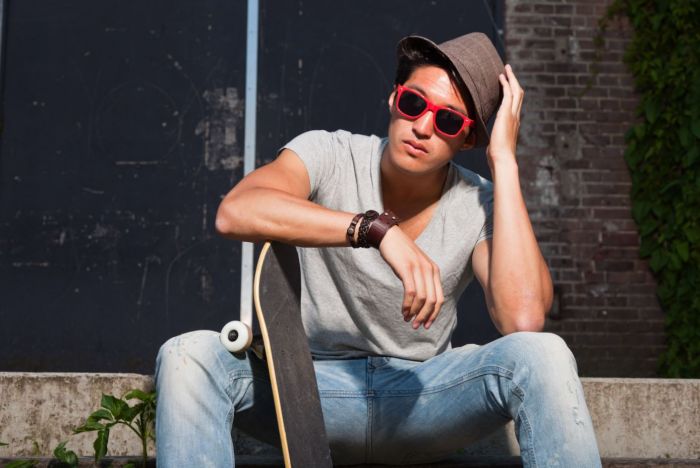 Mens Fashion- Shutterstock
Pack Decent Shirts
No matter where you're heading off, having decent shirts to choose between each day is vital. While a beach vacation will call for some nice, casual tees to laze around in, you'll also want some dressier shirts when you're out to dinner or otherwise in more formal situations. If you're going away for work or a city vacation, you'll want to include even more stylish shirts. For instance, pack a polo shirt, button-down, linen or chambray shirt, and potentially an overshirt, too, in case the temperature drops.
Add a Coat of Some Type
Next, don't forget to pack a coat. Even when you're traveling during the warmer times of the year, you may need a quality jacket to dress up your look for a meeting, dine at a fancy restaurant, enter a club, or otherwise transform your look. If you don't want anything too hot, pack a soft linen blazer, a traditional sports coat, or a light worker jacket. Alternatively, a leather jacket can suit all seasons. Such clothing also gives you extra pockets to store gear as you're moving about during your trip, which is handy.
Take Advantage of Accessories
Lastly, even though you'll only have limited room in your bag and carry-on to store things, this doesn't mean you shouldn't take some practical and stylish accessories away with you. For example, it's good to pack things like a reliable watch, UV-protection sunglasses, a hat, a couple of ties, and even a scarf if you know you could get cold in places.
Such pieces will help to keep you protected when out in the sun or other elements or can elevate your look. They don't take up too much room or weight in your bag, so they're worthwhile popping in to have on hand, whether you're traveling for a week or a month.
It takes a bit of pre-planning and strategy to set yourself up for a fashionable trip away. Take your time packing and preparing, and you'll find it much easier to look and feel as confident as you want when you're away.