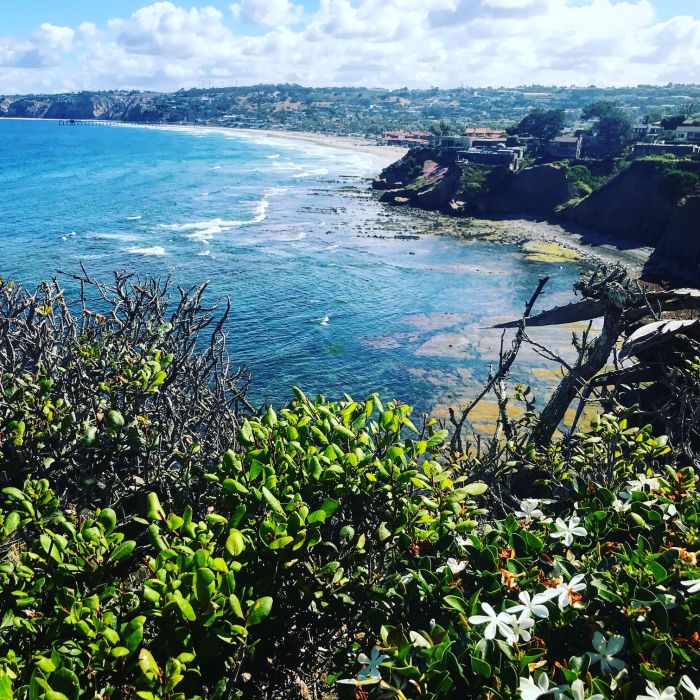 Jill Weinlein
The CDC provides recommendations for travelers who are on the fence about postponing or canceling travel due to COVID-19. Their travel notices are based on an assessment of the potential health risks involved with traveling to a certain area. A list of destinations with travel notices is available at https://www.cdc.gov/coronavirus/2019-ncov/travelers/index.html.
There are three warning levels, starting with Level 3: CDC recommends travelers avoid all nonessential travel to destinations with Level 3 travel notices because of the risk of getting COVID-19.
Level 2 is an alert, because COVID-19 can be more serious in older adults and those with chronic medical conditions. People in these groups should talk to a healthcare provider and consider postponing travel to destinations.
Level 1 is a watch level and the CDC does not recommend canceling or postponing travel to destinations with Level 1 travel notices. Since I had a planned trip to Phoenix, AZ and the risk of COVID-19 is thought to be low in this city, I did the following to prepare myself: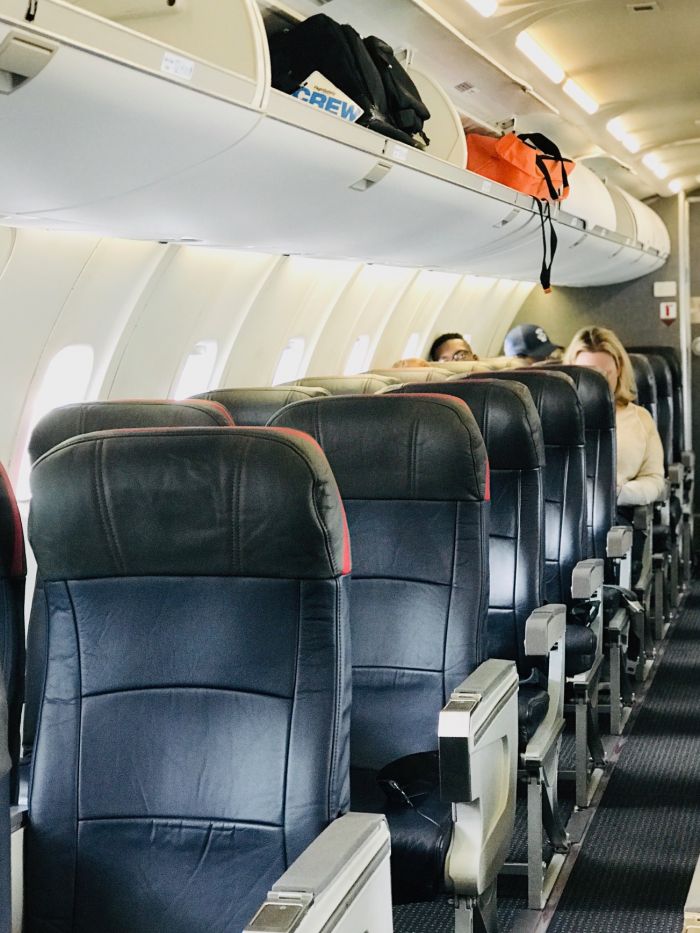 Jill Weinlein
Airtravel
Not only are airlines flying with empty seats, but they have also slashed their fares and are loosening their cancellation policy. Contact each air carrier to see how they can help you if you choose to cancel.
On the Southwest Airlines website they state they 'never charge customers a fee to change or cancel their flight. If a customer's plans change, or they decide they no longer want to travel, the funds used to pay for their flight can be applied to future travel – as long as they cancel their flight at least 10 minutes prior to the scheduled departure. The funds are valid for future travel up to one year from the original purchase date and must be used by the individual named on the ticket. We hope these policies provide our Customers with flexibility and peace of mind as they plan their travel.'
Recently on a flight to Phoenix, AZ I noticed a woman was wearing a heavy duty face mask at my gate. She looked ill and later fell asleep in one of the waiting area chairs. It's important to avoid contact with people who appear sick.
According to the CDC, air circulates and is filtered on airplanes, so most viruses and other germs do not spread easily on airplanes. Although the risk of infection on an airplane is low, travelers should try to avoid contact with sick passengers and wash their hands.
Before flying from Burbank, CA to Phoenix, AZ we received a text from American Airlines that our 9:30 a.m. flight was changed to 10:45 p.m. Upon arriving to the Burbank Airport, the Departure Board announced that our flight was now leaving at 12:45 p.m. Asking an American Airlines representative about the flight, we were informed that the plane took off late from Phoenix, flew towards Burbank, turned around and flew back to Phoenix due to a mechanical problem.
The problem was solved sooner than anticipated and arrived at 11:35. Since we were in Group 9, we thought we would have to wait as a multitude of passengers boarded. Hardly anyone lined up to board. When the gate representative called out group numbers, only a handful of people stepped up.
Sitting in row 10, there were four empty rows in front of us, and six empty rows behind us. For some reason the front and back of the plane had a cluster of people all sitting next to each other. I counted 15 passengers total on the plane. Each of us could have had a row to ourselves with an empty row in front and back. If the airplane doors close, and there is an empty row, ask a flight attendant if you can change seats.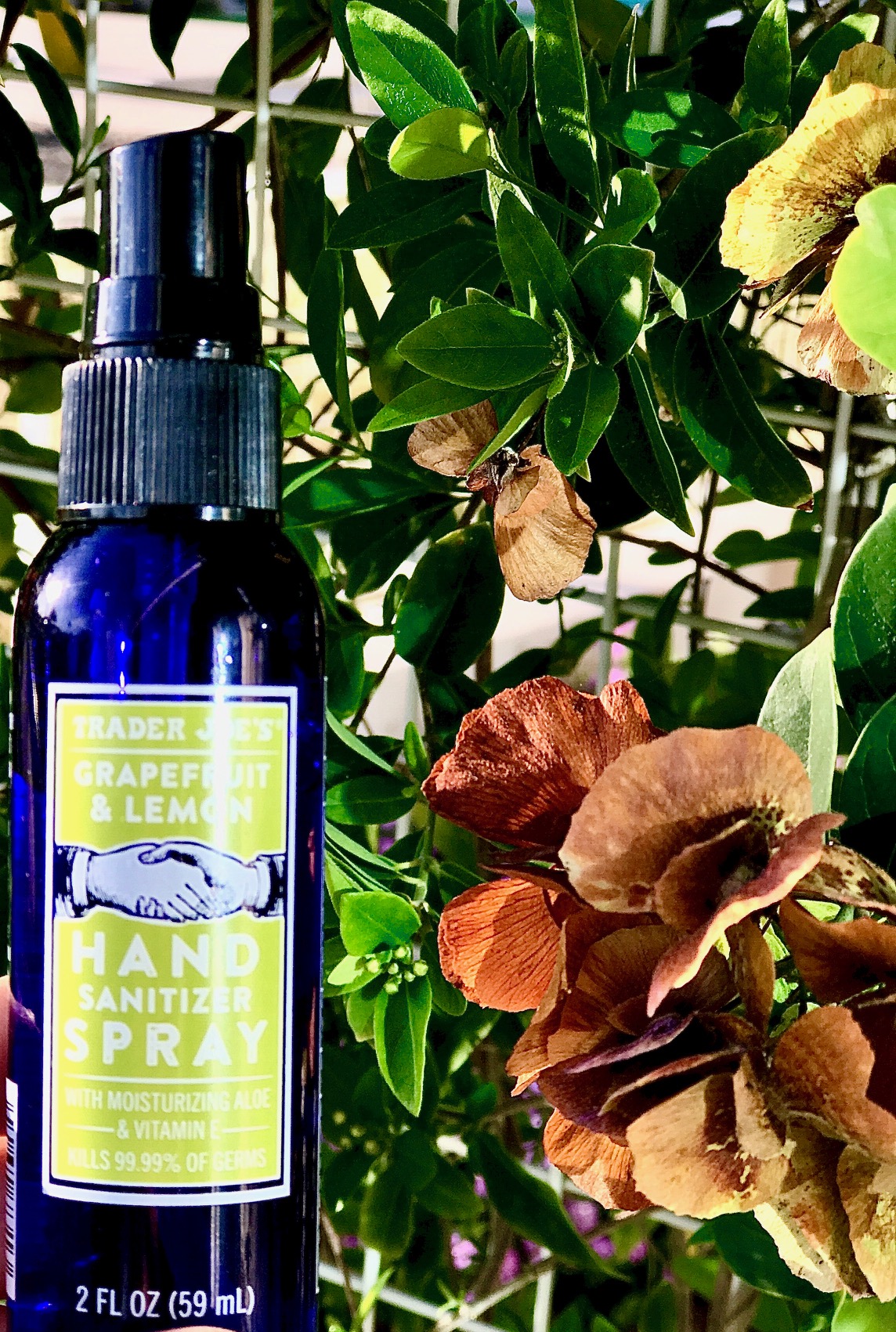 Jill Weinlein
Sanitize
Try to avoid touching your eyes, nose, or mouth with unwashed hands. Before my flight I purchased a Trader Joes Grapefruit & Lemon hand sanitizer spray with moisturizing aloe and vitamin E. It touts it kills 99.9% of germs. I wished I had purchased ten of these, because I sprayed my hands at least four times on the 90 minute flight. Alcohol-based hand sanitizer must contains 60%–95% alcohol. Soap and water should be used only if hands are visibly dirty.
Be sure to use hand sanitizer or wipes to clean tray table, arm rests, seat belts, touch screens and seat pocket reading materials. All of this alcohol can dry out your hands, so be sure to bring a hand lotion to balance your skin pH balance.
Once we landed, I visited the airport restroom and washed my hands thoroughly. When I rented a car, I again used hand sanitizer after touching the steering wheel, radio control and door handles.
Jill Weinlein
Hotels
While staying at Mountain Shadows in Paradise Valley, AZ, the staff at the front desk shared with me that they have noticed cancellations due to COVID 19. "A lot of festivals and conventions coming to the area are cancelling," said a staff member who asked to be unnamed. The Mid-Century iconic hotel that has returned to its glory with modern touches, is offering Spring Training specials that include a baseball-themed welcome amenity, $20 per person daily breakfast credit and a $100 resort credit for stays of three nights or longer now through March 30.
Jill Weinlein
Healthy Travel Tips
At the front desk of Mountain Shadows Resort and in each guest room is a Travel Balance booklet offerint 52 tips to stay energized, healthy and balanced while you travel. Inside are tips about how to prepare for a trip, optimizing your experience, and balancing once you're home. The book, Travel Balance is available on Amazon or at www.TravelBalance.net.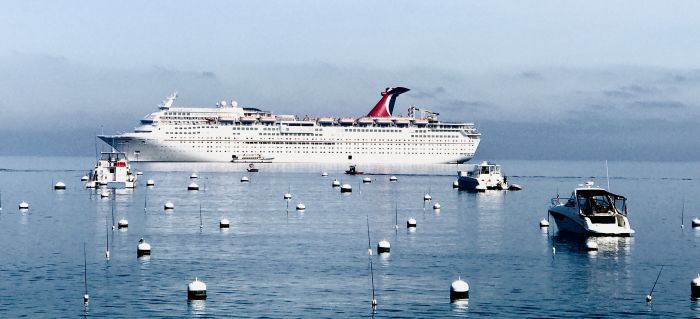 Jill Weinlein
Cruise Specials
Cruise lines are hurting. "Business is soft, people are scared to travel," said Frank Del Rio, CEO of Norwegian Cruise Line. "This definitely appears to be among the worst issues facing our industry in over 30 years," said Anthony Hamawy, president of Cruise.com. "I can't imagine any cruise line not feeling the impact on their business."
According to Cruise.com 'In light of the resent outbreak of Coronavirus, many cruise lines have relaxed their cancellation policies to provide guests with more time to make an informed decision about their future travels. These changes should help to alleviate some of the concerns guests may have so that they can feel confident in any plans that they have regarding current or future cruises.'
The cruise lines are providing additional cleaning and safety measures to address the issue, and offering deals like never before. Norwegian Cruise Line is offering $25 a night cruises to the Bahamas from Miami in March, and $45 a night to sail down to the Mexican Riviera in March and April.
No one knows when the COVID-19 will end, it's up to you about traveling within the next few months. Staycations are becoming a popular alternative for those who have concerns.