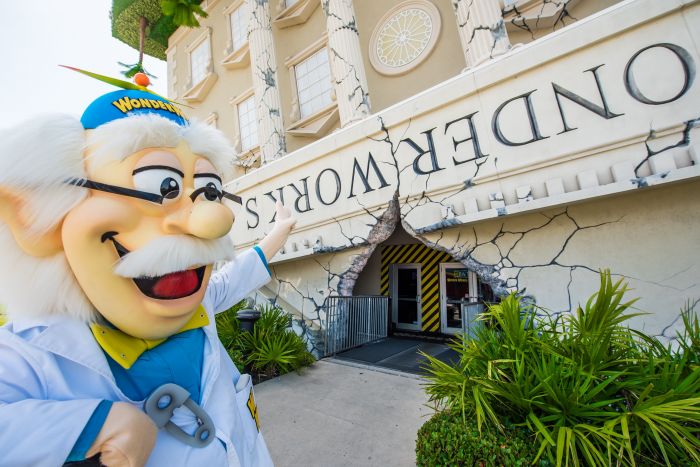 Photo courtesy of WonderWorks
Homeschoolers can score a discounted rate at WonderWorks Panama City Beach during its biannual Homeschool Days promotion. The Homeschool Days promotion will be offered on weekdays, every week during the months of January and February 2020. The promotion includes a discounted ticket rate of $15, plus tax, per person, with further discounts being offered to groups of 10 or more that register in advance.
"At WonderWorks, we have always had a great relationship with the area schools and students," says Michael Walsingham, general manager of WonderWorks Panama City Beach. "We hope to continue this great relationship with different programs and specials that will allow students to be able to have a great learning experience while enjoying all the "edutainment " opportunities that WonderWorks has to offer."
Homeschool Days is a special promotion that is offered twice per year. Those wishing to partake in this great homeschool opportunity must do so on a weekday during the run of the promotion, and tickets must be redeemed before 2 p.m.
During these special days, families can take advantage of:
Reduced ticket rates of $15, plus tax. Groups of 10 or more who register in advance can take advantage of a rate of $12, plus tax, per person. The discounted admission rate includes over 100 interactive hands-on educational exhibits for students to explore. Students can work to build their confidence by trying the indoor ropes course challenge.Classroom activities, lesson plans, and scavenger hunts are available on request to further the homeschool learning experiences.Students can enjoy all the fun of a traditional field trip, while still engaging and learning from STEM-related exhibits.
"This is the perfect time to get your homeschool group together for a fun and educational day for students," added Walsingham.
According to the National Home Education Research Institute, there are over 2.3 million homeschool students in the U.S. That figure is up from 2 million in 2010, showing that homeschooling is on the rise. Some of the most common reasons that families turn to homeschooling include being able to have a customized curriculum and learning environment, enhancing family relationships, teaching specific values, and providing a safer learning environment, among other reasons.
To get more information about WonderWorks Panama City Beach Homeschool Days, visit their website: https://www.wonderworksonline.com/panama-city-beach/homeschool/.
The interactive indoor amusement park for the mind offers STEM-focused activities for all ages. Some of the exhibits include the Bubble Lab, Professor Wonder's Adventure, Dig It! the interactive sandbox, the Illusion Art gallery, and the Xtreme 360 Bikes. For more information about WonderWorks, visit their website: https://www.wonderworksonline.com/panama-city-beach/.