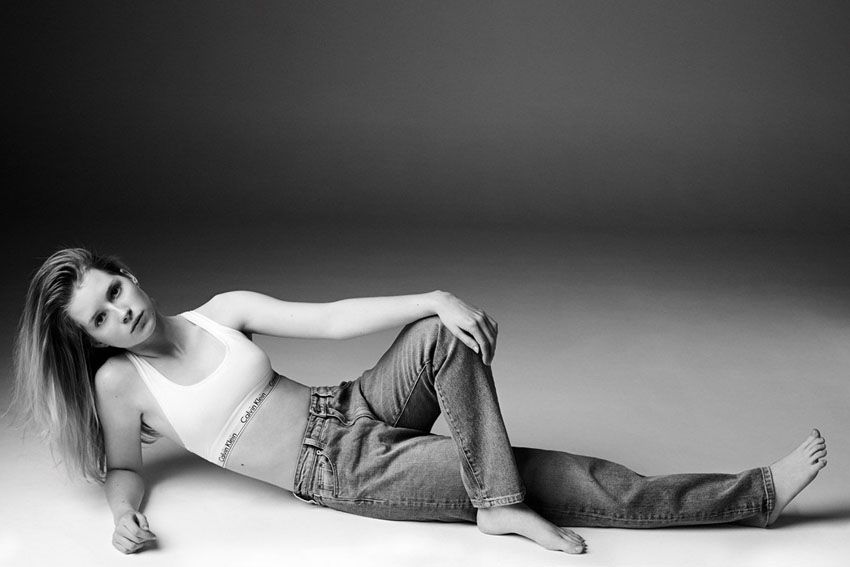 Photos Courtesy of Calvin Klein Jeans x Mytheresa
Talent seems to run in the family as Lottie Moss, younger sister of British supermodel Kate Moss, gears up to front a Calvin Klein campaign. Shot for Calvin Klein Jeans and Mytheresa in a collaboration titled The Re-Issue Project, Moss—the younger Moss—will be modeling the same designs her sister wore over two decades ago. Recreating the iconic images, the 16-year-old was photographed by Michel Avedon, grandson to Richard Avedon who shot Brooke Shield's Calvin Klein images in the '90s. "Lottie truly represents the essence of the Calvin Klein girl," Avedon told Vogue UK. "Intriguing innocence with utter beauty—it was wonderful to photograph this beautiful young lady."
The black and white images will run for The Re-Issue Project which is slated to launch July 16, on Mytheresa. "For me there is one brand which epitomizes clean, American sportswear and denim—Calvin Klein Jeans. We at Mytheresa.com have seen a huge resurgence in fashion towards the aesthetic which Calvin Klein Jeans pioneered, which led to us collaborating with the brand," Justin O'Shea, buying director for Mytheresa said. With the '90s coming back in a big way it only makes sense to bring back some of its most iconic fashions. While Lottie doesn't look exactly like Kate, we're getting a definite nostalgic vibe—now all we need is a Nirvana mixed tape, a tattoo choker and a VHS of Beverly Hills 90210.