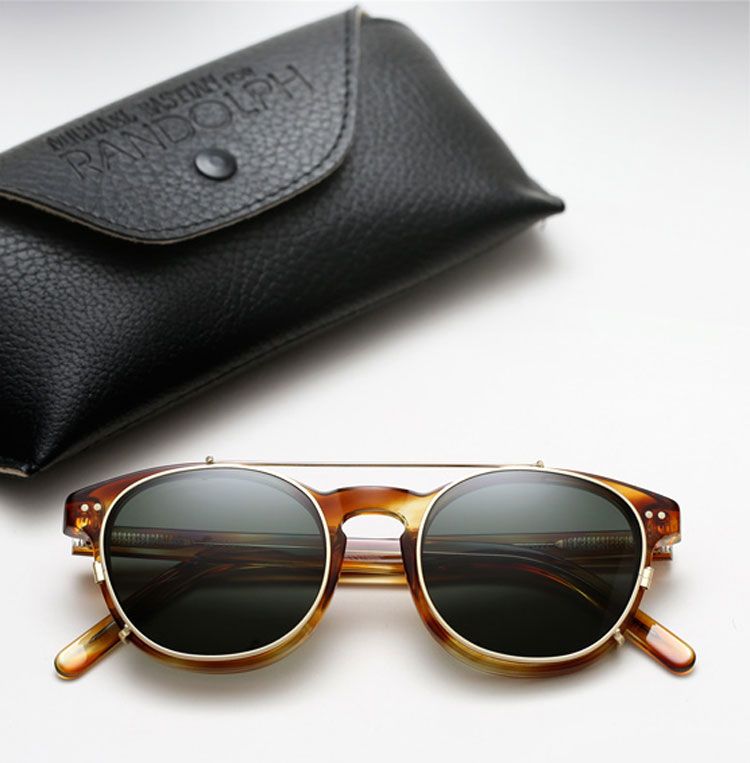 Photo Courtesy of Eyegoodies
Acclaimed
luxury menswear
designer Michael Bastian has just unveiled a new collection of high-end eyewear for
Randolph Engineering
. The Massachusetts-based company is the supplier of aviator sunglasses to the US Air Force. For his latest collaboration with the classic brand, Bastian took inspiration from the frames worn by the great James Dean, an icon of cool American style. Dubbed the "JD" in the
Rebel Without a Cause
star?s honor, Bastian's design can be worn as either eyeglasses or sunglasses with detachable metal clip-on shades. Handmade in Italy using Mazzucchelli acetate, the "JD" is offered in tortoise, black, and clear color combinations in two different sizes? the smaller of which is suitable for both men and women. 
For his other designs, Bastian offers a twist on pieces from Randolph Engineering?s archives, including its iconic aviators. Bastian?s "Aviator II" retains Randolph?s signature squared-off vintage shape and bayonet temples (designed to contour for maximum comfort)? but Bastian's updated version includes an added sweat-bar. The "Aviator II" is available in 23K gold with grey/green lenses, as well as silver frames with mirrored lenses. As a nod to the 1970's, Bastian designed the "Norwich," a square-shaped, overtly masculine design handmade in Italy using Mazzucchelli acetate and offered with a custom-created brown tortoise frame. Haute online eyewear boutique
Eyegoodies
is now offering the complete collection.