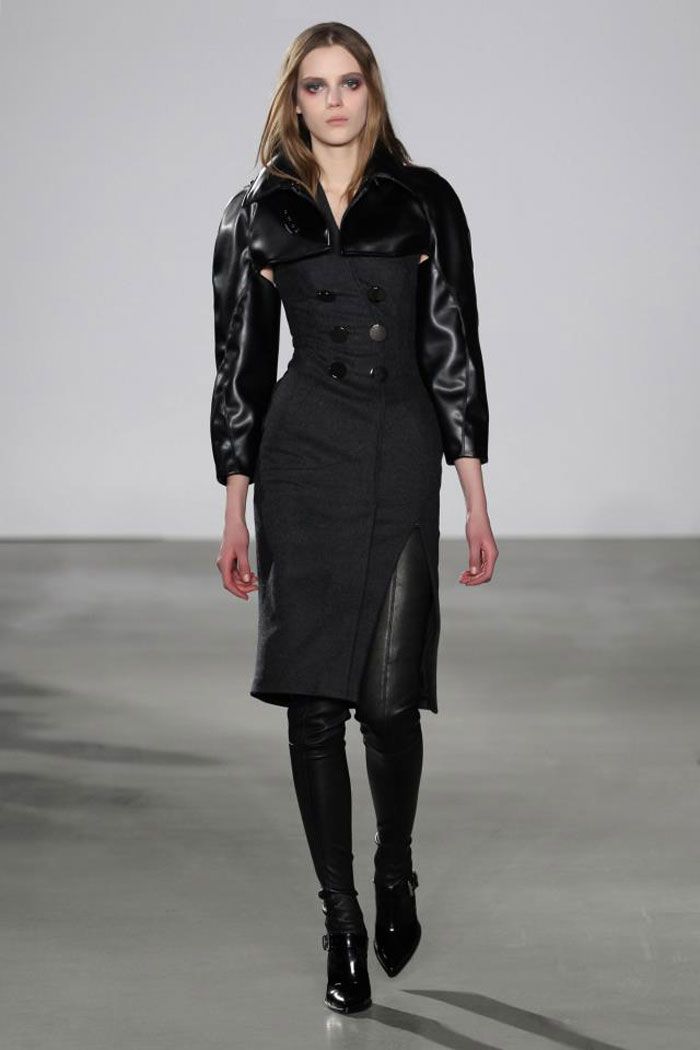 Photos Courtesy of Altuzarra
A complete 180-degree turn from his spring collection of dazzling prints and fresh colors,
luxury designer
Joseph Altuzarra has moved towards a more refined and elegant silhouette for Fall 2013. Sculpted and form-fitting, the label's new garments showcase a happy medium between sex appeal and class. With modern technology and our desire for instant gratification, trends are forced to constantly evolve; therefore, Altuzarra's ready-to-wear collection for fall is said to be inspired by the ever-changing and multi-faceted aspects of street style.
But don't be fooled— the new
Altuzarra
collection is far from urban. Expertly tailored with clean lines and silhouettes, the ensembles are much more "Anna Wintour" than "Jenny from the block" with the designer's vision of a bustling office lobby of working women.
Altuzarra's sleek double-breasted coats and jackets feature modern and exaggerated rounded shoulders with a hip-hugging taper at the waist to emphasize the female figure. This juxtaposition of bold and powerful elements combined with slender and feminine lines results in a look that is both fierce and sensual.
With last season's embellishments long gone, the fall Altuzarra collection focuses on bold coats of both leather and fur layered over corset dresses and skirts with thigh-high slits. Other looks play with padding on the hips and stud panelling.
While the bulky features may make it seem as though only a size zero model could rock these garments without looking like a linebacker, Altuzarra boasts that his new proportion technique results in the appearance of a super-flat stomach— a truly tempting offer for any woman.