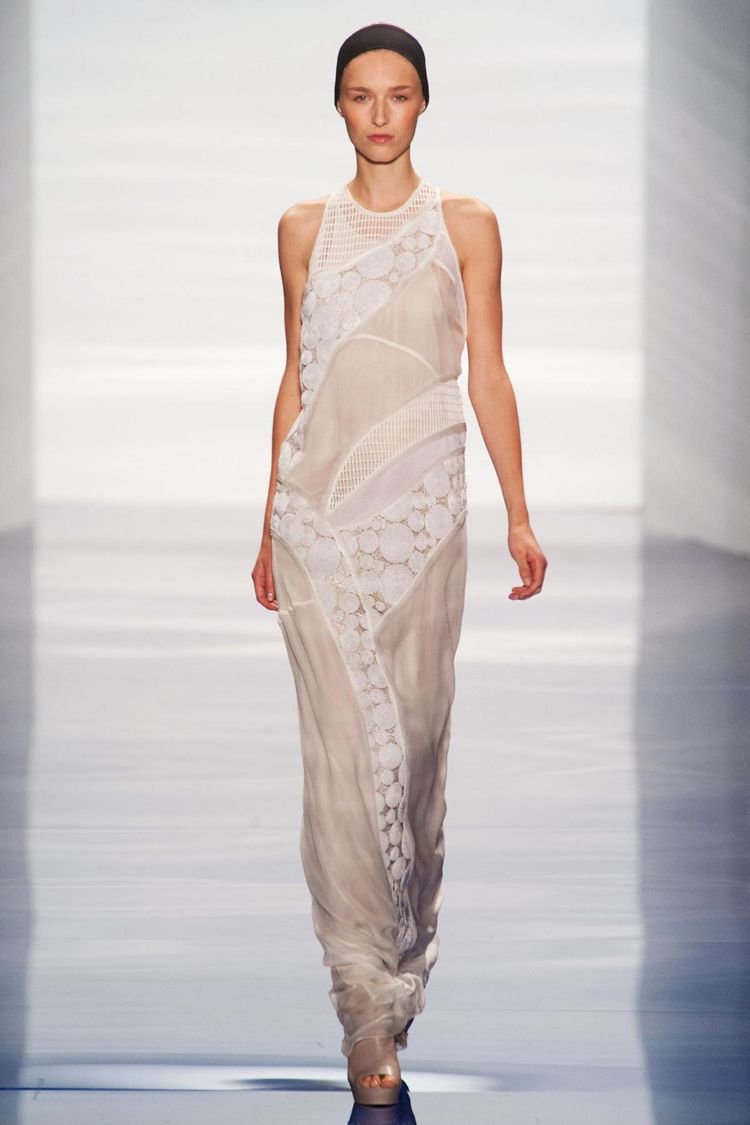 Photo Courtesy of Vera Wang
Now that New York Fashion Week is officially over, let's take a quick look back at the hottest trends we saw for the spring—before London Fashion Week gets into full swing. Sure, some of these are completely implausible and you'd look a little ridiculous wearing them, but then again it is fashion, and style is in the eye of the beholder.
Ralph Lauren, Oscar de la Renta, Calvin Klein
Black and White
OK, this one is
extraordinarily
obvious. Basically if you caught
any
runway show at all in this last week you saw this trend coming like a freight train. Everyone from Calvin Klien to Thom Browne had this color scheme down pat. And while nothing says chic and classic like these neutrals, we can't help but want a little something more. It is very wearable which will appeal to a larger audience, but when the end of winter comes don't you just crave color? Bold, bright, look-at-me color? So to keep from looking like you stepped right off the runway, pair it with fun accessories come summertime.
Dion Lee, Rodarte, Timo Weiland
Cutouts and Crops
We may have
previously
expressed our distaste for the trend, but it's just that bad. And that includes crop tops. If you're a grown woman, belly-baring midriffs are not for you. Don't misunderstand—it looks fun and youthful, and the angles can look stunning on the right people. But if you're any more than a size four, you might have bouts of self-consciousness walking around in what is essentially a bandeau bra. If you can rock it, more power to you, but we're going to leave that one for the runways.
Marc by Marc Jacobs, Diane Von Furstenberg, Tory Burch
Sparkle, Shine and Metallics
Yes! Why should we only get to wear metals and glitter when hitting Christmas parties or watching the ball drop? There are so many different ways to wear this trend that we're already pinning looks like our lives depend on it. Anyone can wear them, and a little goes a long way. A shimmery bag or top can make a huge difference in your outfit when spring hits. You can go full on metallic, like the coats at Marc by Marc Jacobs or just a touch of beaded sparkle like we saw at Diane Von Furstenberg.
Marchesa, Michael Kors, LAMB
Florals
Remember the scene in
The Devil Wears Prada
where Meryl Streep rolls her eyes and scoffs at the trite notion of florals in spring? Well, we'd like to think she would enjoy this season's florals. Sure it's been done a million times before, but why mess with a good thing? Layered in lace, paired with black and white, and piled on evening gowns, the flowers this season range from understated to over the top. The plus side to a tried and true spring trend? Floral pieces can be worn year after year.
Alice + Olivia, J-Mendel, Marc Jacobs
Lace
While lace has been pretty popular the last few years and should already be a
staple in your closet
, the lace on the runways during this past week were seen mostly on evening gowns or accent pieces on sportswear. It's a pretty forgiving fabric and can usually offer a little coverage when you feel like baring your skin. The best lace looks this season have been on party dresses—from the light and carefree to the dark and heavy.
Proenza Schouler, Steven Alan, Theyskens Theory
Natural Beauty
Ok, so maybe these models weren't completely bare faced, but minimal makeup paired with unkempt hair was a pretty popular look. And we're always fans of any trend that will cut our prep time in half. While there were a lot of berry lips that went along well with a major '90s theme, the natural look was our favorite. It's universally flattering and just screams spring—besides we'll likely be over our dark makeup by January. On the plus side if you aren't blessed with naturally perfect skin, it's a pretty easy look to master, if you are—well, then we're completely jealous.
Jason Wu, Rag & Bone, Tess Giberson
'90s
Speaking of the '90s, we're pretty sure some designers just grabbed a 1995 edition of Vogue and went to work. Babydolls and slip dresses were sent down the runway causing a few cringe-worthy moments. Wasn't there a reason this look didn't stick around? Did slip dresses ever look good on
anyone
? While '90s trends have been slowly working their way back into mainstream fashion, we're hoping it will end here. (Let's leave the mini-backpack in the past, shall we?) We weren't fans the first time around, but anyone not old enough to remember might want to give it a go. What's fashion without risk, right?