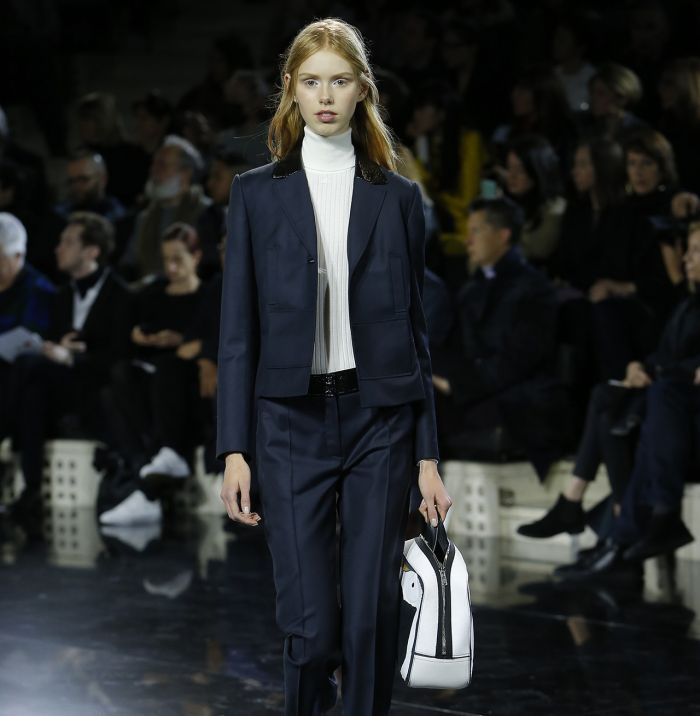 Photos Credit: Courrèges
Designers Sébastien Meyer and Arnaud Vaillant just presented their sophomore collection of the recently revived Courrèges label at Paris Fashion Week. The French house, which was purchased in 2011, has been faithfully following the aesthetic of the founder with a lineup of athletic-inspired ready-to-wear. They've managed to successfully maintain the story of the brand while still bringing it into 2016—this season they did so with a line of wearable tech.
"If each day technology gives us miracles in our hands, can't it do anything for our shoulders? Why not imagine smart garments?" read the show notes. In response they presented a line of tech-savvy outerwear that was powered by the models' cell phones. With a press of a button, jackets would heat up, warming the back, shoulders and pockets of the piece. What's most surprising about these coats, aside from their apparent success on a PFW runway, was that they integrated seamlessly into the collection. Aside from their power button it would be impossible to tell they contained technology.
All of this was wrapped in a silhouette of skintight athleisure wear with a '60s vibe that felt understated and easy. It was intentionally simple: knit jumpsuits, straight-cut overcoats, basic miniskirts and unfussy turtlenecks made everything very wearable. And wearable was exactly what they were going for. Courrèges joined the ranks of designers going directly from runway to retail, and instantly made 30 pieces available for purchase online right after the show.