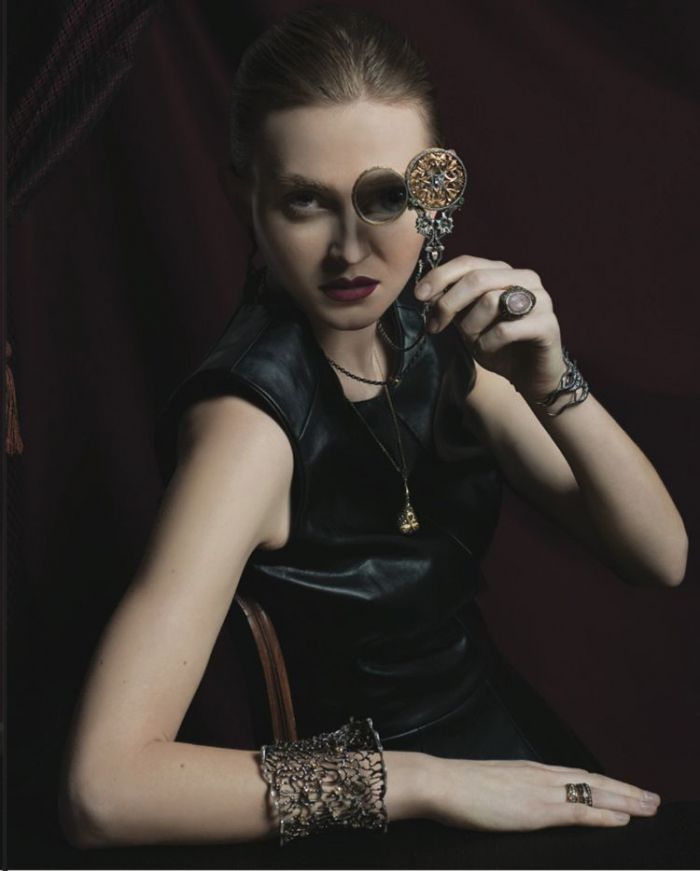 Photos Courtesy of Atelier Minyon
If you heard the names Felix Felices, Amortentia, and Philosopher's Stone, you may be immediately reminded of your favorite boy wizard, but Harry never had anything like this in his closet. Jeweler
Atelier Minyon
has created a line of potion pendants to add to their collection of macabre and dark pieces. For designer Alp Sagnak, this juxtaposition between beauty of the metals and malevolent design is reflective of the duality of man, or the "two human egos, the naive and the wild side of each individual." With a collection containing gold and jewels fashioned into human brains, a guillotine with a severed head, and bracelets of bones, this is much more reminiscent of He-Who-Must-Not-Be-Named.
While dark and foreboding, the pieces are a manifestation of fine workmanship; each one created by hand and designed with the knowledge that this wearable art is not for everyone. Sagnak knows that "his designs typically speak to less than 1% of jewelry purchasers, but when his designs do speak to a customer, they speak loudly." Using silver, gold, and precious jewels his collection has spoken to quite a few people already, including Christina Aguilera, Katy Perry and Brooke Shields.
His Potions collection bottles are filled with a concoction of jewel dust tailored specifically for the intention of the brew. For more than a little bit of luck, Felix Felices holds diamond dust, rubies, blue topaz, and black diamonds, and will make you successful in every endeavor, while the love potion Amortentia contains the same crushed gems in different measurements for a unique hue. The Elixir of Life contains diamonds and diamond dust to extend your life, and the Philosopher's Stone may do the same.
Their "luxury gone wild" theme is more than a simple statement, one look at the collection shows that it's not for the faint of heart, if spiders, skulls, and blood made of rubies make your skin crawl, this collection isn't for you. But if you relish the thought of elixirs to make the blood boil and have everlasting life, you may be in need of a Philosopher's Stone.
And Snape thought Muggles couldn't excel at potions…
Atelier Minyon is available online and in select jewelry stores worldwide. Priced from $240-$65,000.