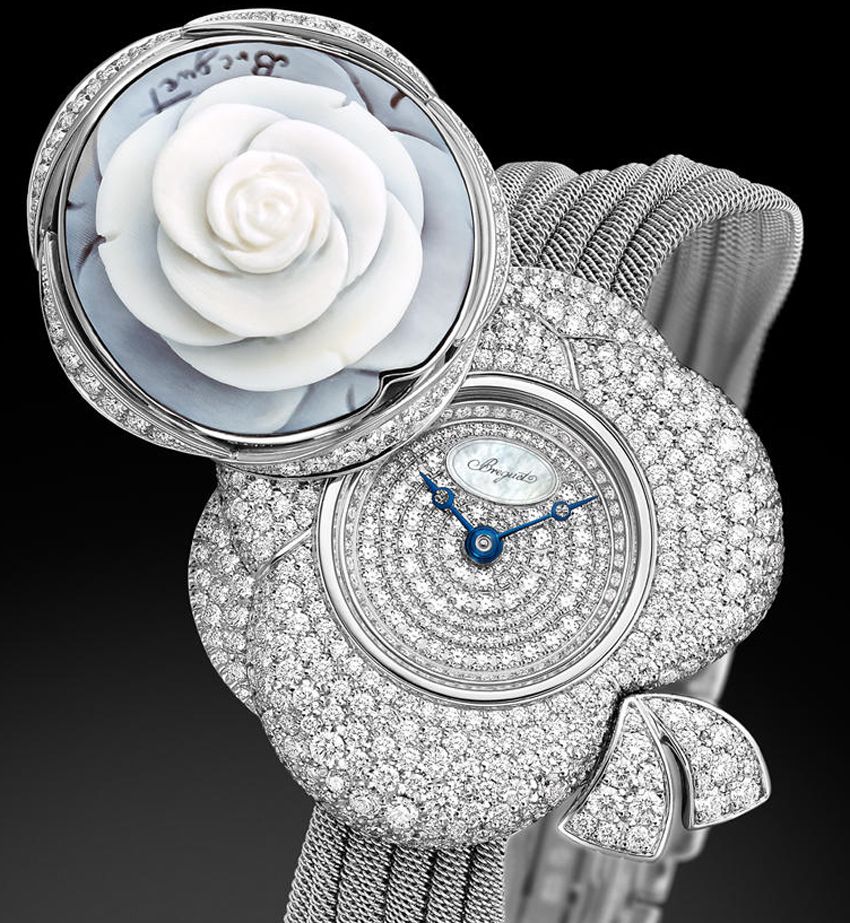 Photo Courtesy of Breguet
The close of 2014 Baselworld ended on a positive note last week with eight days of 1,500 exhibitors unveiling timepieces, jewelry and related products to over 150,000 attendees including journalists, buyers and visitors. The annual event held each year in the city of Basel, Switzerland, is the leading tradeshow in international luxury watches and jewelry. Marking the beginning of the business year for many Swiss retailers, the first quarter of 2014 has seen an increase in business from around the world, with numbers growing steadily from most international markets. With a larger selection of timepieces than in previous years, consumer demand is clearly driving the trends, including aesthetics, quality and luxury price points.
Photo Courtesy of Swisstime
Attendance declined this year with last year holding a record number of visitors (attributed mainly to the new architecture of Baselworld), but 2014 marked a rise in industry professionals—with more press, buyers and exhibitors who could help to improve upon the market. The showings offered at this year's Baselworld reflected demands from the consumers, with popularity in rose gold, mixed metals and the increasing availability of mid-priced timepieces due to a growing upper-middle class.
Photo Courtesy of Swisstime
An increase of exports at 6.8 percent in January and February 2014, up from 1.9 percent in 2013, shows a continuous rise in haute horology with an averaging sales increase around the world. The 2014 World Watch Report shows the highest year-to-year luxury market rises in China at 59.4 percent, Russia at 20.4 percent and India at 12 percent, while sales have been declining in Germany at 9.2 percent, the U.S. at 7.9 percent and Japan at 5.5 percent. Italy and the U.K. saw single digit growth of 8.8 percent and 3.1 percent respectively. With high expectations, the Brazilian market actually fell short with a 2.9 percent decline.
Photo Courtesy of Swisstime
The Asian market, although slower than it has been in recent years, is still steadily increasing in sales with Asia now the leading region with the highest number of affluent individuals. Agility Affluent Insights reports that while price is still a top priority for purchasing a luxury watch, exclusivity is a close second, with percentages holding strongly across all six markets—India, Singapore, Malaysia, Hong Kong, Indonesia and China—that quality in relation to price, the exclusivity of the brand name and how unique the design is, are important factors when making a substantial purchase. The top luxury watches across all six markets are Rolex, Omega and Gucci, followed by Chanel, Louis Vuitton, Cartier, Dior, Tissot, Tag Heuer, and finally Montblanc.
Photo Courtesy of Swisstime
Forecasts for horological purchases in the next year report that India and China will hold the most purchasing power with 26 percent and 28 percent respectively, claiming that they will "definitely buy" in 2014. In a clear display of the need for mid-prices watches, all six markets are, on average, 53 percent willing to spend between $1,000-$3,000 on a piece, 22 percent willing to spend between $3,001-$5,000, 15 percent between $5,001-$7,500 and so on. Only an average of one percent of affluent consumers are willing to spend over $15,000.
Photo Courtesy of Swisstime
Women's watches are in demand; Baselworld's manufacturers took them into account with an influx of ladies' timepieces by brands such as Harry Winston, Christophe Claret, Chopard and Breguet. While the U.S. is now accounting for over a quarter of womens' watch sales, China is in even higher demand with an increase of 145.5 percent since 2013. Omega, Vacheron Constantin, Rolex and Chopard are dominating the Chinese sector with over a quarter of all interest falling to Rolex.
Photo Courtesy of Swisstime
The first quarter offered large sales growth and with expanding Asian and European markets, brands have the ability to tap into their needs and expectations. With the ending of the industry's biggest trade show and the beginning of a new business season, only time will tell if the changes, response to demand and growth will stay consistent.