Photos Credit: Breitling
Breitling introduces their updated Avenger Hurricane 45, breaking the unwritten rule of acceptable use of construction materials. Once the preserve of the less conservative brands, Breitling's Avenger Hurricane 45 is constructed using Breitlight an avant-garde polymer of their own design, but will it take off or simply fade away?
If you're a traditional luxury watch connoisseur you maybe find yourself baulking at the thought of change when it comes to the messing around with construction materials. But if you're old enough to remember the 1972 watch scare that saw Audemars Piguet release the first luxury watch, the Royal Oak, in steel rather than precious metals, perhaps you can appreciate just how fickle we really are? The world didn't stop turning and the name of Audemars Piguet was never ground into the dirt and dismissed as a dissident brand.
So what are we getting in this brand new high tech package? The Avenger Hurricane 45 as you've no doubt guessed is a 45 mm case constructed of Breitlings ultra-sturdy and ultra-light case named Breitlight. With impressive properties that could have come straight out of a science fiction checklist, it is 5.8 times lighter than steel, 3.3 times lighter than titanium at the same time as being tougher with outstanding resistance to scratching, traction and corrosion. Being a high-tech polymer it's also scoring points for its anti-magnetic, thermal stability, anti-allergic properties.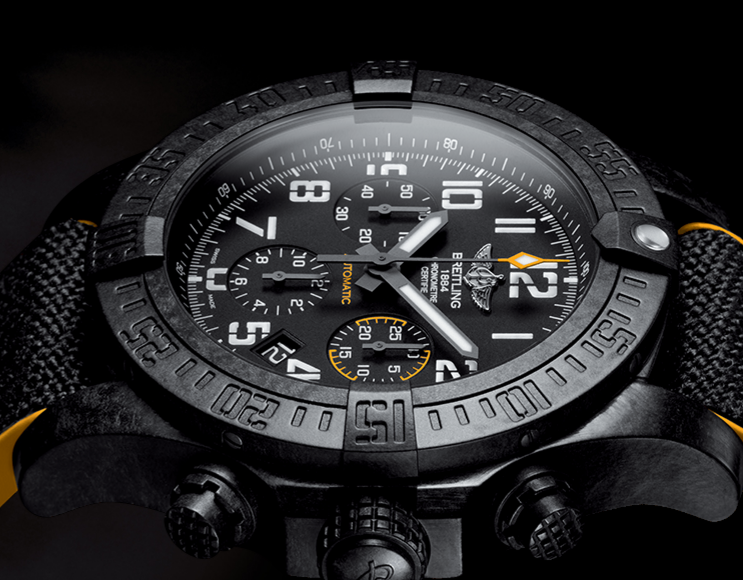 The case is a serious bit of kit, boasting a screw-down crown with two gaskets, crystal cambered sapphire glare-proofed both sides, surrounded by a unidirectional ratcheted bezel. But what's it got going on under the hood? Well, the heart of this beast is the Breitling manufactured Caliber 01, 47 jewels, self-winding mechanical Chronograph movement. The movement gives you all the expected build quality, the Chronograph giving 1/4th second, 30 minutes, 12 hours, the water resistance 100 m (330 ft)and a power reserve of 70 hours.
For the aviation-inspired dial there's basically a choice of two, either black or yellow depending on your persuasion and a choice of three straps, Diver Pro, Military or Military Rubber. Prices for this piece are suggested at around the $8,000 mark but I have seen them as low as €6,669 which is around $6000 in real money.
I want to leave you with my thoughts on this new and innovative piece. It is true that I am myself somewhat of a traditionalist when it comes to my favorite brand and it's difficult to tear myself away from the Brietling Superocean, but I need to remind myself that change is good and nothing stands still for long.
Sure, there's nothing wrong with traditional design and that will always stay with us, but in this industry, there's plenty of room for innovation and traditionalism.
So, will this become the next best thing, or just fade into the background? I don't know, and the jury is still out on this one, but one thing is for sure. There are as many people as there as watches and always a niche to be satisfied. For the price around $8,000 it depends on how you look at the world. Do you relish high tech materials or look to the past for conformity and tradition?