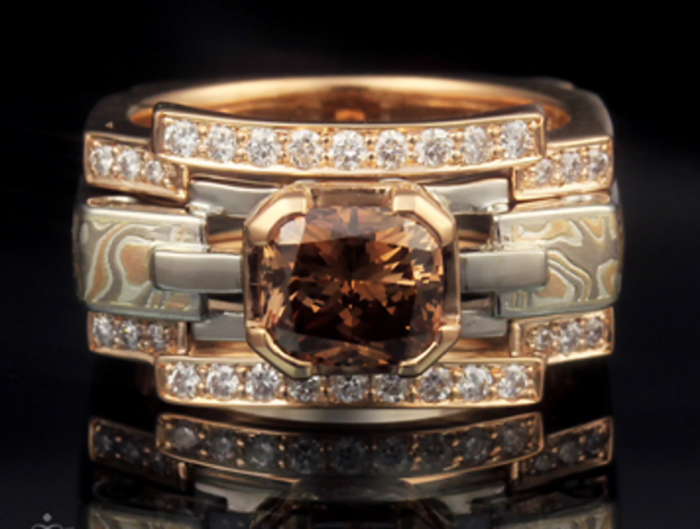 https://www.krikawa.com
Over three hundred years ago the art of mokume-gane metalworking was developed in the Akita region of Japan. Seventeenth-century metalsmith, Denbei ShoamiIt, fashioned the technique after the artful effect others were getting by layering and fusing red and black lacquer.
Swordmaking was considered one of the most highly regarded art forms of the time, so the mokume-gane process was originally developed to make swords, sheaths and decorative handles. The artistic mokume-gane method involved layering, fusing and manipulating soft metals such as copper and silver to create beautiful metallic patterns that resembled various wood grains. Each pattern was unique and artfully designed by each metalsmith and owning a piece became a symbol of status.
Over time, the technique faded away until around 1877 when Tiffany & Co.'s silver division dabbled in and won an award at the Paris exposition for its "Japanesque" silver collection. In fact, the highly-acclaimed "Conglomerate Vase" from the collection was sold at Sotheby's in 1998 for $585,500. Although Tiffany's & Co. continued to produce mokume-gane silver wares up into the 1900s, it went back into the shadows again until the 1970s when the craft was rejuvenated and taught to others by artisan Hiroko Sato Pijanowski.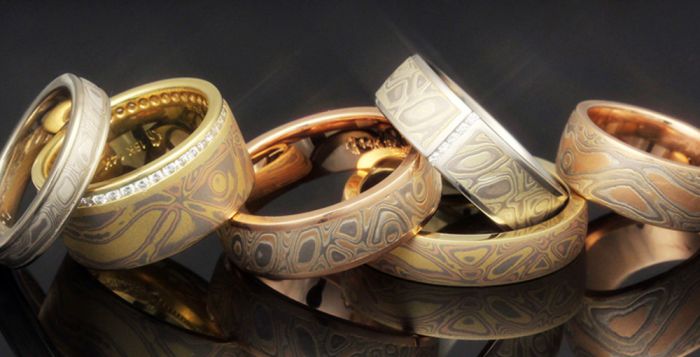 https://www.krikawa.com
Fast forward to the 21st century where some of the most acclaimed jewelers are using this handcrafted process to make a full array of rings and other pieces of jewelry.
Today, the technique includes solid-state bonding, which places the selected metals together in a furnace to merge them together. The designer then slices through them with a chisel to expose the layered metals. The next step is where personal creativity and experience really comes through. The metals are then pounded and flattened several times until a beautiful pattern emerges.
Selecting the right metals can be tricky, as some are too hard and others are too soft for the robust process. Generally, there are eight metal-pairing options from which to choose: Black and White (platinum and darkened sterling silver), Iced Platinum, Trigold (18k rose, 14k palladium white, 18k yellow gold), Autumn (18k yellow gold, 14k white gold, 14k rose gold, sterling), Summer (22k yellow gold, 14k white gold, sterling), Winter (14k palladium white gold, 10k green gold, sterling), Champagne (14k palladium white gold, 18k rose gold, sterling) and White (14k palladium white gold, sterling).
Once the metals are selected, other aesthetic decisions must be made, such as:
· Which metal to use for the ring's liner so it accentuates the finished piece?
· Which precious stones to add and how many?
· A solitary stone or accent stones in which colors?
· Bezel or embedded accent stones, or both?
· Straight band or contoured to fit next to an engagement ring?
After reviewing all of the options, it will be easy to come up with the perfect combination. Mokumegane is one of the oldest, new techniques around and we're hoping to see much more of it as it is such a visual departure. Always be sure to select a trusted, jewelry designer who has several years of experience working with the mokume-gane process. The finished piece will be distinctive, eloquent and stylish. Plus it becomes a wearable art piece that is certain to become a conversation piece.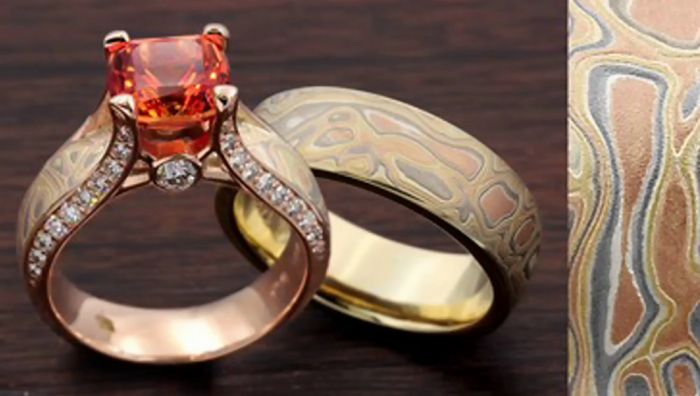 https://www.krikawa.com
Precious stones and mokume-gane - simply stunning!