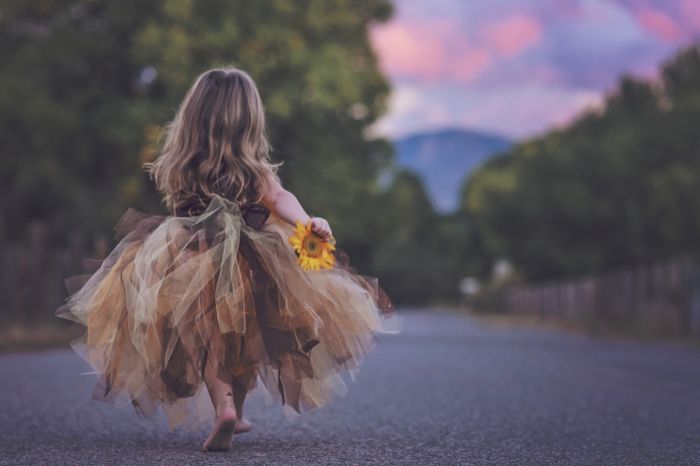 www.pixabay.com
With so many natural disasters, tragedies and other occurrences that unexpectedly destroy homes, memorabilia, and keepsakes, it's time to protect irreplaceable memorabilia before it's too late.
It isn't so much about losing expensive items; it is more about the things that remind you of your children, family, friends, and pets. Many sentimental and emotionally charged pieces can be produced as memorial jewelry and trinkets. It is a wonderful way to keep your memories alive.
Patty Moloney, co-founder of DimplesCharms.com, captures this sentiment, "We aren't in the jewelry business. We are on a mission to help people around the globe capture life's precious moments and turn them into treasured memories."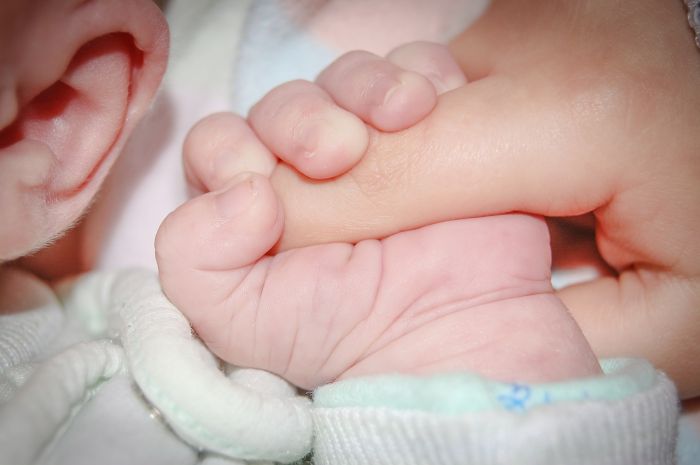 www.pixabay.com
Remember your Child's Tiny Fingers?
That precious moment when your baby grips your finger with her own hand, you realize this tiny human being will never be this size again. The scent of her newborn skin and tight little grip – you wish she could stay that way forever. Now you can take your baby's footprint and/or fingerprint and have it made into a piece of jewelry or keepsake.
Remember her first stick drawing of you?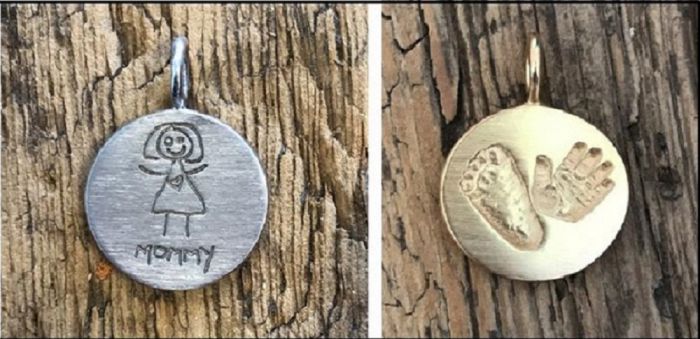 Dimplescharm.com
How They are Made
Fingerprint art, jewelry, and keepsakes start with a digital image, so no matter what happens your jeweler will be able to reconstruct the piece in whatever size or metal you desire. If you are capturing a fingerprint, it is best done with a fingerprint ink pad, like most hospitals use when the baby is born. The print or photo that you want to be reproduced is then sent to a fingerprint jewelry designer and is then digitized and prepared for proofing, approval, and reproduction.
Most jewelers that are capable and skilled at memorial jewelry give the choice of having the piece cast in several different precious metals. Metal options generally include: 10, 14 and 18 karat yellow gold, white gold, rose gold, and silver.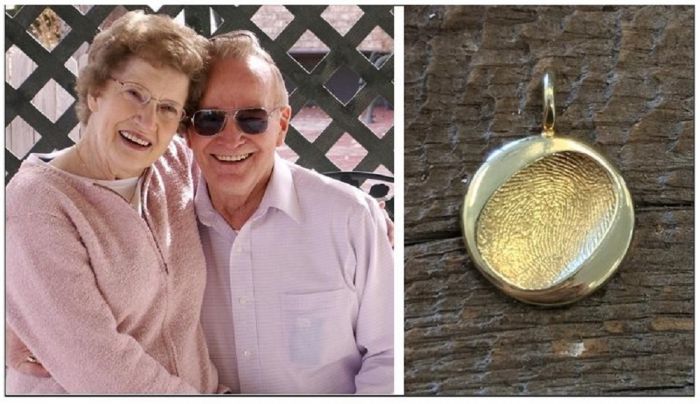 Pixabay and Dimplescharm
Memories of Our Parents
For those who have experienced a loss of a parent or both, it is devastating and leaves a permanent void. Sure, they have left behind some of their own treasures, such as photo albums and other odds and ends. But none of those things are a part of who they were. Fingerprint memorabilia in the form of charms, pendants, cuff links, beads, necklaces, rings and more are masterpieces of love and can truly provide comfort.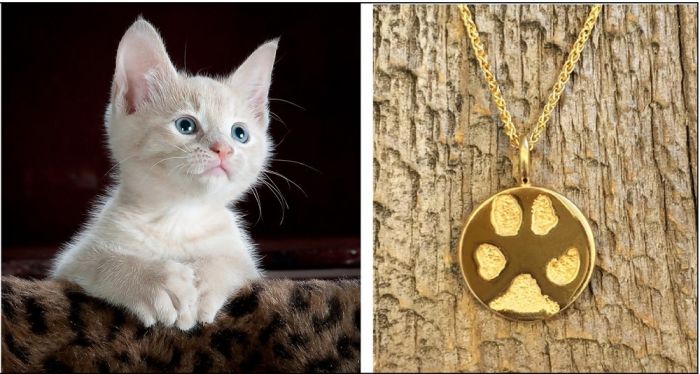 Pixabay.com and Dimplescharm.com
Our Favorite Pets
Let's not forget our favorite, little furry ones. For those who don't have human children, our four-legged creatures are the closest thing to it. We spend years bonding and getting to understand one another. When they cross over the Rainbow Bridge, it can be heart-breaking. Before that time comes, take a photo of your pet's paw and turn it into a forever keepsake, like a pendant or charm.
Where to Start
The first thing to do is determine the sentimental journey to tackle first. Consider ordering fingerprint kits to capture the prints of your loved ones. Then one by one, decide which piece of jewelry or trinket will remind you the most of that person or pet.
Precious gemstones can be added to most any memorial jewelry, so consider selecting birthstones or other dazzling minerals to add that touch of elegance that can be worn in just about any situation. Remember, no matter what happens – if your keepsake gets lost or destroyed, you can return to your jeweler and start over. Your digitized prints should still be on file.