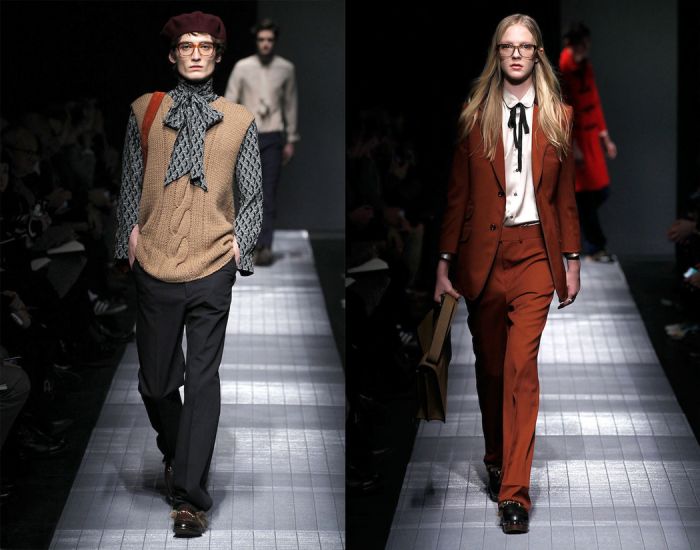 Photos Credited to: Gucci
Today's Gucci show was scheduled to be one of the last for former creative director Frida Giannini, until she left her post prematurely earlier this month. In response, the remaining design team was left scrambling to entirely reimagine the men's collection, with only days to go before the show in Milan. And somehow, they pulled it off. In a complete redesign from Giannini's Gucci, lead accessories designer (and a running contender to fill the now vacant creative director position) Alessandro Michele, changed the entire production from collection to show set to recasting every model just in time for the Men's Fall/Winter 15/16 runway.
To say it was a seamlessly cohesive collection would be perhaps too generous, but for a last minute line it's clear the remaining Gucci team knows how to come together to create, at the very least, a specific look. While it still had the '70s spirit of Giannini, it was paired down, and seemed more wearable than previous collections. Pussy-bow blouses were a highlight, coming down the runway on both men and women, and looks were androgynous—a few female models were tossed into the fray and looked no less chic or fashionable than their male counterparts. Slim fit suiting that seemed to sway more freely around the ankles (reminiscent of bellbottoms in movement more than silhouette), fuzzy topped beanies and berets added to the motif.
It seems the design team agreed on most of the collection's aesthetics. There were a few pieces that clashed loudly with the collection, including a sheer, lace number that fell below the model's hips. It looked a bit like an out of place party dress in a sea of silks, fur and wool. Some styles felt simple—just a coat and pants or trousers paired with a muted sweater, while others were over accessorized with glasses, hats, lapel pins, several layers of outerwear, scarves and bags. It felt unbalanced, but was by no means a real detriment to the overall success of the collection.
And it was a success. Admittedly many critiques were gentle, and were keen to note that the collection was composed in days rather than months, offering the Gucci designers a rare reprieve not often afforded to anyone in the industry. But the hastily reworked show was a small step in the right direction, and when the 12 or so designers tumbled from backstage to take their bow, they were met with nothing but applause.