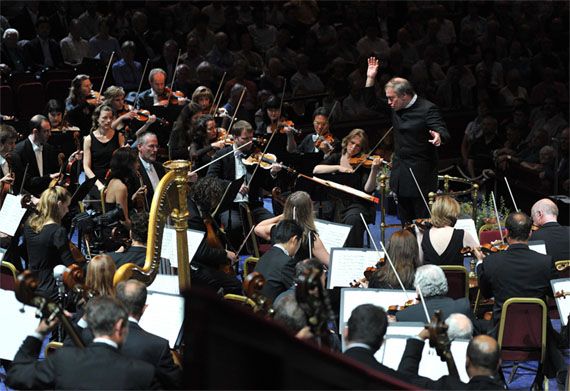 Arts & Culture:
The Abu Dhabi Festival has announced the first performance of the World
Orchestra
for Peace in the Arab World.
Conductor Valery Gergiev and the World Orhcestra will be performing for the first time on January 4th, 2011 at the Emirates Palace in Abu Dhabi, as part of the Abu Dhabi Festival's dedication to the global arts community. The orchestra includes musicians from 62 international orchestras representing over 30 countries. Formed in 1995 by the late Sir Georg Solti, the orchestra is put together on special occasions to promote peace.

"We are thrilled to welcome the celebrated UNESCO Artists for Peace Maestro Valery Gergiev and the World Orchestra for Peace to Abu Dhabi," founder and artistic director of the Abu Dhabi Festival, Her Excellency Mrs. Hoda Al Khamis Kanoo said. "This unparalleled event marks a most opportune beginning to the New Year and also to the Abu Dhabi Festival, which in 2011 will celebrate the theme "Harmony for Humanity" in recognition of the powerful ability of music, arts and culture to transcend difference and bring people together."

During the performance they will play classic pieces including Rossini's William Tell Overture, Prolofiev's Symphony No. 1 and Tchaikovsky's Symphony No. 5.

Visit abudhabifestival.ae to learn more.