New World Development
K11 MUSEA: Pioneering a New Immersive Experience for Global Millennials
New World Development, one of Asia's most celebrated developers, recently announced the naming of the most ambitious project to date the K11 MUSEA, a new museum-retail complex situated in the heart of Hong Kong's US$2.6 billion Victoria Dockside development.
The new K11 MUSEA will anchor the three-million-square-foot, art and design district at Victoria Dockside in Hong Kong, while also doubling as a new ultra-high-end experiential retail, art, cultural and dining destination. It is set to reinvigorate the Tsim Sha Tsui harbor front when it debuts in 2019.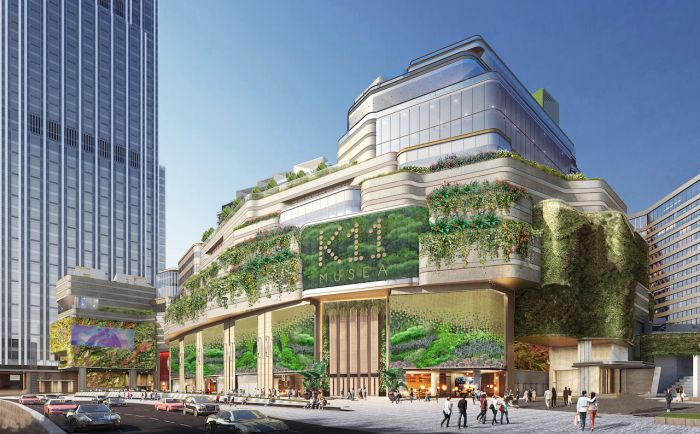 New World Development
K11 MUSEA takes inspiration from research that highlights Asian millennials as super consumers, prominent drivers of global consumption with spending power set to reach US$6 trillion by 2020, as they also grow to account for 45% of Asia Pacific's millennial population. Chinese millennials, in particular, see travel and luxury as part of a lifestyle reflective of social status. K11 MUSEA caters to this preference for exclusivity and bespoke products while positioning itself as an aspirational global destination merging art, culture, and commerce.
A world-class public art collection will be curated and displayed throughout K11 MUSEA's premises, establishing it as the next cultural destination, while among K11 MUSEA's architectural highlights is the 2,000-square-foot Sunken Plaza. The space features a façade with conical-shaped glass panels. Programmed water patterns and a misting system will also be installed. Together with an LED screen, Sunken Plaza will become an immersive venue for cultural events, film festivals and live music events.
New World Development
K11 MUSEA is the brainchild of Adrian Cheng, Executive Vice Chairman of New World Development and Founder of K11 Group, who has developed a number of innovative museum-retail malls across greater China. K11 Group was founded in 2008 by Mr. Cheng, and is a multi-faceted company rooted in culture and interconnected by three core values: art, nature and people. Its ecosystem of art and retail, property, fashion, tech, entertainment and media are dimensions of the founder's constant search for ways to disrupt stagnant industries and foster cross-cultural dialogues.
Helming the architecture of K11 MUSEA is James Corner of James Corner Field Operations and Forth Bagley of Kohn Pederson Fox. The 10-story K11 MUSEA will house an extensive selection of international brands – many of which will be flagships – and is the crown jewel of K11's museum-retail concept, curated to offer a unique, best-in-class immersive retail experience.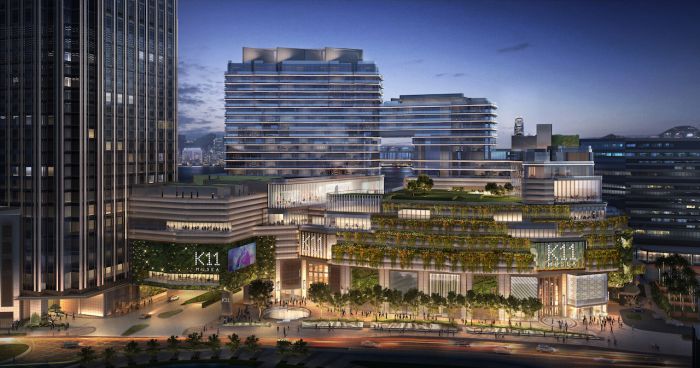 New World Development
Sustainability is at the core of K11 MUSEA's offerings. The Project has achieved new green building pre-certifications including the U.S. LEED (Gold) and the Hong Kong BEAM Plus (Gold) standards. Boasting extensive greenery and over 50,000 square feet of living walls, equivalent to the surface area of 18 tennis courts, K11 MUSEA sets a new benchmark for green design in Hong Kong. Its interior features natural materials of limestone and wood. Other highlights features include rainwater harvesting, providing 100% of irrigation water and a seawater-cooled, oil-free HVAC chiller system.
"K11 MUSEA, anchoring the newly designed Victoria Dockside, marks a significant milestone in retail development. As K11 approaches its 10th anniversary this year, I'm delighted to announce the naming of K11 MUSEA, K11's proudest project since the brand's inception in 2008," said Cheng.
He adds, "Its location, scale and concept are unique - the project involves leading architects as well as over 100 local and international designers and artists. K11 MUSEA will also bring great cultural content back to Hong Kong's Tsim Sha Tsui waterfront. We expect K11 MUSEA will be Hong Kong and Asia's new cultural destination, where global millennials can come together to discover, or rediscover, their muse."
Instagram @K11MUSEA