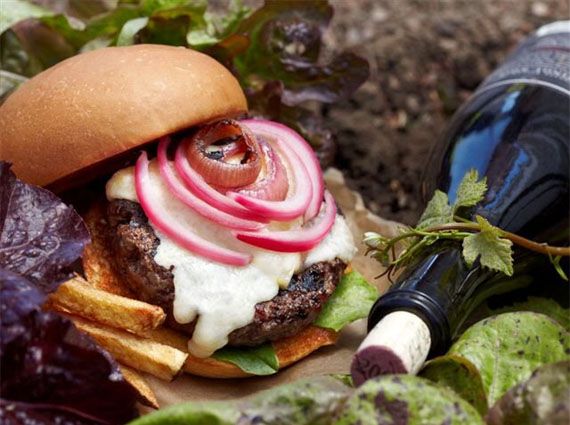 Photo Credit: Kurt Winner
Made with Beecher's Flagship Reserve, Charred Onions and Pickled Red Onions. Recipe courtesy of Chef Jin from Jory at the
Allison Inn
– overlooking beautiful Willamette Valley wine country.
Pickled Red Onions
2 large red onions
½ cup sugar
½ cup red wine vinegar
1 cup water
1 sprig tarragon
1 bay leaf
Slice onions thinly lengthwise. Combine all other ingredients in a saucepot and bring to a simmer until all ingredients are dissolved and infused. Once dissolved, remove tarragon and bay leaf and pour hot pickling liquid over the onions. Let rest for 45 minutes at room temperature, then strain and reserve for later.
Pinot Burger
2 lbs Wagyu, cross-rib roast
2 tsp sugar
2 tsp salt
1 tsp fresh cracked black pepper
½ cup Pinot Noir
6 slices white cheddar, thick cut
2 cups Arugula
4 each Brioche buns
Cut Wagyu into one-inch pieces. Combine all other ingredients and whisk until sugar and salt are dissolved. Pour over beef and toss. Let marinate for 4 hours. Grind meat through the large die of a meat grinder, and then pass through a medium die. Form into ½ pound patties and place in refrigerator until firm. Cook burgers on the grill to desired doneness.
Place a thick slice of Beecher's Flagship Reserve on the burger and let melt over the burger. Grill the burger buns then place a small handful of arugula on the bottom half of the bun. Next place the burger on the bun and finish with a good amount of the pickled red onions.
Grilled Onions
1 medium sized red onion, ½ inch slices
1 medium sized white onion, ½ inch slices
For Marinade
¾ cup red wine vinegar
½ cup olive oil
1 tbs sugar
Zest of 1 lemon
2 sprigs each of thyme and mint
1 chile de arbol
Salt and pepper
Mix together and marinate onions over night. Strain off marinade and reserve. Grill onions until slightly charred. Place grilled onions in a bowl and pour the marinade back over the onions. Cover tightly and set in a warm place allowing the onions to become tender. Serve warm.
This post originally appeared at
CityRoom.com
.