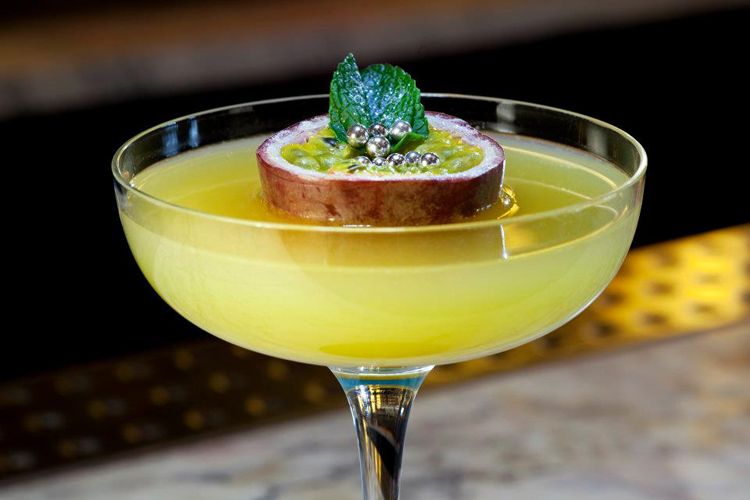 Photo Courtesy of Artesian Bar at The Langham
In case you missed it, Saturday, July 28, was the Tales of the Cocktail Spirited Awards, probably the year's biggest night for alcohol-centered businesses (as well as for the people who really love their
spirits
- we're not judging), honoring the best of the best when it comes to classy booze. The ceremony took place in New Orleans and gave awards in various categories, from World's Best Cocktail Bar to the Best American Cocktail Bar. Here's six winning establishments who we thought were especially worth mentioning.
Artesian Bar at The Langham, London, UK | World's Best Hotel Bar
Many of our readers travel constantly, whether it be for business or pleasure, and know a thing or two about hotel bar's. Sometimes you just need to wind down and enjoy a well-made cocktail and now that Artesian Bar at The Langham has won World's Best Hotel Bar (they also won the World's Best Cocktail Menu), I'm expecting their business to boom. They beat out Clive's Classic Lounge (Victoria, British Columbia), Clyde Common (Portland, OR), and The Zetter Townhouse (London, UK). Artesian's interior decor is ornate and dramatic, with a traditional Chinese influence.
According to the bar, you'll find the city's largest collection of rums within its walls (around 50 different kinds), as well as a very unique and inventive cocktail menu with head bartender, Alex Kratena, at the helm. When they say inventive, they mean it. If you have a problem with spiders, stay away from the Langham Tea Punch because there just so happens to be an oven baked tarantula floating about in the tea pot. Oh, and a scorpion. No big deal. The bar says the drink is a light, citrusy punch but I don't think I'll be testing it out any time soon. The bar does have some standards, like the Bloody Mary, but not wanting to be boring, their Bloody Mary smokes. Always prepared at the table, Ketel One vodka is combined with lemongrass smoke to create a very visually appealing drink, making it perfect for those wanting to try something new without drinking spider-infused tea.
Photo Courtesy of Artesian Bar at The Langham
Slanted Door, San Francisco, CA | Best Restaurant Bar
Restaurants need good bars and apparently Slanted Door in San Francisco has the best, winning over Bar Agricole (San Francisco, CA), Rivera (Los Angeles, CA), and Saxon + Parole (New York, NY). The original Slanted Door was opened in 1995 and had the goal of blending Vietnamese cooking with fresh, local ingredients. They needed a great bar to go with the great food, getting Erik Adkins as the Bar Manager. Adkins created the bar's program and likes to mix drinks that show off a connection between the local agriculture and specific periods of time.
Photo Courtesy of Slanted Door
Eastern Standard, Boston, MA | Best High Volume Cocktail Bar
Eastern Standard's bar serves everyone from locals who keep a visiting schedule to travelers just stopping in for the night. With a 46-foot long bar and only 22 seats accompanying it, you'll probably find the tried and true regulars posted but I'm sure you can still slide in to order yourself one of Jackson Cannon's cocktails. As the bar manager, Cannon and his bar team create drinks that are nostalgic for the past, putting fresh spins on them to keep them up with the times. According to the bar, every cocktail has a story behind it, so stick around to have a chat. One of the more popular tales is about the bar's recycled liquor license which heralds back to "The Rat," a major punk music venue in the 70's. As the winner of Best High Volume Cocktail Bar, Eastern Standard beat Beratta (San Francisco, CA), Clover Club (Brooklyn, NY), and La Descarga (Los Angeles, CA).
Photo Courtesy of Eastern Standard
The Varnish, Los Angeles, CA | Best American Cocktail Bar
Of course, it's an honor just to be nominated, but it's certainly not as cool as winning. As the winner of Best American Cocktail Bar, The Varnish in Los Angeles, CA knows what it feels like to be in the spotlight. Set in downtown, the bar won over Anvil Bar & Refuge (Houston, Texas), Clover Club (Brooklyn, New York), and Columbia Room (Washington, DC), making it a pretty big deal for owner Cedd Moses. "Seven years ago I came out here and everybody was laughing about the bars in L.A.," says Moses. "And I said I was going to do great cocktail bars in L.A. The redemption is good."
With the easy-going Speakeasy vibe, muted lighting, and Prohibition-era style (complete with rotary phones and wooden booths), we aren't surprised at all that it was chosen to represent the American cocktail scene.
Photo Courtesy of The Varnish
The Zetter Townhouse, London, UK | World's Best New Cocktail Bar
London did pretty good this year, with three wins on our list of the best of the winners. The Zetter Townhouse, featuring a hotel and the award winning Cocktail Lounge, has only been open since 2004. It has the look of a private clubhouse, with plush armchairs, bookcases, and a crackling fire, and was designed by Russell Sage (known for his work with Gordon Ramsay). The tasty cocktails are by Tony Conigliaro, who has a reputation for his approach and unique recipes. According to the bar's official site, Conigliaro designs the cocktails around the distilling heritage of the area. You can find spirits that are heavily influenced by old recipes for tinctures, bitters, and herbal remedies. The Zetter's fellow nominees were Aviary (Chicago, IL), Candelaria (Paris, France), and Canon (Seattle, WA).
Photo Courtesy of The Zetter Townhouse
The Connaught Bar, London, UK | World's Best Cocktail Bar
It may be cool to have won in the other categories, but I think it's safe to say that you can't get much better than World's Best. If you're not in London to check it out, you'll just have to hop on a plane. Designed by David Collins, The Connaught Bar was inspired by English Cubist and Irish art from the 1920s. With platinum silver leaf texturing the walls, aided by accents of light pink, pistachio, and lilac, the Connaught is a sight to see. The bar blends tradition and modern within their cocktail menu, bringing guests "exclusive vintages and limited edition champagnes, spirits and liqueurs." When sipping delicious spirits, you can enjoy a diverse culinary menu by Hélène Darroze. Also nominated were 69 Colebrooke Row (London, UK), Black Pearl (Melbourne, Australia), and The Varnish (Los Angeles, CA).
Photo Courtesy of The Connaught Bar